NailSnaps Social Media Manicures
No question, nail art continues to scale new heights. Angel Anderson and Sarah Heering want new Da Vincis and Warhols to create their own nail art masterpieces, but in a social media way.
The two Los Angeles-based entrepreneurs started NailSnaps, an app that will turn Instagram photos into nail polish stickers, and they're currently raising funds on NailSnaps' Kickstarter page.
NailSnaps' point of difference is that it is the only company that lets people design nail art from their photos, be it friends, an image that matches patterns from dress to manicure, or a masterpiece painting, Anderson said.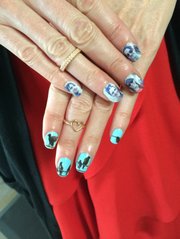 There's another point of difference. NailSnaps allows users to arrange nail art in a personalized way, so that an image, say a big picture of a city skyline, can go across your nails, spanning from an index to pinky finger.
The new company's patented its nail polish sticker process. NailSnaps nail polish stickers will be printed in Los Angeles after consumers email images to the company. The Kickstarter campaign ends on April 1.