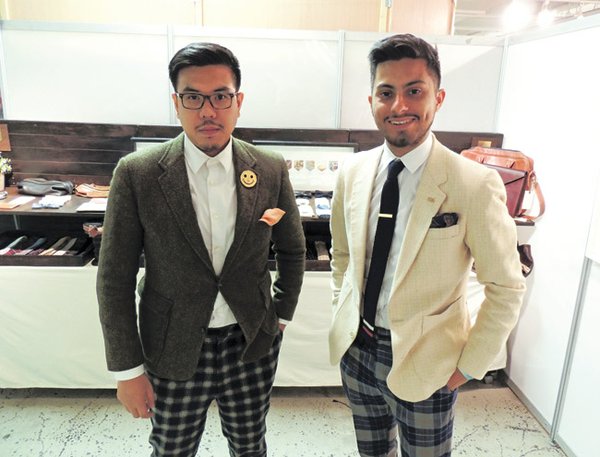 TRADE SHOW
Trade Show Booth Design; Making the Big Statement in a Small Space
It sounds impossible. Designers and vendors must typically make the biggest impact at trade shows with meager tools: a 10-by-10 booth, a table and a rolling rack.
To draw buyers' attention at noisy, sprawling trade shows, exhibitors employ merchandising schemes from the baroque to elegant simplicity.
For Andrew Cheung, co-founder and chief executive officer of Pocket Square Clothing, the best way to draw a buyer into his Los Angeles–based brand's booth literally fits in a frame.
He and business partner Rodolfo Ramirez designed merchandising capsules/table displays to tell the story of their brand. These capsules are often placed in 20-by-15-inch wood frames, which display different looks for the Pocket Square Clothing brand. They have exhibited at MAGIC Market Week and Unique LA. There's the traditional prints of the label's workwear collection, or ties and pocket squares to be worn to the office. There's the items bearing floral prints for the brand's floral collection as well as other collections, including the collaborative collection, which features their looks inspired by collaborations with others such as musician Rome Castille.
One of the best things about the frames is that they can be taken anywhere, Cheung said. "All of our capsules are mobile. Our display is versatile; we can adapt to any situation. We can move around to fit the environment we are in."
Cheung and Ramirez also act as live-action lookbooks for the brand. At every trade show, they are wearing Pocket Square Clothing ties, pocket squares, shirting and accessories.
"It is beyond the booth," Cheung said. "But it is essential. Nothing tells the story of the brand better than the people who live that style."
Newport Beach, Calif.–brand Toddland has exhibited at Project and typically made the best use of small space with some of the novelty pieces that the brand is known for. At past shows, brand founder Todd Masters placed a 5-pound Gummi Bear at the edge of the Toddland booth. At other shows he placed pajamas made for cats at the edge of the booth table. "Everyone gravitates toward them because they don't know what they are," Masters said of the novelties. "Then we bring them in and then show them everything else."
Toddland manufactures a wide array of pants, T-shirts, wallets and different accessories, but only a few of these items are displayed at booth tables. The depth of the Toddland catalog is kept in a vintage trunk. If a buyer wants to see a particular wallet in an alternative pattern, the alternative wallet can be accessed from the trunk. "The most important thing is that we keep it simple and clear," Masters said of the booth's design.
Another way to make a booth stand apart is to make it look like a store for the brand it represents, said Doug Schell, president of 949 Design, a Costa Mesa, Calif.–based company that represents Neuw Denim, an Australia-headquartered label, for the American market.
A smaller version of Neuw's Australian boutiques is created at trade shows. The booths display found pieces, plants and symbols of the season's theme. "The notion of doing a large booth and spending thousands of dollars is not warranted if you can impart a brand's message in a concise way," Schell said.
A simple elegance is the height of trade-show design for Rob Myers, founder and creative director of Santa Ana, Calif.–based brand SLVDR (pronounced "Salvador"), which often displays at shows such as Liberty Fairs and Agenda. While he has decorated his booths with pictures and art displays, he typically lays the line out in a "catalog order" to make it easy for the salesperson to show the line. He also hangs the line's signature pieces on racks or on the walls of the booth. "It's like a fishing lure," he said. "We're using highlight pieces as the bait."