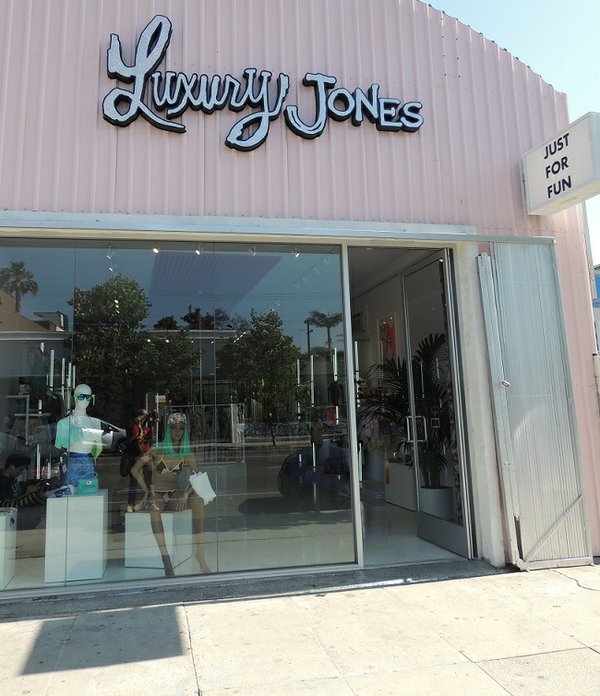 LUXURY JONES
Streetwise Made-to-Measure
With the recently opened Luxury Jones boutique/workshop, Niki Dimitras aspires to be the atelier that launched hundreds of made-to-measure streetwear looks.
In her 300-square-foot studio in the back of the Luxury Jones shop at 7664 Melrose Ave. in Los Angeles, Dimitras makes made-to-measure and one-of-a-kind clothes that aspire to the outré fun of pop stars such as Rihanna, Katy Perry and Beyoncé, but the intended demographic is any woman look­ing for a good time.
"It's nothing too kitschy," Dimitras as­sures of her label, which has been around for more than a decade. "It's an alternative. I want fancy girls to know that if they have a special occasion, they can stand out."
Dimitras' aesthetic may be a direct de­scendant of what was called "ghetto fabu­lous" in the 1980s—a mix of street looks and threads that a rock star would wear. Currently, men own this style, Dimitras said. It's being sold at the flagships of streetwear brands on Fairfax Avenue, just a five-minute walk from her shop.
Some elements of Luxury Jones' looks would fit well in a Fairfax streetwear collec­tion. It features hip-hop styles, and the Dodg­ers' "LA" logo, which shows up on some of her pieces, as well as made-to-measure mesh crop tops. There are also more idiosyncratic pieces such as a se­quined mini-dress, which the label has repeated time and again since Dimitras opened her shop on May 3. Another much-repeated look are tap pants with a playful pompom on the seat, as well as the "Luxury Jones" boot, which is Dimitras' unique version of the cowboy boot. The most expensive dress retails for $400, and the shop also offers curated vintage.
Some of Dimitras' most dedi­cated customers are not just club kids but French women in their 30s. Dimitras sells much of her clothes to St. Tropez–headquar­tered boutique chain Sunday as well as Jap­anese boutique chain Goa. Kuwaiti boutique 4 Concept Store also sells her clothes, Dimi­tras said.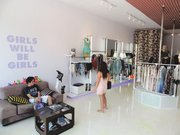 But the Luxury Jones look was mostly shaped by Dimitras' career in Los Angeles fashion. More than 14 years ago, Dimitras was a merchandiser of vintage fashion at Wasteland on Melrose, where she honed her styling skills. She de­veloped chops for entrepreneurship when she opened pioneering Eastside boutique Show Pony with Kime Buzzelli, an LA fashion luminary who worked on beauty collaborations with Hard Candy and a foot­wear collaboration with Vans. Buzzelli has most recently worked as a costume designer for TV shows such as "Beverly Hills 90210" and "Bad Teacher."
In 2011, Dimitras received an Emmy in the category of variety and music show for IFC channel show "Portlandia," for which she worked as a costume supervi­sor. She returned to the LA fashion world because she wanted to make an impact as a fashion designer.
Dimitras financed her current boutique through her savings and labored to build the store, which features a high-gloss floor embedded with glow-in-the-dark rocks to a dance stage with stripper poles. "It's a Mar­tian babe cave," she said of her space. "The girls from outer space? The only place they shop is Luxury Jones."