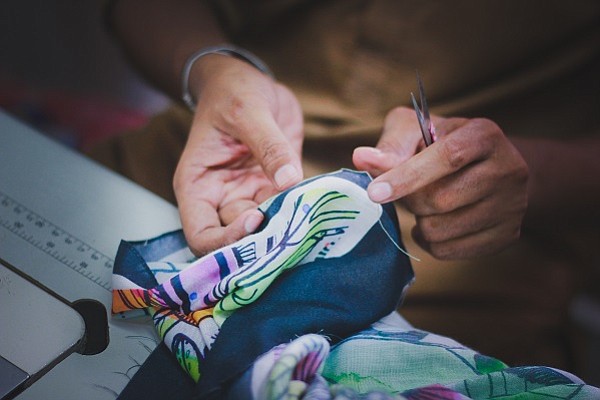 SOCIAL BUSINESS
Vida: Using Printing Tech to Connect Designers, Artists, Producers and Consumers
Vida, a new e-commerce platform that launched Nov. 12, is channeling talent from around the world and using new direct-to-fabric technology to turn all forms of multi-media art into digital prints at the speed and ease that an at-home printer provides.
Traditional printing methods have limitations to the number of colors used, but direct-to-fabric digital printing can limitlessly produce designs in any number of vibrant hues in a very short amount of time, allowing for mass production.
Initially, Vida is focusing on offering apparel and accessories, with plans to eventually use its direct-to-fabric printing to cross over to other categories, such as home products.
"The model we are implementing uses technology to scale what kinds of product we will be able to offer," said Umaimah Mendhro, co-founder and chief executive officer of Vida.
The San Francisco–based company sources textiles from around the world, including Modal from Pakistan and cashmere blends from India. All mills are ensured to have ethically sound working environments and living wages for their employees.
"We looked at regions around the world such as Turkey, Bulgaria and Pakistan and found emerging artists who have significant social media and digital followings but are not able to translate their bandwidth to physically scale and deliver to demand," Mendhro said.
The company is working with printers in Pakistan and India.
"We have very close partnerships with our manufacturers, specifically in Pakistan, where we do a majority of our printing with an up-and-coming fashion label, Sania Maskatiya, which has its own printing and manufacturing facilities, Mendhro said, adding that Vida's printers specialize in printing on fabrics made with natural fibers.
The company is already working with painters, photographers, graphic designers, sculptors, architects, textile artists, milliners and print designers from countries such as Sweden, Japan, Turkey and the United States. Its goal is to connect these artists with manufacturers and consumers, enabling them to make a living from their passions.
"We are using innovations in design and technology to collapse the distances between designers, artists and producers from around the globe," Mendhro said. "We are turning commerce on its head and reimagining the industry for the thoughtful, global citizens of the modern world."
The apparel is cut and sewn in Pakistan and India, with plans to eventually expand to the United States, Asia and Latin America. Current manufacturing partners include Karachi-based Sania Maskatiya and manufacturing house FNKAsia.
Besides holding to high manufacturing standards, Vida also takes pride in its social-action efforts. All factory workers are eligible to take a three-month crash course in reading, writing and basic math in order to help break cycles of poverty and create opportunities for families, Mendhro said. "Our model is to manufacture across the world where we have the opportunity to create a positive impact, seeking the best materials, quality and partnerships."
Everything is shipped from Maryland, where the company's logistics supplier is based.
The company launched with more than 75 designs across five product categories, including 100 percent silk short-sleeve tops ($65), 100 percent silk sleeveless dress tops ($75), cashmere/Modal scarves ($75), 100 percent Modal scarves ($40) and 100 percent silk square scarves ($95).
Prior to starting Vida, Mendhro was a managing director at West, a Bay Area company that works with pre-IPO startups. Her background also includes product management and profit-and-loss management at companies such as Microsoft. She also co-founded The Dreamfly, a social enterprise company that connects communities through education.
Mendhro's co-founders include Alexandra Day Golden and Cameron Preston, who each offer expertise in technology, e-commerce and fashion.
Vida has already received $1.3 million in seed funding from investors, including Google Ventures, The Valley Fund, Universal Music Group, Nanon and Don Mattrick's Beehive Holdings, Dave Morin's Slow Ventures, and Jesse Draper. The funding is being used for recruiting and product development.
"Vida's approach to e-commerce connects shoppers directly with designers and makers to create unique pieces at scale," said Google Ventures partner Dave Munichiello. "Umaimah and her team have tapped into an emerging trend where consumers favor options that allow them to feel more deeply engaged with the people who design and create the products they use every day."
For more information, visit www.shopvida.com.