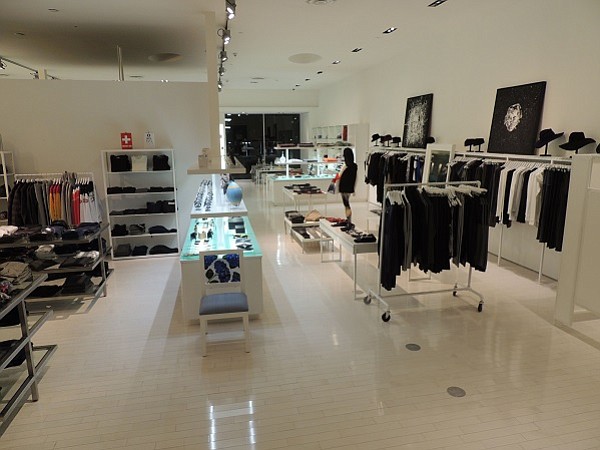 RON ROBINSON
New Standalone Shop in Santa Monica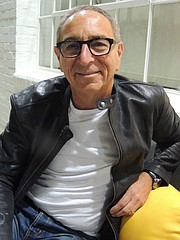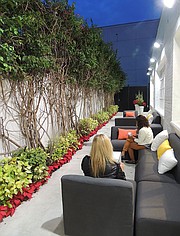 After almost 20 years of doing business in the well-off seaside city of Santa Monica, Calif., Ron Robinson was told in May to vacate his successful Ron Robinson shop at the landmark Fred Segal compound. The entire Fred Segal building at 500 Broadway was going to be torn down to make way for construction of a mixed-use building of residences and restaurants.
It could have been time to retire or slow down, but business was too good in Santa Monica, and Robinson and his staff had made too many friends and clients to leave. Even after 40 years of running a Ron Robinson boutique at the Fred Segal compound on Los Angeles' Melrose Avenue—he learned the art and business of boutique retail from Fred Segal at Melrose—Robinson thought that he had more to say. "Maybe it's a bit like being addicted to something," he said of boutique retail. "If I still have the energy, I'm going for it."
Recently, he held a soft opening for the more than 5,500-square-foot standalone Ron Robinson shop at 1327 Fifth St. near Arizona Avenue. It's a few blocks from his former space. (Fred Segal Santa Monica's 420 Broadway address is still functioning as a compound for boutiques.)
Robinson called the new space, located in a former art gallery, a flagship concept store. It will be a place where he; his business partner and wife, Stacy Robinson; and his longtime staff will experiment and try something new under the Ron Robinson nameplate.
For the Santa Monica location, there will be new sections. Taking a bow will be Floral Art for Ron Robinson. "Take a Break" is where coffee drinks and other prepared foods will be served. There also is a 900-square-foot garden area outside of the shop, which Robinson designed. Bougainvillea and poinsettia flowers currently blossom there, and upholstered furniture is arranged around the garden.
The store also hosts a 2,300-square-foot area for children's clothing from infants' to pre-teens' called Lifesize Kids. In the front of the store there is the Apothia section, devoted to fragrances such as Robinson's own Velvet Rope line and his collaboration with the Missoni fashion house, Missoni Home by Apothia, which produces scented candles and homewares.
The new shop also will sell gifts, coffee-table books, jewelry, personal electronics and apparel. Popular brands sold at the shop recently were Cotton Citizen, PJ Salvage, Lulu Frost, Rabens Sallower, Nesh, Lucas Hugh and Teeki. Popular men's brands have been Deus Ex Machina, Electric & Rose, John Varvatos, Scotch & Soda and Stance.
While Robinson's staff directs buying for various sections, his merchandising captures some of the best of the Los Angeles lifestyle, said Carl Louisville, founder of the Guerilla Atelier boutique in downtown Los Angeles.
"His attention to detail and his ability to find items that speak to his brand and lifestyle are extraordinary," Louisville said. Robinson also retains a disciplined work ethic. He opened a shop-in-shop at Guerilla Atelier in 2013. When the store moved to a new address in downtown Los Angeles, 427 Hewitt St., Robinson showed up at 9 a.m. on a Sunday in early October to help Louisville move items for Robinson's shop-in-shop. "He's a consummate merchant," Louisville said. "He works as hard today as he did when he opened. No detail is too small, no project is too big."
Robinson also designed the interior of the new Santa Monica store with Ruben Ojeda, an architect who helped design some of the interiors at the Ron Robinson Melrose store.
The shop features an exposed, bow-truss ceiling; white epoxy flooring in the front; and a wood floor painted white in the back. Walls are white too. "It's a big canvas to put product onto," Robinson said. There's also an open, airy ambience about the place, and shoppers are intended to have a clear view of the entire shop floor.
The past 12 months has been an eventful time for Ron Robinson. After Fred Segal shopkeeper Bob Serf retired, Robinson acquired his 2,000-square-foot space in the Fred Segal Melrose compound. He built an accessories hallway, lined with one-of-a-kind fashions such as hats by Gladys Tamez and snakeskin boxing gloves from Elizabeth Weinstock. There's also a women's active section and more space for kids'. In November 2013, he opened a 1,800-square-foot section for StylObjects, which is devoted to design, gifts, accessories and books. He introduced the expansion in May.
Ron Robinson regularly puts on store parties with diverse themes. Recently, there was a party for eyewear line Mothersbaugh by Mothersbaugh + Baum, which was inspired by the satiric point of view of Mark Mothersbaugh, a founder of music group Devo. The store has also held events for eco-fashion, action-sports brands and new designers.
Ron Robinson captures a certain California lifestyle, said Adam Vanunu, president/chief executive officer and creative director for Cotton Citizen. "It's quality basics, it's colorful and fun, and it is a necessity," Vanunu said of clothes at Ron Robinson boutiques. "It is very California."
Cotton Citizen made its Ron Robinson debut for holiday 2012, and it was a crucial branding exercise. "The line was a brand-new line," Vanunu said. "It helped us pinpoint our customer—see the brands that we wanted to be next to. They helped us brand ourselves."
Looking back on 40 years in business, Robinson noted that retailers have to build lightning-fast reflexes to stay in business. "The world is faster than it was when I started. The awareness of a product comes at the speed of the Internet. Whatever comes from Europe or Japan becomes knowledgeable to others immediately. That means finding unique and more-unknown components becomes that much more challenging," he said. "We have to work faster and make these finds and connections to bring these people to market and cultivate them early on."