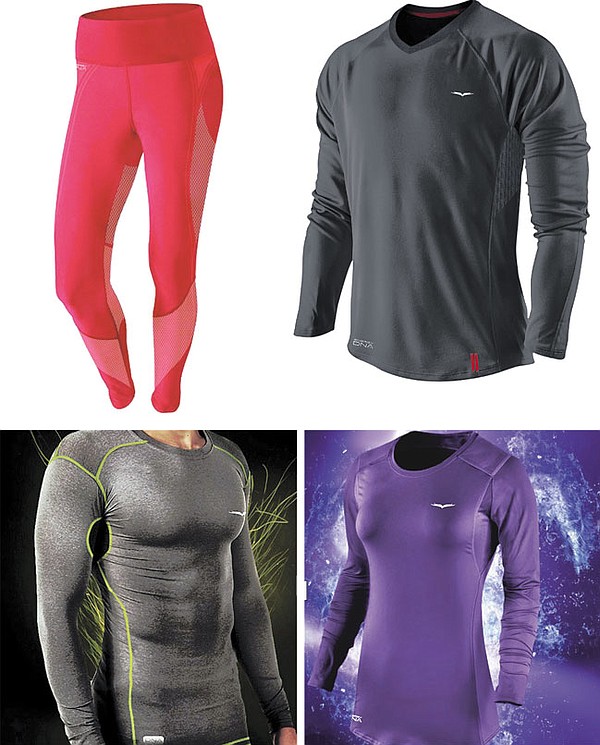 COMPANY PROFILE
1st Round: Boosting Athletic Performance With Textile Technology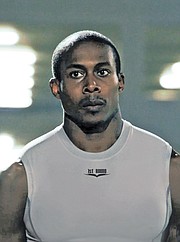 When planning the concept behind their sports-apparel line, 1st Round Athletics, Teague Egan and Sterling Brewster wanted to take the idea of wearable technology a step further.
"Instead of creating a line that will read your vital organs or tell you your blood pressure, heart rate or how many calories you burned, [we were looking at] what's the next step we can take and have the clothes increase the performance of the user," said Brewster, who serves as president of the Los Angeles–based company.
1st Round features men's and women's athletic apparel made from a mineral-embedded textile that enhances performance by boosting endurance and reducing fatigue.
The EnergyDNA technology uses fibers embedded with minerals such as silver, titanium, aluminum, carbon and copper. One of the elements in EnergyDNA is Celliant, which was initially created to help improve circulation for diabetes patients, Egan said. Benefits of the fiber technology include improved circulation, increased oxygen levels in muscle tissue, and antimicrobial properties for sweat and odor resistance.
The 1st Round line includes compression garments designed for professional athletes. "We also make looser-fit athletic garments as well as seamless garments for your average weekend warrior, gym goer or yogi," said Egan, who serves as 1st Round's chief executive officer.
According to the company, EnergyDNA's thermo-conductive minerals convert heat into "reusable energy by reflecting, absorbing and recycling the body's natural energy back to the body, increasing oxygen delivery to muscles."
Egan and Brewster's partner in the venture is Trenton Horinek, who serves as chief technology officer and oversees the development of the fabric. Celliant, which is produced in Taiwan, was initially created to help improve circulation for diabetes patients, Egan said.
"We were doing research into how to make the fabric on our own and completely vertically integrate ourselves—from finding theminerals to breaking them down to embedding them in the fibers and making the yarn and the fabric—when we came across our technology partner, Celliant," Egan said. "They had already put in about eight years of research and development as well as millions of dollars in the clinical studies proving that it does increase circulation and increase oxygen in the muscles."
Egan and Brewster brought on former Lululemon designer Amy Yeung to help with the design of the line, which is produced in China, Indonesia and Peru.
The collection officially launched in February following an Indiegogo campaign that helped Egan and Brewster raise $55,000 in seed capital, followed by a seed round of $725,000. The line is currently available on the 1st Round website (1stRound.com) and sells for $55 to $100.
Pro tested
NFL player Jordan Campbell, linebacker for the Kansas City Chiefs, and Olympic gold medal–winning sprinter Shawn Crawford are the first two official athletic endorsements for 1st Round. Egan and Brewster are looking to enlist the support of several other professional athletes, drawing from their personal connections to the sports business. Prior to launching 1st Round, the two entrepreneurs ran a sports agency under the same name while still at the University of Southern California. The two were friends with many of the USC football players and chose the 1st Round name as a nod to their friends' draft status. "A bunch of our USC friends got drafted in the first round," Egan said. "It means being first and being the best. If you're 1st Round, you're the best."
"Right now, we have a lot of people who are wearing the line," Egan said, adding that he and Brewster have about 30 NFL players and 10 NBA players, as well as MLB and NHL players wearing 1st Round products. Plus, he said, "We're looking to do deals with a few sports agencies."
The two are also looking at other sports such as running and cycling with an eye on marathon and triathlon athletes.
"That's a huge demographic of athletes that look for the top performance benefits in companies," Egan said.
Earlier this year, Egan and Brewster signed the brand's first licensing deal to become the official apparel partner of the FIA Formula E Championship, the electric car–racing series that held its first race in September in Beijing. 1st Round will be producing merchandise for Formula E personnel, as well as fan merchandise such as jackets, T-shirts, polo shirts and caps.
Eventually, Egan and Brewster plan to expand distribution to include traditional channels such as sporting-goods retailers, but for now they are taking a grassroots approach to building the 1st Round brand by "reaching out to athletes, showing them what the product can do for them, how it can make them better," Brewster said.
The two plan "to scale the business through professional athletes and to get it synonymously known with them," Brewster added. "Then, hopefully, it will have a trickle-down effect with consumers when they see their favorite NFL athlete or their favorite driver wearing the brand."