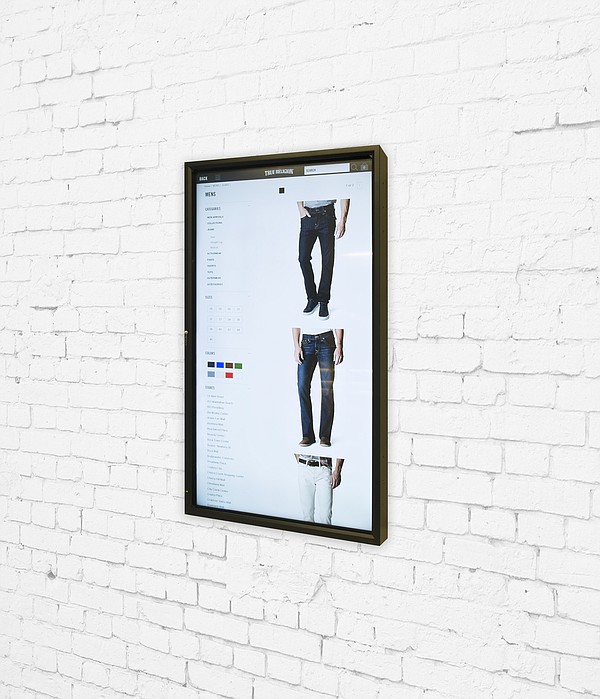 TECHNOLOGY
True Religion Goes Omnichannel
John Hazen thinks a lot of shoppers are put off by various retailers' experiments with omnichannel—in particular, the kiosks used in omnichannel-focused stores. These kiosks typically find uses ranging from viewing a brand's full collection to completing a sale. Retailers such as Staples use kiosks.
Hazen vowed that any omnichannel experience that he would create would be different. True Religion Apparel Inc., headquartered in Vernon, Calif., hired Hazen in June to be its vice president of omnichannel commerce and digital innovation. He formerly directed omnichannel services for action-sports brands Fox Racing and O'Neill. He put his views on kiosks and omnichannel on display with the recent debut of True Religion's remodel of its store in Los Angeles' Beverly Center.
"The learning curve is high," he said of shoppers trying to navigate omnichannel kiosks in stores. "It's time-consuming. It's not easy to check out [pay for an item] on a large screen." The kiosk experiment could be embarrassing, too. Shoppers often have to figure out how to use a kiosk in front of a store filled with shoppers.
The two stars of True Religion's Beverly Center remodel are a 42-inch portrait screen kiosk mounted on a wall in the middle of the store and an LED screen at the front of the store to attract people inside. Hazen and his team created a proprietary platform for the kiosk. E-commerce software technology company Demandware also was used in the system.
One of the True Religion kiosk's point of difference is that it is designed for sales associates, not customers, Hazen said. It provides a selling tool that allows the sales associate to take shoppers through every possible category in True Religion's collection, which, in lingo of the digital biz, is called an "endless aisle."
Also, shoppers cannot pay for an item self-serve style at a kiosk as they would at a supermarket or big-box retailer. Rather, a sales associate conducts the sale and is credited with the sale immediately. Sales associates also are equipped, typically, with a mobile point of sale–system iPad tablet.
The kiosk will not only be able to show the entire collection, but it will help search stock in other True Religion stores and help reserve items that may not be at that location. The kiosks will be tested at other True Religion stores, in Summerlin, Nev., and New York. The program may eventually be rolled out to its more than 124 stores in the U.S.