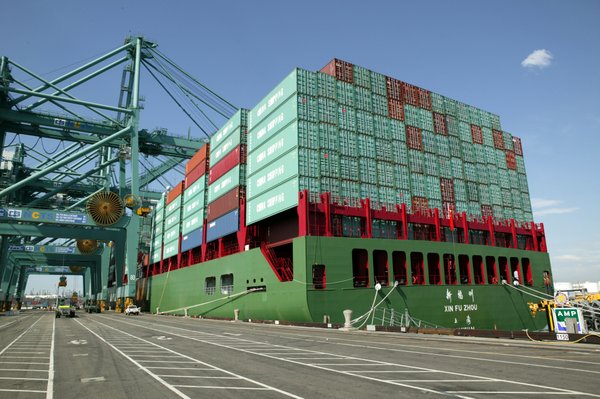 IMPORT & EXPORT
How Mounting Congestion at Local Ports Is Affecting Apparel Importers
Bob Wysocki of Sears Holdings complained that sometimes it takes as long as one to two weeks to extract his merchandise out of the port complex in Los Angeles and get Sears' cargo containers on a train, where it might take another two weeks to reach a warehouse.
This is not the kind of problem a retailer wants to have. Wysocki, divisional vice president of international transportation and operations at Sears Holdings, said it creates a bubble all through the system and is particularly problematic for sale items slated to hit shelves in time to entice customers into the retail chain, based in Hoffman Estates, Ill.
"We can't keep doing this," he said, speaking at a port-congestion hearing called by Mario Cordero, chairman of the Federal Maritime Commission in Washington, D.C.
The day-long forum, held at the Port of Los Angeles administrative offices on Sept. 15, was a venue for trucking companies, customs brokers, freight forwarders, logistics ventures and shippers to share their port-congestion problems and make suggestions on how to resolve this issue, which has become more acute as bigger and bigger cargo-container ships come calling at the ports. Joining Cordero were U.S. Reps. Janice Hahn and Alan Lowenthal, whose congressional districts cover the Port of Los Angeles and the Port of Long Beach, as well as the executive directors of those two ports.
While Cordero emphasized this is not a dilemma restricted to the Los Angeles port complex, which receives 40 percent of all the cargo-container traffic coming into the United States, people who work with the ports noted that the congestion problem can't continue as it is today.
"We see it all the time," said Mondo Porras, a crane operator and vice president of the International Longshore and Warehouse Union, Local 13. "You know it's bad when the truckers are blowing their horns because they have been waiting a long time."
Ports across the country are facing a number of problems contributing to backlogs on the docks. Cargo-container ships these days look like they are on steroids. Until fairly recently, it was customary for vessels to carry no more than 5,000 cargo containers per voyage. Now those ships are dwarfed by newer cargo ships capable of transporting as many as 14,000 containers as carriers try to make each sailing more cost effective.
And as global trade expands, there will only be more activity at the nation's ports. Cordero said that by 2018, global container volume is expected to swell to 840 million 20-foot containers a year compared with 640 million containers in 2013.
Further complicating matters is that after 50 years nearly all the shipping lines have gotten out of the chassis business to save money. Before, a cargo owner could send a truck to pick up a cargo container with the terminal operator putting the box on a carrier-owned chassis. It was then turned over to the trucker and whisked away.
Now chassis equipment–leasing companies are supplying the majority of the equipment, but that doesn't always go very smoothly. There can be an oversupply of chassis at one berth and an undersupply at another. Often, truckers have to drop off a container at one terminal and the chassis at another.
"Sometimes I have to dispatch a driver to a berth just to get a chassis and then bring it over to another berth," complained Robert Curry Sr., president of California Cartage Co., a large trucking and warehouse concern in Long Beach, Calif. "You can see how you eat up the truck driver's hours pretty quickly."
With this chaos, turn times for truck drivers are growing to as much as six or seven hours at a time.
Some 22 percent of truck turns take more than two hours at the Los Angeles/Long Beach port complex, said Alex Cherin, executive director of the Harbor Trucking Association, which represents 60 percent of all the drayage activity in Long Beach and Los Angeles. Smaller ports across the nation maintain a 60- to 90-minute turnaround time.
Speakers outlined a long list of improvements that could be made at the local ports. The suggestions included:
• Creating a penalty fee for terminals that do not meet 90-minute turn times for cargo pick-up. This is a concept that was implemented in April by the Canadian government at Port Metro in Vancouver, where turn times were so long that hundreds of truckers struck for a month in 2013. The Vancouver system has a $50 fee if a truck turn goes beyond 90 minutes. An additional $25 fee is added at two hours, another $25 at 2½ hours and an additional $20 for each half hour after that.
• Setting up a port-wide appointment system to allow truckers to schedule pick-ups. Michael Johnson, president of the Harbor Trucking Association, would like to see the ports adopt something called the Freight Advance Traveler Information System, also known as FRATIS, which is being tested at the Yusen Terminals at the Port of Los Angeles. The system keeps truckers and terminals in constant contact. Truckers are able to update terminals about whether they are able to keep their appointments. The system allows terminals to preplan by finding and having at the front of the row the cargo containers that will be picked up.
• Establishing a gray chassis fleet. A gray chassis fleet means that truckers could pick up any chassis at a terminal and drop it off at any location instead of having to pick up and drop off at specific locations. Direct ChassisLink and Flexi-Van Leasing, two chassis providers, have proposed a system that would have them share 68,000 chassis at the Los Angeles/Long Beach port complex. "The problem of chassis is probably the worst here [in the Los Angeles area]," said Bernard Vaughan, executive vice president of Flexi-Van, who was speaking at the event. "It is a shell game here moving a chassis."
• Devising a free-flow system. Currently, when terminals unload containers from arriving ships, they pile them into stacks in the order they come off the ship. When truck drivers arrive and ask for a specific container, it has to be located and dug out of a stack that can be four or five containers high and six containers deep. Cranes have to move on average three containers to dig out a specific container from the stack and deliver it to the truck driver.
A free-flow system could be used when a shipper or retailer has 80 or more cargo containers on a vessel. Those containers would be piled into a separate stack where a stream of trucks would be sent into the terminal through a special lane and each truck would take the next container in the stack. PierPass Inc., which runs the nighttime container-pickup program at the local ports, announced on Sept. 11 that it is experimenting with this program.