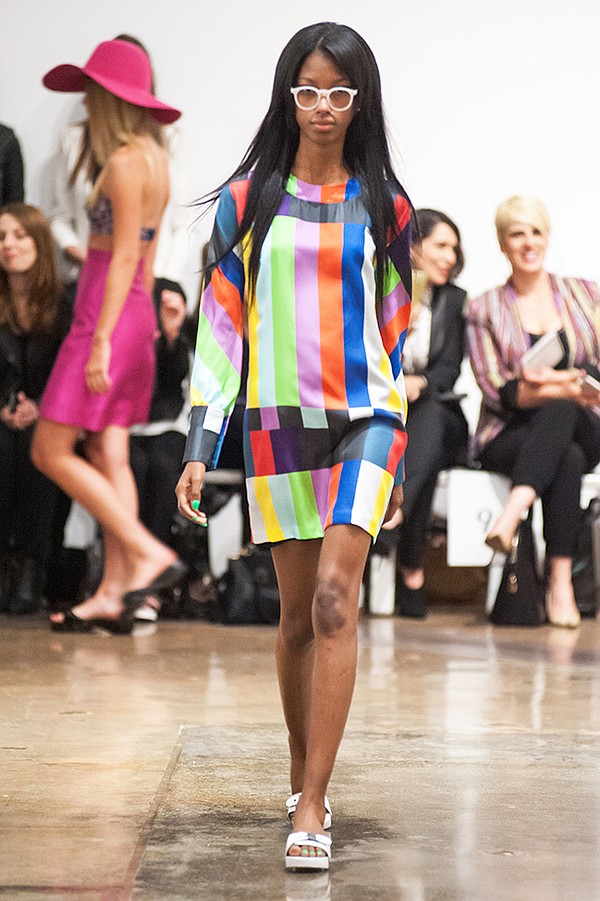 WOLK MORAIS
California Dreaming Debut
Photo Gallery
Wolk Morais' Resort 2016 collection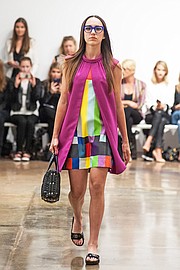 The California dream of tearing down convention and crafting an independent ethos is a serious goal and inspiration for designers Brian Wolk and Claude Morais.
Best known for their critically praised New York–born line, Ruffian, they moved to Los Angeles in 2014 and continued to work on Ruffians and also started a new line, Wolk Morais. It made its debut with a runway show on April 13 at Kohn Gallery, an art space in Los Angeles' Hollywood neighborhood. The line was intended to provide an alternative by concentrating on off-seasons such as Resort and Pre-fall, Morais said.
"We want to be different," he said. "We want to explode the calendar."
But this debut took inspiration from art iconoclasts from California's past—the "Cool School" of mid-20th-century Los Angeles, when artists such as Ed Ruscha strived to make new art. Styling the runway show was Elizabeth Stewart, a celebrity stylist with A-list clients such as Cate Blanchett, Jessica Chastain and Julia Roberts. The Hollywood Reporter listed her in its ranking of Power Stylists 2014.
The 25 looks for Wolk Morais' Resort 2016 collection were mostly composed of dresses, some with a 1960s-inspired A-line silhouette. The designers used mixed media in some looks. One dress featured neoprene, a typical wet-suit material, along with a luxurious silk. Another dress featured a print of the notorious multicolor-bar logo for the Emergency Broadcast System.
Wolk said that the label was intended to be a day-to-evening line in which the silhouettes are simple, the fabrications luxurious, and the colors minimalist and monochromatic. Every piece in the runway show had a California stamp. "Everything was designed, sourced and sewn in California," Wolk said. The list includes hats, eyewear and sandals used in the show.
The next runway show for Wolk Morais is a Pre-fall show scheduled for October in Los Angeles, Wolk said.