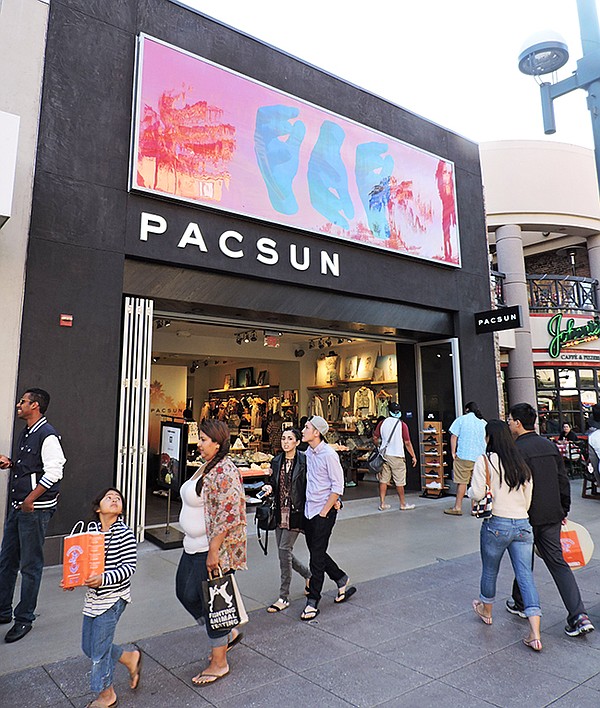 NO DOORS
PacSun Opens Up With Santa Monica Store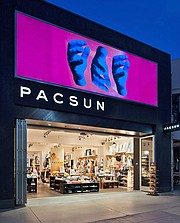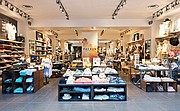 Pacific Sunwear of California made a gambit to stand out with its shop on the high-profile Third Street Promenade retail district in Santa Monica, Calif.
The store was redesigned without front doors and windows, said Gary Schoenfeld, the Anaheim, Calif.–headquartered retailer's chief executive officer. During business hours, the storefront opens directly onto the district's pedestrian walkway, which is typically buzzing with shoppers from all over California and the world. A retractable storefront locks up the store after business hours.
The Third Street Promenade redesign was a two-year project, Schoenfeld said. The retailer, with a fleet of more than 600 stores, now considers the Santa Monica location a flagship.
"Not only do we think that our new store lives up aesthetically to the quality of our men's and women's merchandise, but we are seeing an amazing response from the public. You can't go a minute without watching someone nearly walk past our store and then immediately double back to touch something on one of our front entry displays. Opening up the storefront and upgrading our merchandising presentation has been remarkable for driving traffic," Schoenfeld said.
The redesign also features a commitment to art. Above the entrance, there is an illuminated graphic billboard showcasing original artwork by Tyler Spangler, an artist living in the Los Angeles area. PacSun plans to showcase other local artists on the billboard in the upcoming year. The store, which was designed by a PacSun team, also featured new flooring, lighting, fixtures, mannequins and paint.
The interior of the store features shops-in-shop for brands such as Nike SB, Hurley, Vans and Brandy Melville. Other brands merchandised in the store include Diamond Supply Co., The Hundreds, Brixton, Adidas, V/Sual, RVCA, Young & Reckless, Volcom, Beats by Dre, Stance, Bullhead Denim, Kendall & Kylie, Gypsy Warrior and Billabong.
PacSun is considering exporting the Third Street Promenade's look to some of its other stores. "This store will now serve as the hub for exclusive product launches, marketing stories and talent appearances and has already reset our standard of how PacSun shows up in terms of design, assortment, presentation and customer service," Schoenfeld said.