CHIP FOSTER
Launching New Made-in-USA Capsule Line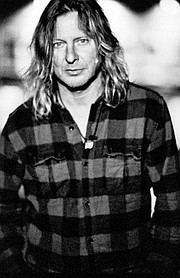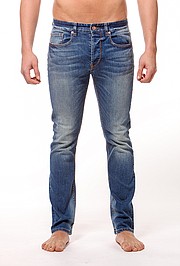 Like many denim executives, Chip Foster goes overseas to manufacture his self-named Chip Foster brand and the Chip & Pepper California label, but the veteran denim maker plans to shift gears for his latest venture and give himself an opportunity to put his ideals in his business plan.
The Los Angeles area–based Foster seeks to source domestically everything from the rivets to the fabric in his capsule collection, Chip Foster Made In America, which he is aiming to ship on July 4. It will be his first made-in-America line since 2010, when he and his twin brother, Pepper Foster, took their production overseas. They are the co-chief executive officers for the Chip & Pepper brand, which is sold exclusively at Belk Inc. department stores.
There has been a lot of excitement about the capabilities of domestic production over the past few years as industrialists and entrepreneurs look to revive America's and California's industrial sectors. But Foster says making jeans in the United States raises eyebrows.
"There is resistance to American-made," he said. "Some people love it. Some people don't love the price." The price for American-made goods can be double that of similar product made overseas.
In the past few years, Foster has talked about returning to producing domestic denim, but many retailers have requested a lower price point. To make Chip Foster Made in America more attractive to retailers, he is aiming to price his line at $100 to $170 retail. With that price point, he expects to lower his typical margin by half to 25 percent.
Foster is able to take this move, which he forecasts may be a loss leader, because his company is independent and he does not answer to a chief executive officer. His payoff will be bringing more prestige and a deeper cachet to the Chip Foster brand, which currently sells at Barneys New York, he said.
He also makes the Chip 87 brand jeans, which have retailed for $79 at select retailers. Last year, he partnered with Bauer, a manufacturer of hockey equipment and performance gear, to make premium denim for hockey players. These jeans are said to have space for wider thighs and bottom openings.
He believes that Chip Foster Made in America will build ramparts for a fight that has a lot of challenges.
"I'm willing to take a loss," said the Canadian-born denim designer. "I want American-made denim. I want to contribute to America. Someone has got to do it. I'd love it if it was under $100, but it's very tough."
Manufacturing domestically can cost 35 percent to 50 percent more than producing apparel overseas. Made-in-America jeans are often sold at high-end department stores or boutiques for denim obsessives such as Self Edge or American Rag's World Denim Bar, both located on La Brea Avenue in Los Angeles. There also are boutiques devoted to American-made clothes such as Charlie's Los Angeles in the Venice district of Los Angeles and North Menswear in Laguna Beach, Calif.
Charlie Farago, founder of Charlie's Los Angeles, said domestic production protects American jobs and the American economy.
Other domestic denim manufacturers agree that higher costs make their market more challenging. Gonzalo Posada of premium-denim collection Eight Field of Freedom made a debut this year. He manufactures the entire collection in Los Angeles. He said that there's a big payoff in quality for domestically made clothes. "You get what you pay for," Posada said. "You have garments that are well made, with high-quality standards that a premium brand should have."
Foster initially stopped making Chip & Pepper in the United States during the denim boom, which started before the Great Recession. Even during those times, when consumers were not as conscious of price, retailers did request premium-denim makers to be mindful of prices. Premium denim could often cost $300 retail.
"If you can't get their margin, you're out of business," Foster said of retailers. "If they didn't like your prices, they moved on because there was another guy selling [premium denim]. We survived because of brand loyalty."
The Chip Foster Made in America collection features 34 styles of bottoms for its men's and women's lines. Silhouettes include a skinny look, a boot cut and a high-rise jean with a 22-inch bottom opening. There are denim shorts in the women's collection. Washes tend toward the darker indigos for men. Some women's looks have a light sky-blue wash. Some of the line's jeans are clean; others are artfully distressed. Other details include fabric printed with stripes and stars, which were used to construct front pockets. There also is a back patch bearing the words Chip Foster American Made. The logo bears a graphic of a shark tooth.
For Henry Duarte, a denim designer who spent a career brainstorming new looks for denim—he currently runs lines New Object Research and Bodymap—it's no surprise that Foster's jeans are steeped in denim history.
"He's a traditionalist," said Duarte, who has worked with Foster and his brother and has been a friend of both for more than 20 years. "He's a five-pocket guy. He uses classic rivets, leather patches in the back. He's a wash freak. He loves going to the wash house and working on washes."
Foster is something of a traditionalist when it comes to his taste in movies. Among his favorites are Westerns, and he often watches the classic 1969 Western "Butch Cassidy and the Sundance Kid." He's also inspired by the jeans worn in those films. "Do they know how cool they were?" Foster asked about the cowboys in Westerns. "Old Stetsons, with a jean jacket, really slim and fitted. They were so cool."
For more information, email jimmyd@chipfoster.com or call (949) 735-8016.