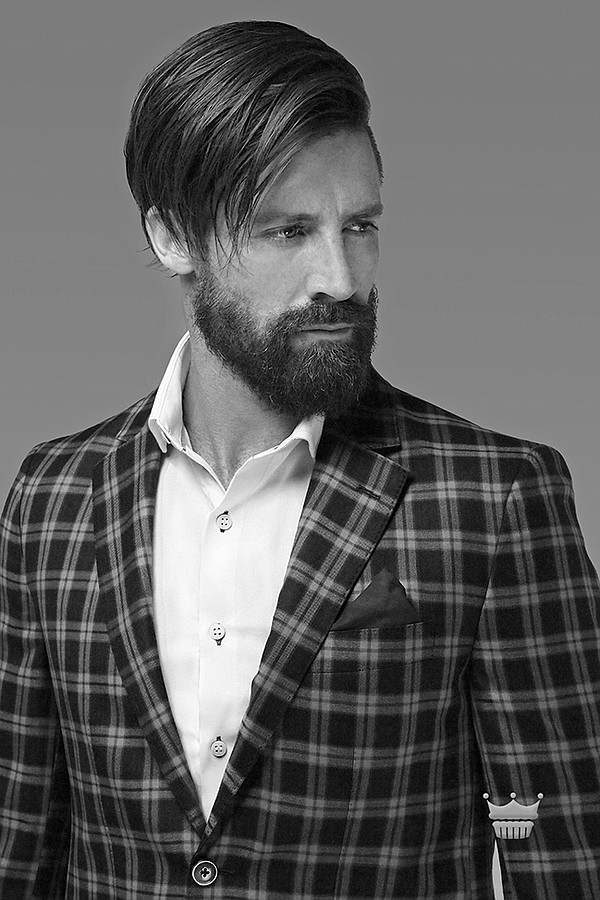 CAKE FOR MONARCHS
Cake for Monarchs: Entrepreneur and Design Veteran Make RTW With Bespoke Style
Bespoke looks at affordable prices. That's the promise of Los Angeles–headquartered line Cake for Monarchs, a menswear label that took its bow this month and is exhibiting at Liberty Fashion & Lifestyle Fairs in Las Vegas.
Entrepreneur Sergio Muñoz-Azuela partnered with Glenn Williams, a veteran designer with a focus on bespoke styles, to create the menswear line, which ranges from unique polo shirts to suiting. Williams worked on Capital Tailors, a bespoke style line backed by Lucky Brand founders Gene Montesano and Barry Perlman.
Cake for Monarchs takes Savile Row techniques—Williams talks about fusibles, custom chest pieces and, of course, hand stitching—to make garments that look like they are sculpted to the wearer's body. When Williams talks about clothes, it can sound like technical shoptalk. "The understructure of the garments will naturally hold them in place," Williams said of the tailoring techniques used in the ready-to-wear line. He serves as the line's design director.
The line's retail price points will range from $425 to $650 for a jacket to $110 to $155 for shirts, $80 to $90 for polo shirts and $595 to $750 for suiting.
The line offers a slim-cut "fashion" body for its suiting and blazers. The jacket is a shorter length, with soft shoulders, yet it still offers a
structured look, Williams said. The line also offers a tailored "classic" silhouette.
Pocket lining and curtain waistbands in the line's trousers are constructed from woven shirting fabric. Polos and T-shirts feature a 1960s-style half sleeve, which drops just above the elbow. Fabrics are sourced from Italy, Spain and the U.K. The line also offers tropical lightweight Merino wools for when one has to wear a suit in hot weather.
Muñoz-Azuela brainstormed on Cake for Monarchs while thinking about what an up-and-coming guy would want to wear. This man might want the looks of European fashion houses, but he may not have the cash to afford them. However, this man is confident that he will succeed. "He wants to be king of the world," Muñoz-Azuela said. "It's about celebration," he said of the line.
Muñoz-Azuela started the line in Torreón, a manufacturing center in his native Mexico. After dressing some sportscasters on Azteca TV, one of Mexico's top broadcasters in 2014, he traveled to Los Angeles to finesse the line. "Los Angeles is where trends are developing," he said.
For more information, contact paul@cakeformonarchs.com.