TRADE SHOW
Capsule's New America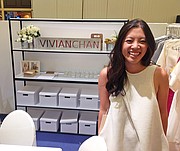 It was a time for new sections at Capsule, one of the Modern Assembly shows, which ran in the Sands Expo & Convention Center and The Venetian Aug. 17–19.
The juried, boutique-style show introduced a special section called New America, devoted to new brands from the Los Angeles area, including skate punk line Blackfist and Second Layer, which makes basics, some with a gender-neutral edge.
New America joined Capsule's other special sections, such as Above Tree Line, which is devoted to brands with an eco edge, such as Jungmaven. Another mini-show at Capsule was Market Square, a cash-and-carry section of the show.
Edina Sultanik, a cofounder of Capsule, said 200 brands exhibited at the recent run of Capsule, which she described as a show for progressive contemporary men's and women's brands.
Retailers visiting the show included high-end boutiques and department stores such as American Rag, Bloomingdale's, Nordstrom, Ron Herman, Need Supply Co. and Mohawk General Store. Also in attendance were online retailers such as ASOS and Zappos as well as international retailers such as Beams from Japan.
Capsule was the site of trade-show debuts for new brands that ranged from high-end women's collection Vivian Chan to the beach-lifestyle looks of Noon Goons. Other brands taking a bow at the show included Mr. Completely, Yoke and the accessories line Rais Case.
Catherine Chow, founder of San Francisco boutiques Welcome Stranger and Azalea, said she placed an order for Noon Goons at the show. She also noted that many boutiques were buying within season and ordering Immediate goods.
Toby Burke Hemingway, of recently opened Los Angeles boutique Hemingway & Sons, noted he saw a lot of new brands at the show. Many brands seemed to be taking risks with new prints, but they placed the prints in classic shirt silhouettes. One of the brands that he took a look at was Canadian denim brand Naked & Famous.
Vendors had a range of different experiences at the show. For Brian Chan of Whittier, Calif.–headquartered Wolf & Man, the recent Capsule showed the best business results for his label. By the end of the show, Chan had taken in more than 40 orders for the Wolf & Man label, which focuses on wovens. It also introduced a Wolf & Man knits line at the show. During Capsule, he mostly saw stores headquartered on the West Coast, but he also saw stores from Washington, D.C., Ohio, and Montana. Business at the show was good for Wolf & Man because buyers had gotten to know the brand after it had exhibited at four Capsule shows.
Gil Gomez of the Blackcircle Agency showroom, based in Los Angeles, said retailers were making more orders. "It seems like buyers' budgets have increased. We're getting more order writing at the show," he said. Gomez's showroom represented Wolf & Man, Dead Society and Annex, an Australian brand that made its American trade-show debut at Capsule.
Representatives for Danish brand Halo said they had forecasted that they would get more buyer traffic at Capsule. Halo's Kasper Spacey said that traffic on the first day was decent, then it declined. He blamed the show's scheduling for his brand's traffic. "It is late in the season. [Capsule's New York show] is better because it is earlier," he said. The last New York show took place in July.