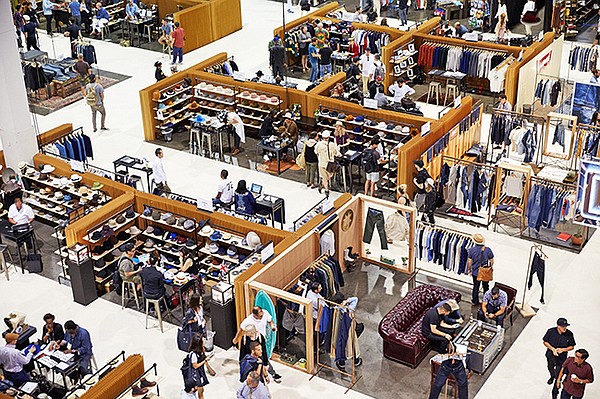 LIBERTY
Liberty: Freedom of Point of View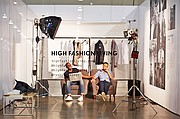 Attendee traffic increased 7 percent over last year at the Liberty Fashion & Lifestyle Fairs during the show's Aug 17–19 run at the Sands Expo & Convention Center in Las Vegas, according to Rachel Zimmerman, a spokesperson for the show, which is devoted to contemporary and advanced- contemporary brands. Real estate for booth space at the recent run of Liberty was sold out, she said.
Retailers shopping the show included Nordstrom, Bloomingdale's, Neiman Marcus and Saks Fifth Avenue as well as influential boutiques such as LASC, Revolve, Mohawk General Store, Ron Robinson and Traffic LA and overseas retailers such as United Arrows & Sons, Harrods and Harvey Nichols.
But vendors had a wide range of points of view regarding business at the show. For Timothy J. Padilla, a co-founder of the Los Angeles–headquartered T&A Showroom, business was fantastic.
"The last two seasons in Vegas were okay," Padilla said. "This season was great." He estimated that his showroom would double its Liberty business over last year's show. He credited the increase in business to the location of the T&A booth, which was adjacent to the entrance of Agenda, Liberty's sibling show.
Across the aisle from Padilla, Hyden Yoo ran a booth for his namesake Hyden Yoo brand and the Standard Issue line, which he describes as sophisticated streetwear. "It wasn't the best show. It wasn't the worst," Yoo said. He worried that the booth walls, which wrapped around his section of the show, were too high—buyers couldn't see what brands were inside. Categories of retailers also were buying differently.
"Boutique buying is down. Department-store buying is consistent with last year. Online is growing little by little," he said. At Liberty, the Hyden Yoo label introduced a men's jumpsuit, which featured an oxford shirt–style collar.
A few minutes' walk away, Jason Schott, chief operating officer of Schott NYC, described business at the recent run of Liberty as "quality over quantity."
"There were good meetings with great buyers," he said. "But there was less traffic overall." At the show, Schott NYC displayed lighter-weight jackets used for motorcycle riding. One such jacket was called "Lucky." It was a lightweight lambskin suede jacket.
Sam Ben-Avraham, Liberty's founder, said he and his team found the right balance of brands for the fifth run of the Liberty trade show. The show balanced men's suiting with streetwear, denim with boots, and high-end sneakers and basics with an avant-garde edge. Taking a bow at Liberty was the new show section called Poggy's World. It was curated by Motofumi "Poggy" Kogi, a director of Japanese retailer United Arrows & Sons.
Another section that took a bow at the show was The Studios. It provided mini-studios to fashion media that are published online, such as Por Hômme.
New brands taking their trade-show bows at Liberty included men's suiting and shirting brand Cake for Monarchs; headwear brand Mossant; Exley NB, a menswear brand manufactured in New England; and Australian womenswear brand TY-LR.