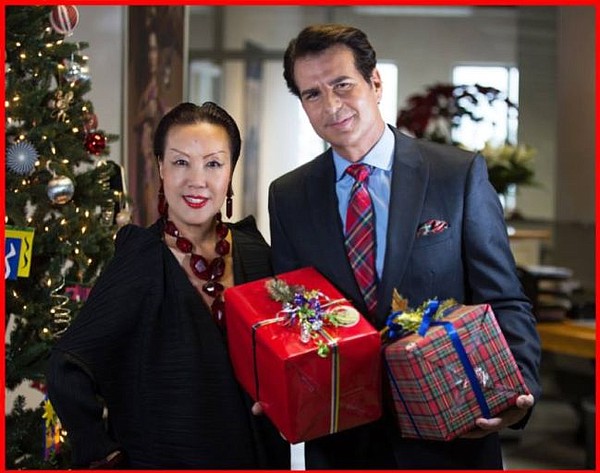 Get Ready for your Close-Up Sue Wong: Beverly Hills Christmas
Los Angeles fashion people might have seen designer Sue Wong at one of her gala Los Angeles Fashion Week runway shows. But she's going to be on film. The eveningwear designer will make a cameo in the film Beverly Hills Christmas. The independent film will make a debut Dec. 6 on the UP television network – also known as the Uplifting TV network.
Sue will play herself. The film's crew shot some scenes at her atelier – and at the Los Angeles Fashion Week runway show for her fall 2015 collection.
Here's a little more about Beverly Hills Christmas. It follows a fashion obsessed Beverly Hills high school student named Ravin. The self-absorbed, but very stylish, student does not know that the Archangel Gabriel, played by Dean Cain, got plans for her. He gave her recently deceased mother, played by Donna Spangler, an assignment before she can enter Heaven. Put her daughter on the right track. (And how do we know this story was produced by Los Angeles people? The stand-in for Heaven is Malibu!)
Also starring in the movie are Ravin Spangler and Vincent De Paul. The film was directed by Brian Skiba. Mona May, who served as the costume designer for 1995 fashion obsessed flick Clueless, styled Beverly Hills Christmas. For those looking for fashion labels in the movie, appearing will be clothes and accessories from Ike Behar, JBD Clothiers, Calvin Klein, Ploosh, Brooks Bros and St. John Knits.