RETAIL
Newsmakers 2015: The Return of Mall Construction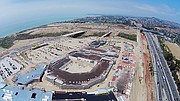 Construction cranes were a common site over the Southern California landscape in 2015, and a slate of luxe malls made a debut during the year.
The Village at Westfield Topanga took a bow in September. The $350 million project in Los Angeles' Canoga Park area is the address to independent boutiques such as JET John Eshaya. The open-air center also unveiled unique features such as a bocce ball court.
In late summer, The Point opened for business in Los Angeles' South Bay. Its directory includes an emporium for Lucky Brand as well as Lou & Grey, a new concept from Ann Taylor Loft, and Southern California fast-fashion store No Rest for Bridget.
In the fall, Pacific City made its debut. A $135 million project across the street from the ocean in Huntington Beach, Calif., Pacific City's tenants include H&M and the boutique Tankfarm & Co.
The Outlets at San Clemente also opened during the fall in the beach city of San Clemente, Calif. The 325,000-square-foot center is the address for outlet stores for Calvin Klein, Nike, Puma and Under Armour. The property was developed for $100 million.
The newly redeveloped Del Amo Fashion Center took a bow in Torrance, Calif., during the fall. The major remodel, which reportedly cost $200 million, renewed the center's claim as being the biggest mall on the West Coast. The 2.7 million square feet of retail and restaurants in Del Amo includes a new Nordstrom as well as emporiums Uniqlo, Zara and H&M.
2015 was a bumper-crop year for mall construction because of pent-up demand for new retail centers, said Vincent Spataro, director of the Southern California region for Shawmut Design & Construction. Shawmut projects include a renovation of the Tiffany & Co. store on Rodeo Drive as well as construction of the upcoming Under Armour store at the Americana at Brand center in Glendale, Calif.
"Nothing happened between 2009 and 2012," he said of the mall-construction scene. But plans for new retail centers were made after the economy started rebounding after the Great Recession. Construction for these projects happened to wrap up this year.
Expect more major remodels of Southern California malls in 2016. Multimillion-dollar remodels are scheduled for Westfield Century City in Los Angeles' Westside and The Bloc in downtown Los Angeles.