TECHNOLOGY
Newsmakers 2015: Retail Tech In-Store and Online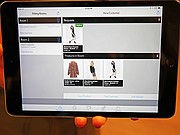 Omni-channel was the tech buzzword of 2012. In 2015, the retail tech world was focused on "Big Data," or through feeding extremely large sets of data into computer algorithms, then finding trends and patterns, which might forecast what kind of denim consumers will purchase.
Marshal Cohen, chief industry analyst for The NPD Group Inc., said even with massive amounts of information compiled on consumers, retailers are just beginning to figure out how to use Big Data. "We haven't scratched the surface of it," he said." Retailers are just becoming aware of it."
Big Data has the ability to make retailers more proactive in forecasting what consumers want, when they want it and what they want to pay for it.
"Big Data allows retailers to be omnipresent," he said. "It allows them to handle interactions with consumers before, during and after transactions." By recognizing patterns in waves of information—anything from social media, credit-card history and micro weather patterns—retailers will be able to forecast what to sell and to which shopper.
Consider San Francisco's Stitch Fix, a Big Data retailer. Stitch Fix feeds customer surveys into its algorithms. Whether a customer has a preference for blue dresses or racer-back tops, her fashion choices can be found in the reams of data placed in the algorithm, according to Big Data advocates. Stitch Fix's human stylists finesse the choices that the machine stylists make.
Stitch Fix is not the only company using this model. Men's clothing company Trunk Club has been using Big Data too. Media reports say that Nordstrom Inc. paid $350 million to acquire Trunk Club in 2014.
Retail technology also has affected the way some physical stores are built. The Rebecca Minkoff store in Los Angeles opened in August. The store's interactive video wall greets shoppers. The video wall streams the Minkoff company's campaign video. It also takes orders for drinks and can tip off the store's stylists to prepare a fitting room.
Technology also personalizes the experience of the Minkoff store's fitting rooms. There's mood lighting that a shopper can adjust with the fitting room's computers. Interactive mirrors in the fitting rooms also can make recommendations based on a shopper's preferences.