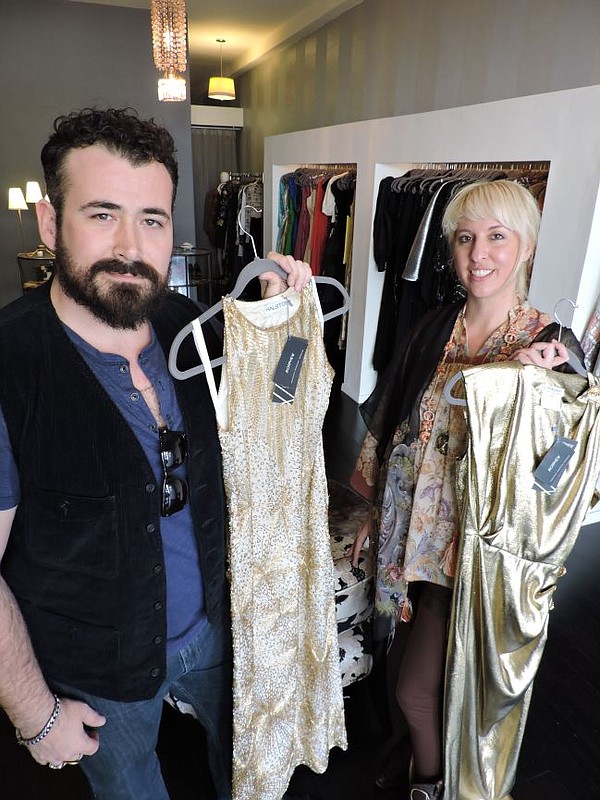 Morphew's Awards Season Pop-Up
It's awards season in Los Angeles, the time when the fashion world and the entertainment industry collectively go gaga over the red carpet gown. Enter Morphew, a luxury online retail platform, which hopes to give Los Angeles something different with its Red Carpet Pop-Up shop. The pop-up is being produced at physical boutique Bustown Modern, which is located at 8166 Melrose Ave., appropriately located by entertainment and fashion businesses. It's a couple of storefronts down from The Improv Comedy Club and the Fred Segal compound of boutiques, and across the street from Burton/Channel Island Surfboards store.
Morphew's point of difference is that it seeks out vintage gowns with a style that captures a contemporary spirit and look, said Jason Lyon of Morphew. He and business partner Bridgette Morphew, founder of the vintage business, curate red carpet gowns that they divided into different segments. There are classic gowns, which they believe have a classic Oscar look, there's a group of dresses with an "edgier" look, and ones with a more cocktail feel.
Names like Halston, Versace, Chloe, Norma Kamali, Balmain, and Bill Blass line the racks of the red carpet pop-up, which runs until the end of February. However, Morphew and Paul Fogt, a co-owner of Bustown Modern say that they aren't overly impressed with a designer label.
"If it isn't unique, if it doesn't have something to say, we don't carry it," Fogt said.