TRADE SHOWS
Hammock Rolls Out New Format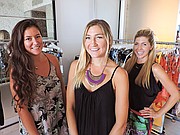 MIAMI BEACH, Fla.—The Hammock trade show has gone through an evolution.
Formerly known as Salon Allure, the swimwear-centric event introduced a rebranding campaign that included a new name and a new format for the 5-year-old show, held July 18–20 at the W Hotel, said Rick Fatzinger. He is the managing partner of the company that produces Hammock. His production company will continue to be called Salon Allure.
In the past, swimwear brands displayed their lines in hotel suites. While the show continued to offer its private-suite format on the hotel's third and fourth floors, it also rolled out an "open-forum" format where swimwear brands exhibited in trade show–style booths in the hotel's Great Room. "Upstairs is an appointment-driven show," Fatzinger said, referring to the suites.
The open-forum section was for newer brands looking to meet retailers through walk-by traffic. Brands displayed their goods in 10-by-10-style trade-show booths. The open forum also focused on categories such as beauty and accessories with a beach-lifestyle angle.
It also provided space for overseas brands to introduce themselves to U.S. buyers. There was K. Blu Swim from Indonesia, the London-based showroom Barefoot Chic exhibiting brands such as Magda Gomes and Isolda, and French lines Do Paris and Thapelo Paris.
Fatzinger said that 35 brands exhibited in the Great Room and 65 brands displayed in the suites. In July 2014, when the show was still called Salon Allure, 41 brands exhibited at the show—more than half this year's number. Fatzinger estimated that 530 buyers browsed the 2015 show.
Half of the brands exhibiting in the suites were making return engagements. Mikoh, Honey Bee Swim, Pacific & Driftwood and Issa de' mar all returned to exhibit. Prominent swim line Luxe by Lisa Vogel made its debut at Hammock. Also showing were brands Tavik, Frankie's Bikinis and Beach Bunny Swimwear.
Retailers passing through the show included Neiman Marcus and Nordstrom. More specialty shops dropped by the show than in previous years, Fatzinger said. They were attracted by the increase in accessories brands at the open-forum section of the show.
Melissa Jasniy, co-founder of Issa de' mar, said that the suite format worked well for her brand. "It's been busy. We've had all of our returning accounts, and we saw new accounts. We leave exhausted every day. It's good," she said.
The brand showed its Cruise '16 line, which has a November delivery. It also showed its Spring '16 line, which was scheduled for a March delivery. Half of the buyers visiting Issa de' mar's suite made orders for merchandise with an "at once" delivery. The other half requested Spring '16 deliveries.
Kimberly Small, designer and founder of Enjoué, said the open format worked out for her 2-year-old fashion swimwear brand. "For a new brand, it's the best way to get foot traffic. I've had steady walk-by traffic. It's good to meet people and network," she said.