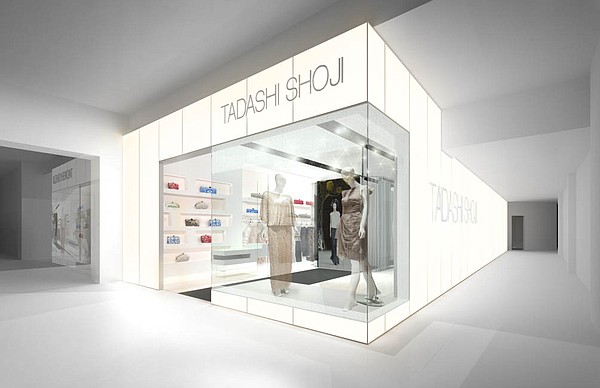 THE TADASHI EXPERIENCE
New Look for South Coast Plaza's Tadashi Shoji Boutique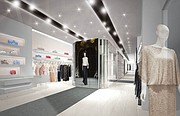 The Tadashi Shoji boutique in South Coast Plaza in Costa Mesa, Calif., is scheduled to unveil a high-tech remodel on June 20. Shoji, a Japanese-born, Los Angeles–based designer of red-carpet gowns and eveningwear, said his 1,175-square-foot store will keep its location on South Coast Plaza's level 2, adjacent to Bloomingdale's. Yet the store will offer an entirely new experience.
The store's new look will be defined by unique architectural installations and a giant plasma screen, which will display Shoji runway shows. The boutique's flooring will feature a simulated stone ceramic floor tile, and the color scheme of the store will show a palette of cream and soft pink. The space was redesigned by (M)Arch., a Santa Monica, Calif.–based architecture firm that also designed the look of Shoji's upcoming store in Doha, Qatar, as well as the Venice, Calif., offices of Vice Media Inc., which produces a print magazine and a news show on HBO.
The focus of the new look of the South Coast Plaza boutique was to create a unique space that embraces the Shoji aesthetic, said Sherry Hoffman, a partner at (M)Arch. "We wanted to define 'a luxurious moment' for Tadashi's clients," she said. "Luxury is reflective of his craftsmanship, about the idea of fit and pattern making, while taking about his ethos of designing for all women of all ages, from 17 to 70."
Shoji has introduced the Tadashi Shoji Runway Collection in fall 2007 at New York Fashion Week. Since then, his designs have been seen on Michelle Obama and actresses Octavia Spencer and Nina Dobrev and entertainers Ciara and Britney Spears.
RELATED STORIES