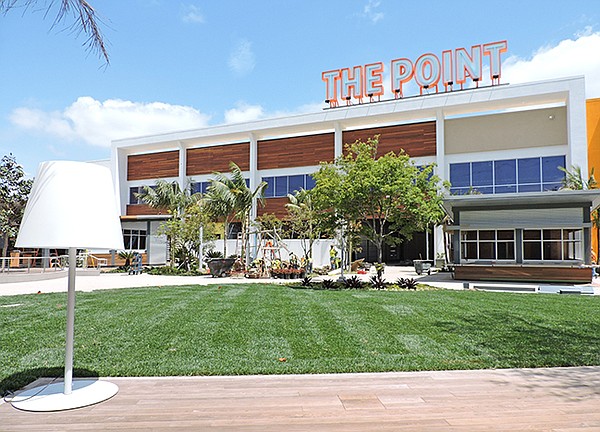 THE POINT
New Retail Center Bows in L.A. County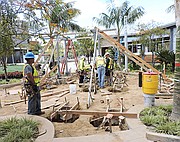 Planet Blue, Lucky Brand and Michael Stars are scheduled to open stores at The Point, Los Angeles County's newest retail center, which is scheduled to take a bow on July 30.
Also scheduled to take a bow at The Point are boutiques for Prana; Lou & Grey, a new concept from Ann Taylor Loft; No Rest for Bridget, a fast-fashion chain; Athleta, Gap Inc.'s women's fitness line; and Six:02, a women's fitness apparel and footwear shop owned by Foot Locker Inc.
The open-air boutique retail center is currently being constructed on 12 acres of land located at the intersection of Rosecrans Avenue and Sepulveda Boulevard in El Segundo, Calif., which is located adjacent to the affluent cities of Manhattan Beach, Hermosa Beach and Redondo Beach as well as the Palos Verdes Peninsula.
Federal Realty Investment Trust, headquartered in Rockville, Md., spent $80 million to build The Point, which will spread out over a relatively compact 115,000-square-foot area. It owns the Plaza El Segundo shopping center, which neighbors The Point. Federal Realty also developed another open-air retail center, Santana Row, in San Jose, Calif.
However, The Point was intended to be a retail alternative, said Jeff Kreshek, vice president, West Coast leasing, at Federal Realty. "We worked on this project for four years, and we wanted to create a special place in the South Bay [of Los Angeles County], a place that is more experiential than functional," he said.
Shopping and dining will be central to the new retail center's mission, but much of the retail center was constructed as a place to hang out as well as a place to shop. Designed by Architects Orange, based in Orange, Calif., the retail center features a 40,000-square-foot common area that includes a park-like lawn area. There will be fire pits at The Point. The retail center also features whimsical architectural features. Large street lights that look like giant desk lamps are placed in the center. A children's play structure was designed around an installation that looks like a lifeguard stand. Overlooking the retail center will be 25,000 square feet of office space, although office tenants have not been announced.
The Point's primary audience will be people from the South Bay's beach cities as well as El Segundo and the Palos Verdes Peninsula. Kreshek said that this well-off demographic was not interested in mainstream mall experiences.
"Shoppers want something that is flexible, something that is convenient and something that is approachable," he said. "They don't want a 2-million-square-foot mall where you have to ask for directions all of the time. You'll never have to say, 'How do I get from Point A to Point B' here."
The boutique retail center also will offer restaurants and cafés that are new or new to the area, such as Hopdoddy Burger Bar, an Austin, Texas–based hamburger and bar restaurant. There also will be Craft Shack, a fast casual eatery by the Simms Restaurant Group. Other restaurants will be Superba Food & Bread, North Italia and Mendocino Farms.
Planet Blue is scheduled to open a 3,200-square-foot boutique in the fall, said David Lindell, the Santa Monica, Calif.–headquartered boutique company's vice president of retail. The store will be the 11th physical location for Planet Blue, which was inspired by the beach lifestyles of cities such as Malibu, Calif.
"The brand aesthetic and vibe was conceived here, right alongside the ocean and in towns like Manhattan Beach. It's the perfect place for us to be not only logistically but also because of the overall lifestyle that encompasses everything we love about the California. This is where our brand will thrive," Lindell said. He declined to forecast how much the sales per square feet were going to be at The Point.
The Point is part of a wave of new retail construction in the South Bay. This fall, Del Amo Fashion Center, a Simon mall in Torrance, Calif., is scheduled to unveil a new remodel, which will include a new Nordstrom. Plans to remodel the Manhattan Village mall were approved by the Manhattan Beach City Council in December. There are also plans to redevelop and build new retail in the waterfront area of Redondo Beach. A remodel is scheduled to be unveiled in early 2016 for the Peninsula Center mall in Rolling Hills Estates, a town on the Palos Verdes Peninsula.
The market is improving for developing retail centers, said Vincent Spataro, director for the Southern California Region for Shawmut Design and Construction, a company that has built luxury stores on Rodeo Drive in Beverly Hills and around America. "As we continue to claw our way back from the depths of the recession, there are a large number of retail developments underway. Until recently, most of the activity has focused on refurbishment and re-positioning of existing, underperforming centers. With greater availability of development capital, we are seeing more emphasis on new centers throughout the country," he said.
RELATED STORIES