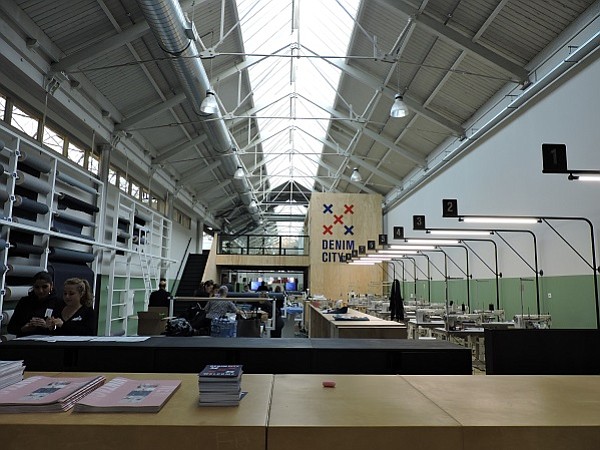 DENIM NOTES
Education in Denim
During my recent trip to Amsterdam to cover the Kingpins denim sourcing trade show and the Global Denim Awards, I also got a chance to tour Denim City, the home of Amsterdam's Jean School, a vocational program offering training in denim design and development.
The school was founded three years ago, but this is its first year in its new Denim City space in De Hallen, a huge retail, entertainment, restaurant and creative public space housed in a former tram hall.
Over the course of three years, Jean School students learn all there is to know about the jeans business, from the technical aspect of fiber, fabric, design and construction to the business aspects such as sourcing, buying, marketing and promotion.

Jean School is one of several denim-related projects created by the House of Denim Foundation. Founders Mariette Hoitink and James Veenhoff also created Denim City, the Global Denim Awards and Denim Days, a consumer-focused celebration of all things denim. The two are currently developing an English-language, one-year condensed course in denim development.
Denim City has a workshop space equipped with sewing machines and cutting tables, as well as a library of fabric and trim. The space also houses the Blue Lab, an independent laundry innovation facility stocked with washing and finishing machines. Denim City also houses the Indigo Archive and Institute, a research center featuring a denim garment archive, as well as information about new fabrics, new materials and new laundry techniques.
The school is supported by the City of Amsterdam, the C&A Foundation and the European Fund for Regional Development, as well as a number of industry supporters including denim mills Candiani Denim, Bossa Denim, Tejidos Royo and Advanced Denim, denim labels G-Star Raw, Levi Strauss & Co. and Tommy Hilfiger, and sewing machine supplier Global Sewing Machines.
SMART TALK ABOUT BLUE JEANS
Last week, Denim City was also the site of an educational symposium called "Denim on Stage: University Meets Industry at Denim City in Amsterdam." Held on Oct. 30, the event was sponsored by The Enterprise of Culture and HERA (Humanities in the European Research Area). Speakers included professors and researchers from the University of Leeds, the Erasmus University of Rotterdam, Kansai University, the University of Warwick, the Universite Paris IV Sorbonne and the University of Brighton.
Representing the industry in the day-long event were Andrew Olah, founder of Kingpins; Hiseo Manabe, chief executive office of Japanese denim mill Japan Blue Co. Ltd.; Adriano Goldschmied, denim development pioneer and creator of Acynetic, a new knit denim collection; Amy Leverton, denim trend forecaster and author; Simon Giuliani, marketing manager for Candiani Denim; and Thecla Schaeffer, chief marketing officer of G-Star.
House of Denim founders Mariette Hoitink and James Veenhoff served as hosts of the event. Through the House of Denim Foundation, Hoitink and Veenhoff launched Denim City, Jean School, the Global Denim Awards and Denim Days, a consumer-focused celebration of all things denim.
Among the day's topics: the birthplace of denim. Pascale Gorguet-Ballesteros, curator of the Musee Galliera and University Paris IV Sorbonne, discussed the competing theories for the denim's place of origin. She argued that rather than the popular belief that denim was created in Nimes, France in the 18th century, a denim-like material was being produced for sailors and members of the middle class in Genoa, Italy, in the 16th century.
Japan Blue's Manabe took the audience on a visual tour of the Kojima denim center in Okayama, Japan, which hosts an annual "Denim Festival," which draws 200,000 visitors over the course of two days, he said. Kojima's taxis and trams are wrapped in denim and the streets are painted blue with a red and white selvage stripe running down the edge.