EVENTS
Barbara Fields Spring Summer 2016 Trends: Hippie, White Fabrics, and Sports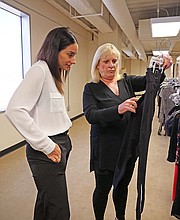 The 1970s hippie has come back.
That was part of the forecast at the Barbara Fields Buying Office Spring/Summer 2016 Trend Presentation. It was held the week of Oct. 5 at the California Market Center in downtown Los Angeles. Barbara Fields forecast some of the most popular trends in juniors for next year. They will be styles reminiscent of the hippie look of more than 40 years ago. Styles include fringed jackets and T-shirts, tie-dye patterns, ripped jeans, T-shirts bearing the American flag, and almost anything in suede.
Fields, who has been forecasting fashion trends for more than 30 years, did not come from her recent predictions by going to a Grateful Dead–inspired jam band concert. Rather, she racked up millions of frequent-flyer miles traveling to fashion capitals such as London, Tokyo, New York, Barcelona and Sydney, where she researched the most popular styles selling at retailers in those cities. Fields believes that what is trending in these places will become popular in the United States in 18 months or less after they crest overseas.
For the most recent round of forecasts, a prominent group of retailers attended her presentations. The group included Nasty Gal, Ron Jon, Sears, Wet Seal, Windsor, Gabriel Brothers and Citi-Trends.
Other big looks for Spring 2016 include T-shirts with ring collars and tops with stripes. "We think they are going to be pure volume," Fields said. "We love the Americana trend and how it is merchandising with stripes very well."
Distressed jeans are forecast to be big. Also predicted to be popular: jeans shorts with frayed hems. These shorts will have paneling that feature fabrics such as crochet and details such as grommets.
But 2016 won't necessarily be a retread of 1972. Any white garment is forecast to sell well. Think white woven shirts, vests made out of white crochet and lace, and camisole tops as well as long sweaters and pants.
Also predicted to be popular are screen prints featuring tropical and floral graphics as well as blanket capes featuring Native American patterns.
Another big trend will be clothes with an athletic edge. Fields said sports-bra tops will be popular, along with tank tops with sports team–style graphics, leggings made for a gym workout and a windbreaker that can be packed up in a pouch.
For jeans, juniors styles will see a continuation of what has been seen in the streets in 2015. "Butt-lift [styles] still continue. Slit knees are still influential. High-waisted jeans are still continuing," Fields said.