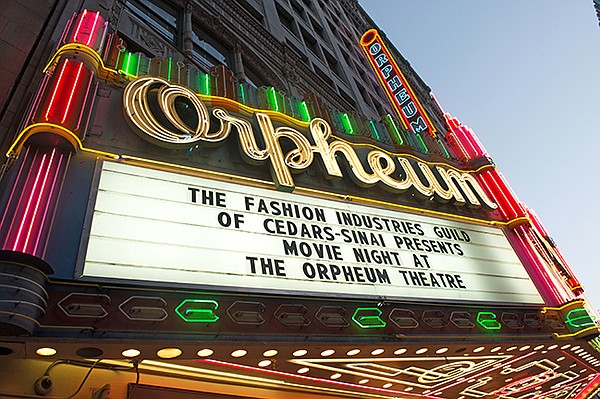 CEDARS-SINAI
Fashion Industries Guild Goes to the Movies
For its annual fund-raiser for the Cedars-Sinai Medical Center, the Fashion Industries Guild changed things up a bit. In place of the usual formal dinner, this year the group hosted a cocktail party and movie screening at the historic Orpheum Theatre in downtown Los Angeles.
Guests enjoyed cocktails and hors d'oeuvres as they mingled in the theater's ornate lobby, checking out the silent-auction offerings and stocking up on sweets at a candy bar before a private screening of the 1994 film "The Adventures of Priscilla, Queen of the Desert."
Fashion Industries Guild President Jessica Needleman Lewensztain thanked her parents, Cathy and Steve Needleman, for donating the use of the 1926 theater before introducing Charles Simmons Jr., chairman of the department of pediatrics and director of the division of neonatology at Cedars-Sinai Medical Center.
"The Fashion Industries Guild is such a phenomenal institution. This is the 59th year Fashion Industries Guild has been in support of Cedars-Sinai's mission. I'm very grateful to this organization. They put children in a better place."
This year's event raised funds for the Fashion Industries Guild Congenital Heart Laboratory and the Hal Kaltman Fashion Industries Guild Congenital Heart Research Endowment at Cedars-Sinai.