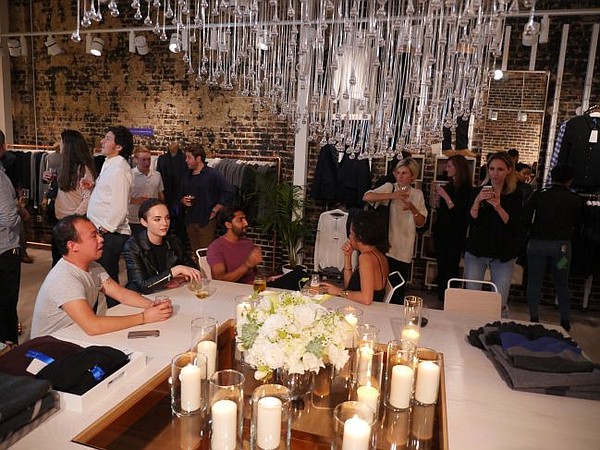 Kit and Ace To Abbot Kinney
Canadian-brand Kit and Ace opened its first Los Angeles area shop at 1130 Abbot Kinney Blvd. A gala debut party was held Oct. 28 for the 2,400-square-foot shop, which aims to mix contemporary clothing with a sense of a get-together.
The Vancouver, B.C.-headquartered brand focuses on making contemporary clothes for men and women with what brand statements call "technical cashmere" fabric. The brand's Pine Polo shirt retails for $98. The men's Walcott Blazer retails for $398. The Emerson underwear for women retails for $38. A hang tag attached to the garment guarantees that it will help the wearer spend her whole day in unabashed bliss.
Now for the party. At the center of the shop, there is a large, rectangular "Supper Club" table. At the debut, partiers gathered around the table like patrons at a bar or a sushi restaurant. Kit and Ace co-founder Shannon Wilson said that the table, as well as the store's exhibition space was meant to "engage locals beyond the traditional sense," according to a brand statement. Take a look.