TRADE SHOWS
Agenda Moves East Coast Show to Miami in January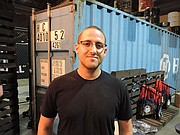 Agenda trade show announced Sept. 1 that it will move the location for its Winter East Coast show from New York to Miami, Fl.
On Jan. 18–19, Agenda will run its Winter East Coast show at the Mana Wynwood events space in Miami's bustling arts district. The 153,111-square-foot space was the address for high-profile events during Art Basel art fair and the electronic music conclave Winter Music Conference. Agenda also produces bi-annual shows in Long Beach, Calif., and Las Vegas. Its summer East Coast show will be continue to be held in New York.
With the move, Agenda will ditch New York's blustery winter weather. Temperatures dipped to 36 degrees Fahrenheit during the last January show in Manhattan. However, the new show also is scheduled to run a few days after Surf Expo, which has produced the dominant trade show for surfwear on the East Coast for the 40 years.
Surf Expo, which is owned by Atlanta-trade show producer Emerald Expositions is scheduled to run Jan. 14–16 in Orlando, Fla., a four-hour drive up from Miami. Agenda, which built a reputation for showcasing styles for streetwear, action sports and fashion, is owned by Reed Expositions, which is headquartered in Norwalk, Conn. Agenda grew to prominence as the scrappy trade show which served as a satellite, and eventually as competitor to Action Sports Retailer, a surfwear trade show which shuttered in 2010 in San Diego after nearly 30 years of business.
Levant said he believes there will be little competition between the two shows. "We don't view ourselves as a competitor of Surf Expo because we serve a different market demographic for the most part. The show is also in a different city on a different date. With that said, we believe there will be a lot of buyers who attend both shows. In the past, we have had many buyers who would hit Surf Expo in Orlando and then come up to our show in New York. If anything we just shortened the commute for many of those buyers," he said.
Roy Turner, senior vice president for the Emerald Expositions' sports group of Emerald Expositions, which runs Surf Expo, declined to comment on Agenda's move to Florida.
The new show could create some new options for vendors who exhibit at both Surf Expo and Agenda Long Beach, which is also scheduled in January. Dale Rhodes, vice president of sales for Katin USA, said his surfwear company hopes to support Surf Expo and Agenda. But there was a question on whether his company could appear at both shows.
"It is to be determined. We do have to look out for best interest," he said. "We have to see what direction Agenda is going in. If it is a more of a streetwear atmosphere we would stay with Surf Expo. If Agenda looks more Long Beach show, and caters to more boutique and resort business, it might be a great option for us. We might do both."
Vendors have long complained about having scrambling from the sprawling Agenda's Long Beach show in in January to fly across the country to Surf Expo.
In an interview earlier this year with California Apparel News, Agenda's Levant said he had tried to negotiate new scheduling for the two shows since 2011. Agenda will host its Long Beach show Jan. 7-8, 2016.
Levant started thinking about doing a Miami show after producing an Agenda show in Manhattan during the harsh storms of January 2014.
"Everything was shut down," he said of the storm "We had hundreds of people who contacted us and said that they couldn't get to the show. It put a big dent in our plans. We still had a decent show. But it could have been so much better."
Levant also forecast that a move to Miami would broaden the appeal of the New York show, taking the show from an event which mostly appeals to Northeast retailers to one that would attract retailers from across the Eastern Seaboard and the Caribbean. He expects the upcoming Miami show to feature a wide-ranging mix of vendors.
"We are hoping to diversify the brand mix in Miami to be reflective of the mix offered at our Long Beach show. It may take several editions for this to take shape but that is the general direction that the Miami show is headed," he said.
He also expected growth too. The New York show featured 250 brands, he said. "[The Miami] venue has the potential to hold between 500 to 600 brands so there is still long term growth potential for us," he said