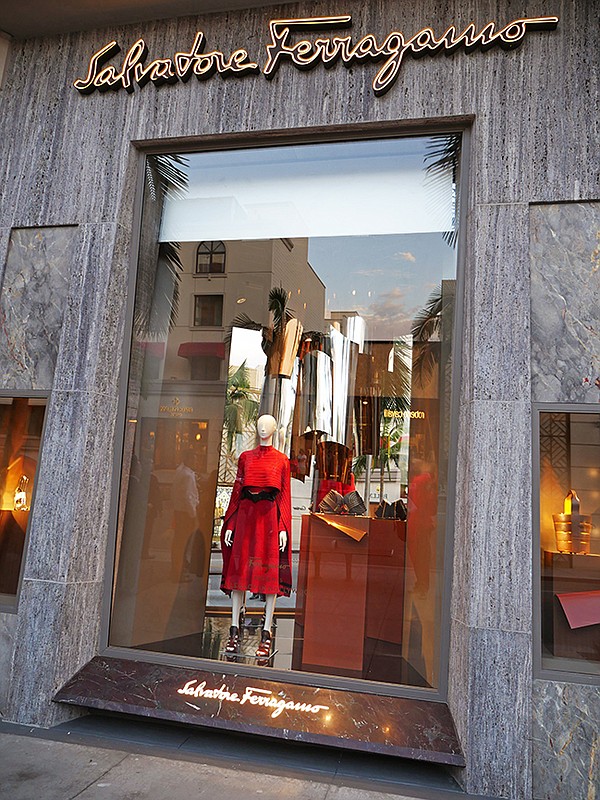 ITALIAN VIBE
Salvatore Ferragamo Unveils Rodeo Drive Remodel
The Salvatore Ferragamo fashion house reopened its Rodeo Drive boutique with a gala party attended by movie stars, athletes and other members of the glitterati.
The new look of the flagship, located at 357 N. Rodeo Drive, was intended to communicate the sumptuous style of the fashion house's luxury footwear and ready-to-wear along with the craftsmanship of the fashion house's founder, Salvatore Ferragamo, who launched the brand in 1927.
"I wanted to keep their voices alive," said the store's architect, William Sofield, referring to the brand's heritage and founder. "It's what it is all about."
Metal designs on shop doors were made to be reminiscent of leather cuttings and shoe designs made by Salvatore Ferragamo. The flagship featured gallery-style displays of Ferragamo shoes such as the whimsical women's shoe called "Invisible," which was crafted in 1947. Another display exhibited a Ferragamo Oxford shoe worn by renowned artist Andy Warhol. There's a drop of paint on the shoe.
Upon entering the flagship, shoppers see women's shoes as well as handbags and accessories. Adjacent to the front room, there's an alcove for women's scarves at the north side of the store. Toward the south side, there's an alcove for men's scarves and ties.
A middle section of the store features a wide range of Salvatore Ferragamo footwear ranging from slip-on sneakers to boots and elegant high-heeled shoes as well as a room for women's ready-to-wear.
The back of the shop features a space for men's ready-to-wear clothes and a section for making bespoke shirting.
Members of the Ferragamo family were at the Sept. 10 event. On hand were Salvatore Ferragamo's grandson James Ferragamo and daughter Fulvia Visconti Ferragamo. Both direct divisions of the fashion house.
Michele Norsa, the fashion house's chief executive officer and group managing director, was also there. Celebrities at the event included Demi Moore, Freida Pinto, Camilla Belle, Andy Garcia and Robbie Rogers of the LA Galaxy soccer team.
The Ferragamo fashion house is on the move. In May, it opened a store in Brookfield Place in New York City. At the end of October, it is scheduled to open an outpost at Westfield Garden State Plaza in New Jersey, said Vincent Ottomanelli, the chief executive officer/regional director for Salvatore Ferragamo–The Americas.
RELATED STORIES