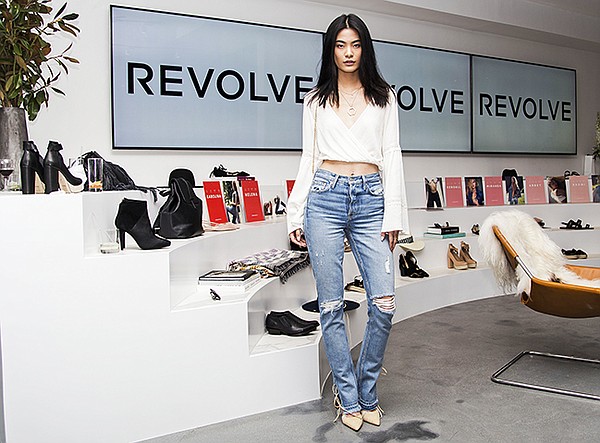 GRLFRND DENIM
Grlfrnd Denim: Revolve Denim Has a Vintage Look With a Contemporary Fit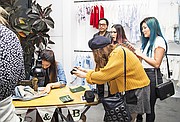 E-commerce powerhouse Revolve clothing has added another line to its roster with the launch of Grlfrnd denim, a made–in–Los Angeles vintage-inspired denim collection that is produced by Alliance Apparel, the manufacturing business acquired by Revolve last year. (Alliance Apparel also produces Lovers + Friends, Tularosa and NBD.)
Revolve celebrated the debut of Grlfrnd on April 13 at its new members-only store, located on Melrose Avenue in West Hollywood, Calif. Bloggers, brand ambassadors and loyal customers are given an exclusive shopping experience at the Revolve social club, which also serves as an event space for the company. The three-level space includes a storefront, where Grlfrnd denim debuted, as well as a showroom and an upper deck with an expansive 360-degree view of the city.
With Grlfrnd pieces hung on display in the modern space, the April 13 event drew fashion editors and bloggers as well as international influencers such as Patricia Manfield, Pernille Teisbaek, Gala Gonzalez and supermodel Hailey Clauson. On the rooftop, DJ duo Simi/Haze provided the soundtrack. Select guests were welcomed to personalize their piece of choice with a monogram detail along the bum or jacket collar.
"This is our first denim collection," said Breanna Warner, Alliance Apparel's director of brand marketing. While other Revolve brands have included denim pieces, Grlfrnd is the company's first purely denim collection. "We are excited to be focusing wholly on a high-end, quality, made-in-LA denim label," she said.
The debut collection pays homage to '90s supermodels—as well as a few present-day models. Styles are named after iconic muses such as the "Claudia," a mid-rise, super- stretch skinny jean. There's the straight-leg "Helena" style, the high-rise "Cindy" cut-off short and the "Kendall" super-stretch skinny pants.
Grlfrnd features a range of styles that includes skinnies, cropped flared, button-fly and high-waist skinnies with tapered ankles. There's a new, modern boyfriend style and a mid-rise with raw-cut hem. Standout pieces include the "Abbey" flight suit, the "Miranda" denim dress and the "Cara" cropped trucker jacket.
"There has been a huge resurgence in the demand for a vintage aesthetic, but the fit is always difficult," Warner said. "We really focused on premium materials, sexy fits and modern tailoring to ensure every woman feels her best in this denim."
The Grlfrnd denim Spring/Summer '16 collection is available exclusively at Revolve's website (www.revolve.com) with retail price points ranging from $148 to $320.