TRADE SHOWS
WWIN Brings in Buyers From Across the Country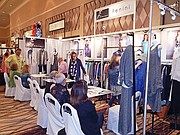 About 2,200 stores showed up for the Aug. 15–18 run of the Women's Wear In Nevada show in Las Vegas, down some 5 percent from one year ago.
"We were pretty close to last August but off a little," said Roland Timney, who cofounded the show in 1998 and is now one of the show's managers.
The jam-packed event, which displays women's clothing and accessories, filled six ballrooms and two large meeting rooms at the Rio All-Suite Hotel and Casino.
The four-day event is always a buzz of activity. On the first day, Monday, the show stayed open until 8 p.m., and the show's organizer, Urban Expositions, set up a wine bar.
It is an event that has a steady showing of the same vendors every season selling goods for the misses market. Every year, it is attended by specialty stores, catalogs and big chain stores.
Several catalog companies visited Eddie Penn, whose Penn Centrall is an East Coast rep carrying several lines of clothing. "Our lines don't have West Coast reps, which is why we have been doing the show for seven years," Penn said.
Several catalogs such as Soft Surroundings and Vermont Country Store stopped by the booth as did small chain stores. The show was going well, Penn said, but he felt traffic was down.
Los Angeles–based Tianello, whose line consists of colorful tops made primarily in downtown Los Angeles, was also seeing a number of catalogs visit. The president of San Francisco–based Gump's catalog stopped by as did representatives from TravelSmith. "They buy from us because we are local and we can do quick reorders," said Steve Barraza, the owner of Tianello.
Fidelma Wyse, the general manager of Salaam, a Vermont-based line made in New York, said she comes to the show to find new customers for her collection, which is very print-driven and made of European fabrics. "We've had a good day today," she noted in between showing the line to a store buyer. "It's an opportunity for us to show a wider range of the collection."