Crooks & Castles – To the Dogs!
Crooks & Castles got a creative spark with the labels and hang tags for its line of streetwear and fashion.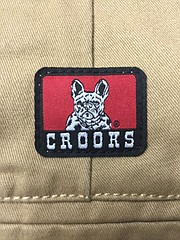 Over the years, we've seen a Medusa's head, a castle and the words Crooks & Castles on the brand's labels. For Fall '16, we're going to see something new. It's on the Davis line of chino pants, which the Crooks introduced at the Agenda Long Beach trade show earlier this month. Above the back pocket of the chinos, there's a workwear style label - featuring not a Medusa, not a castle, but something a little more everyday. It's a sketch of a French bulldog named Prince. The Davis chino pant comes in colors such as black, rifle green and khaki, said Emil Soriano, Crooks' design director. The fall 2016 pants will be in stores in July. Check it out!