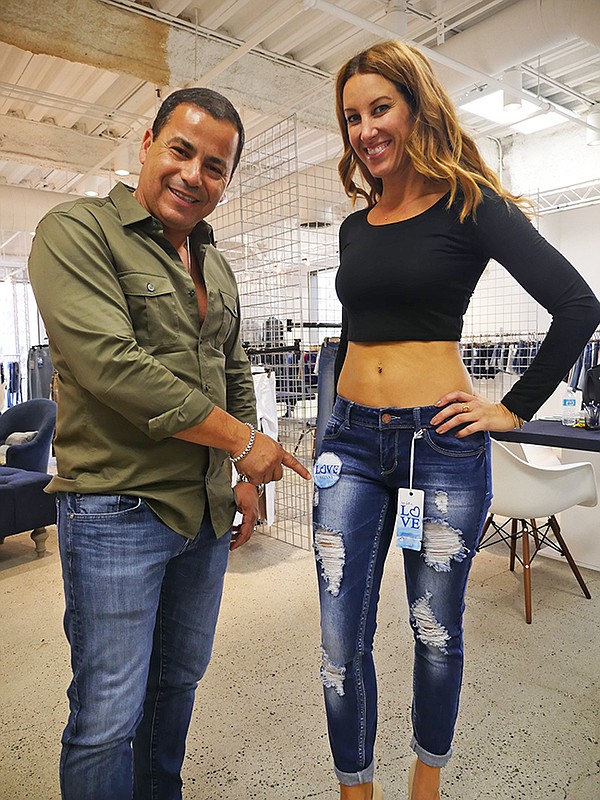 LA MAJORS MARKET
Parking Lots Full, At Once Orders at LA Majors Market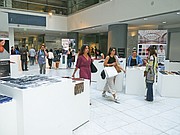 The Sept. 26–28 Spring '17 edition of the LA Majors Market ran at the same time as the LA Textile show, and it brought in a crowd to the California Market Center.
"The [California Market Center] parking lot was full. I can't remember the last time that happened," said Christian Wicks, executive vice president of sales and marketing for the Blank Slate showroom. The overlapping crowds created opportunities for crossover traffic for buyers, he said. However, the Majors Market was mostly an appointment-driven show at Blank Slate. European brands such as Closet London, Maac London and Boo Hoo were represented in the showroom. Boo Hoo is sold online-only. A focus of the recent Majors Market was to introduce the brand to physical stores, said Mark Hackney, chief executive officer of Blank Slate.
The biannual Majors Market is focused on department stores, chain-store business and those running big-box stores. It has been a tough season for these retailers. On Aug. 11, Macy's Inc. announced that it would close 100 of its stores. On Sept. 19, Kmart announced that it would close 64 stores. For more than a year, the major growth vehicle for Nordstrom Inc. has been its off-price Nordstrom Rack stores, not its full-price stores.
Some vendors said that the market was reflected in the pace of business at the show.
"The buyers are very cautious. They're picky. They have to see if it checks," said Sherwin Ross, who represents Unique Garments Co. Ltd., a Chinese company that makes private-label clothing for the large retailers who typically shop the Majors Market.
Most vendors interviewed for this article reported success at Majors, but they also noted that the show had its challenges. David Vered, president of YMI Jeans, the Los Angeles–headquartered company known for its figure-shaping Wanna Betta Butt jeans, forecast that his brand's sales would increase 10 percent to 20 percent over last year. However, he classified the recent market's pace as merely solid.
Working in the industry's favor was that brands were offering a lot more styles for Spring '17 compared with past seasons, Vered said. YMI expanded its tops categories to include new looks such as chambray and Tencel shirts and has been offering twill bottoms along with its denim bottoms.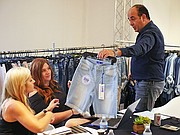 However, Vered said that one trend could catapult sales. "People are talking about the election, but weather is going to make the difference," he said. "You need the weather on your side. If we get a cold October, retail sales will jump. We need it to be in the 50s and 40s at night."
Success at Majors depended on a bet that many buyers were not going to make orders for the Spring '17 season, said Alison Budow of the Alison Budow Sales showroom.
"Positioning yourself as a 'wear now and buy now' vendor is key." Budow said. Her showroom took orders with an Oct. 30 delivery date. She promised many of her orders could be turned around in four weeks. The quick delivery dates were crucial for a market that was early, said Patricia Welman, division manager of the Simply Ruby brand, which was exhibiting at Alison Budow Sales.
In recent years, the Majors Market has been scheduled in early October, and many buyers were not prepared to buy Spring-season clothes at the recent show, Welman said. They didn't have their open-to-buy budgets ready for the market. More buyers took notes, Budow said. "We're having to schedule more follow-up meetings. It's two times the amount of work," she said.
Some buyers also are ordering earlier because of the early Chinese New Year, which begins on Jan. 28. In the past two years, it started in early-to-mid February. Chinese factories typically close for a month in observance of the holiday.
"Everyone is trying to prepare earlier," Steve Cho said. A 17-year veteran of the clothing business, he started Sketch Apparel in February. "We're ordering in advance so we don't chase the items we need to buy before Chinese New Year."
Retailers seen at the Majors Market included Dillard's, Nordstrom, Von Maur, Nasty Gal, TJ Maxx, Rue21, Stage Stores Inc., Bealls, JCPenney and Gordmans.
RELATED STORIES