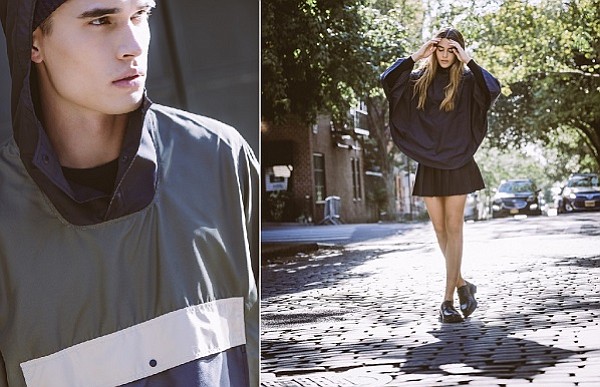 MANUFACTURING
Herschel Supply Co. Acquires LA Showroom, Starts Fashion Line
Named after a small town in rural Saskatchewan, Canada, Herschel Supply Co. shot to prominence from its headquarters in Vancouver, but recently it has taken a bigger bet on Los Angeles.
The accessories brand, founded by brothers Lyndon and Jamie Cormack, has grown in popularity across the globe. It is sold in 10,000 doors around the world and has garnered fashion headlines in London and Tokyo since its 2010 launch. It's a big deal here, too. The backpacks, which mix utilitarian and fashion influences, are sold at high-end department stores and core skate shops. News of a recent sample sale for the Herschel brand in December drew giant lines at downtown Los Angeles' California Market Center showroom building. Recently, Herschel increased the size of its sales office in the City of Angels, where it also runs a big design office.
In a low key manner, it acquired The Ntwrk Agency, the Los Angeles showroom and sales group that has long handled Herschel's American sales. Terms of the deal were not disclosed by the privately held company. Kellen Roland, the founder of Ntwrk, will continue to run the office that will focus solely on Herschel products. His title will be director of sales, USA, for Herschel.
"It was a once-in-a-lifetime opportunity to be part of a brand that makes the best product," Roland said. "We're telling a story and continuously innovating. We're always trying to make better product."
As a separate venture, Roland founded the biannual LA Men's Market trade show in Los Angeles. More than 100 fashion and streetwear brands exhibit at the trade show. Its next show is scheduled for March 28–29. Whether he will return to direct the show is yet to be determined, Roland said.
The deal to bring Ntwrk in-house was wrapped up in early January. Before the deal, Herschel employed three designers in Los Angeles. Starting in January, it will employ 15 people and will be hiring more Los Angeles design staff as the company grows, according to a Herschel statement. The sales offices will be located on the fourth floor of the CMC. The design office is located on the sixth floor. Both are located in the "B" wing of the CMC. As part of the deal, Herschel also acquired Ntwrk's New York City showroom.
Lyndon Cormack, Herschel's cofounder and managing director, also noted that it was crucial to bring sales in-house to increase focus on the brand. "It is so much better to have everyone on the same team," he said in a telephone interview from his Vancouver headquarters. "It has never been more collaborative. It has never been more helpful for decision making going forward as a brand."
Cormack is a frequent visitor to the Los Angeles area. He often stays in Malibu and West Hollywood when he flies into Los Angeles more than six times a year. However, as the Cormack brothers solidify their company's position as a global brand, they wanted to add a Los Angeles perspective to the brand, which has been noted for its old-school appeal and mixing the feel of urban travels and nature treks.
"We have a strong Pacific Northwest point-of-view," Lyndon Cormack said. "One thing we are trying to accomplish is to have a complementary design aspect from a Los Angeles point-of-view."
The brand's design has Southern California roots. Its design director is Jon Warren, who formerly worked as a design director for Vans footwear and apparel label. Vans is headquartered in Orange County, a center of the surf and skatewear scene. When he joined Herschel in 2014, Warren worked out of Herschel's Los Angeles office. He moved to Vancouver 18 months ago, Cormack said.
Outside of design, Los Angeles is a key point of interest to the Cormacks. A real estate venture they are involved with, CormackHill LLP, acquired the former Fred Segal compound at 8100 Melrose Ave. in Los Angeles in March, reportedly for $43 million. The brand runs a handful of branded boutiques. This year, it will open one in Vancouver, and reportedly a Los Angeles shop will be rolled out in the future.
Herschel made a splash with backpacks. The brothers Cormack, formerly employed as sales reps for brands such as Vans and K2, saw an opening in the accessories market. They saw it as sports oriented. But youth who were more focused on fashion and lifestyle often carried backpacks. Why not design backpacks closer to their aesthetic?
They introduced their lifestyle backpacks at the Agenda trade show in New York City in 2010. In a case of great timing, the general popularity of the backpack category skyrocketed and has been seen on celebrities such as Taylor Swift and Rihanna in addition to handbags. Herschel has been placed at major retailers such as Nordstrom, Bloomingdale's and Urban Outfitters as well as e-commerce emporiums such as Revolve and independent boutiques such as Bowls Los Angeles in the Little Tokyo section of Downtown Los Angeles.
The brand has expanded from backpacks to accessories such as wallets, tote bags and even caps. At Agenda, which ran Jan. 5–6 in Long Beach, Calif., the brand introduced its first apparel collection. It debuted two lines of outerwear: "Voyage," which is a line of packable windbreakers, and "Forecast," which is rainwear.
Silhouettes include coach's jackets, windbreakers, parkas and ponchos—a look that will be offered to women. Each silhouette is offered in 15 colorways—which range from blacks, grays and navy blues to pinks—as well as color-block designs and camouflages. The first deliveries for the outerwear will be in June, and retail price points will range from $69 to $100.
Herschel bided its time before it tried its hand at apparel. "We wanted to be famous for something before we were known for everything," Cormack said. Eventually, Herschel plans on being a lifestyle brand. But he said that the company will take its time. "We'll be more focused of how, when and why we'll get into certain categories," he said.