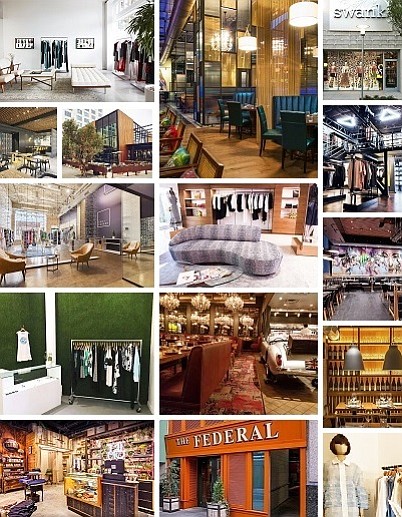 SHOP & DINE
Shop & Dine
The trade-show season is a year-round circuit that is like a movable feast when it comes to hunting for new styles and fashions.
That movable feast is also about finding new up-and-coming restaurants or popping into a new boutique that demonstrates how the latest fashions are curated and displayed on racks and in windows. It seems that every trade-show city is popping with choices.
Here are a few suggestions about dining and shopping in the cities that make up the major trade-show route that winds its way across the United States.
LOS ANGELES
Peri. A
146 N. Robertson Blvd.
(310) 659-9940
When Peri Arenas opened her multi-brand boutique in April, she knew she was taking a gamble on real estate. Robertson Boulevard was once acknowledged as one of Los Angeles' top retail streets, but it was hit hard during the Great Recession, and its rebound has been slow.
Change may be on the horizon. The exclusive Blue Bottle Coffee roaster is scheduled to move onto Robertson in the second half of this year. With the debuts of a few more restaurants, Arenas forecasts that bigger crowds will come to Robertson and the thoroughfare will become a more prominent center for independent boutiques and fashion.
Arenas hopes that her boutique will serve as an alternative. She searches for emerging designers from around the world and intends to introduce them at her store. One such designer is India's Rahul Mishra. Arenas said that she is the only store in the United States to offer the designer's Spring/Summer 2017 clothes while others will start with Mishra's Fall/Winter 2017 looks.
Vying to be a fashion alternative is rooted in Arenas' interest in serving as a merchant. She relies on personal taste to inform the boutique's buying. "I'm a shopaholic," she said. "I'm bored of what's out there. I joke that I buy one for me, one for the store, but it is not much of an exaggeration."
Arenas crafted the look of her boutique with interior designer Lynda Murray. Dressing rooms are covered by curtains bearing the slogan "Peek a Boo." A table at the edge of the boutique displays vintage Playboy magazines. It's there for the husband/boyfriend/culture hound willing to peruse pop culture from more than 40 years ago. The boutique interior is all about a party. "I'm very tongue in cheek," Arenas said. "I try to bring fun into my life and hopefully other people's lives."
Otium
222 S. Hope St.
(213) 935-8500
After you wander through a small grove of 100-year-old olive trees shipped from Italy and wind up at Otium, you realize this is no ordinary eatery located near the Broad Museum.
The wood, glass and steel structure that sits on Bunker Hill is an ode to fine cuisine created by Timothy Hollingsworth, who partnered with the Broad Foundation and Sprout LA to open the dining spot last year.
Hollingsworth is known for his years as the chef de cuisine at the multi-award-winning French Laundry restaurant in Napa Valley. But five years ago, he headed south to start his own culinary venture, which resulted in Otium—where he delivers his own interpretation of California cuisine.
Seafood and vegetables are heavily represented on his menu, which ties in with California's obsession with freshly sourced ingredients, but there are also plenty of plates that incorporate lamb, chicken, beef and pork. Different cuisines from Latin America, Asia and Europe are also spotted on the menu.
For an extra-fresh-food emphasis, the herbs for various plates are grown on the restaurant's roof.
Favorites are the carrots served with a Mexican pepian sauce or the falafel with eggplant and cucumbers or the squid-ink pasta with an arrabiata sauce, salted, cured fish roe and cuttlefish.
The tart crust layered with steamed oxtail is far from ordinary, and the lamb with Middle Eastern herbs conjures up images of Lebanon. For an unusual twist, try the foie gras funnel cake with beets and fennel.
The restaurant's stellar location overlooks parts of downtown Los Angeles, and the windows let a stream of light into the dining room. Because there's not much separation between the dining room and the kitchen, you might get an idea of what's up with your order.
SAN FRANCISCO
Reformation
914 Valencia St.
(855) 756-0560
The environment is a serious matter in San Francisco. Along with police, fire and education, the San Francisco city and county government runs a department of the environment. It works on toxics reduction, urban forestry and agriculture, and a school education plan, among other programs. In such an eco-minded city, it was only a natural that Reformation, a Los Angeles company founded on the goal of making eco-friendly clothes, open a shop there.
In February, Reformation opened in the city's Mission District. More specifically, it is on a stretch of Valencia Street that has increasingly become the site of stylish contemporary boutiques.
Environmental concerns were placed in the foundation of The Mission's Reformation shop. A shop wall uses rammed earth blocks, a sustainable building material, which is considered in eco-construction circles to generate little waste and reduces need for lumber.
The Mission's Reformation shop mixes environmental concerns with another San Francisco obsession, technology.
The shop's dressing rooms are equipped with touchscreens. Register a request on the touch screen, and store staff will bring clothes the shopper ordered to the dressing room. The touch screen also offers Reformation's online catalog. If the shopper's size or silhouette is not in stock, she can order it through the touch screen.
Dressing rooms offer special lighting, allowing discerning shoppers to test how they will look at different times of the day. The store sells Reformation's dresses, swimwear and denim, among other styles.
Rooh
333 Brannan St. #150
(415) 525-4174
The South of Market district in San Francisco is increasingly becoming the city's hot dining-out spot as a wave of urban coolness sweeps over the area.
So it isn't surprising that a new hip and modern Indian restaurant should select this barrio to open its first eatery in the United States.
Rooh opened its doors in February after much anticipation for a new kind of progressive Indian menu created by chef Sujan Sarkar to compete in a city known for its selection of fine restaurants.
The owners of the restaurant—the Good Times Restaurant Group, run by the Bhambri family—have more than nine outposts in India. So they have a little experience running eateries with a certain flair.
For their San Francisco location, they went for a sophisticated and stately interior design heavy on bold blue and gold. As diners walk in, they are greeted by a long white marble bar on top of a bright-blue base.
Rooh's nod to India is seen in a tall fresco painting of a woman in a traditional Indian sari painted over a warm yellow wall.
The culinary team at Rooh includes a mix of professionally trained U.S. and Indian cooks who prepare dishes that are Indian with a California touch. There are offerings such as foie gras paté with masala or tuna bhel, which is a take on street vendor food that includes a mix of puffed rice, vegetables and potatoes.
The menu is a mix of small plates, entrées and large platters as well as a separate seven-course tasting menu for $80 that takes you on a gastronomical journey through India.
Some favorite small plates among diners are the butter chicken with red pepper makhani and the keema kyderabadi, which is minced meat with potato mousse and green peas. Vegetarian plates include vegetable dumplings with spinach purée, saffron cream and lotus-root crisp and tandoori seasonal mushrooms with polenta, Parmesan cream and truffles.
Large plates include a lamb chop with pistachio, curry leaf, keema moussaka and chutney. Or there is the Alaskan halibut prepared with gun-powder spice, seafood and millet kichdi.
Rooh has an exotic cocktail menu that incorporates the six tastes of Ayurveda: sweet, sour, salty, pungent, astringent and bitter.
There is also a selection of beers and wines. The wines tend to be on the pricy side, so you might want to bring your own bottle and pay the $30 corkage fee.
One outstanding feature here at Rooh is there is even a tea sommelier.
LAS VEGAS
Feature
3735 Spring Mountain Road, Suite 205
(702) 463-3322
www.featuresneakerboutique.com
From nightclub bars to retail shop floors, Las Vegas boutique Feature plans to live up to its motto, "All Things Good."
At its physical location in Las Vegas' Chinatown section and its Instagram account (www.instagram.com/feature), the boutique looks to curate the best of the tastes of the owners. They are Ajay Bouri, EJ Luera, Keith Iavazzi and Aaron White, who spins tunes under the name DJ Ikon. Said Bouri, "The basic premise of the store was to be about music, fashion and art. It embodies the vision of everything that is good."
Most of Feature's partners started their entrepreneurial careers in Nevada's nightclub world. The 2,200-square-foot boutique has a look of an interstellar disco, what with triangle-shaped lights on its ceiling, black walls and racks of high-end sneakers that are backlit with bright lights.
Feature's sartorial tastes range from exclusive Japanese brand Visvim to $42 T-shirts made by Reigning Champ. The store's curation mission runs through its store staff. Everyone at Feature contributes to the post, Feature'd Outfit of the Week. In this post, a Feature staffer styles an outfit with pieces ranging from designer styles to basics.
Famous DJs such as Diplo shop at Feature when they are in town. The shop's influence is being felt around the world. About 65 percent of the retailer's revenue comes through its e-commerce. It also hopes to put itself out there through footwear collaborations. Feature has worked with Los Angeles footwear brand Clae to design a high-end sneaker. It also collaborated with sneaker brands Asics and Saucony for capsule collections. With Saucony, the store developed a collection inspired by a dessert masquerading as breakfast: the Belgian waffle. Blue, green and red pops of color on the sneaker represented blueberry and mint on the proverbial waffle. The sole of the shoes represented the grids of the waffle itself. Feature produced a booth at Agenda Las Vegas in February 2017 to display the Saucony collaboration collection. The look of the booth? A waffle house.
Momofuku
3708 Las Vegas Blvd. South
Cosmopolitan Hotel
(702) 698-2663
Momofuku is a vibrant Asian restaurant that has several outposts on the East Coast as well as in Sydney, Australia, and Toronto.
But recently it opened its first West Coast restaurant inside The Cosmopolitan Hotel, located on the strip.
Momofuku has a modern interior accented with big installations by artists from around the world. There is a super-graphic installation by U.K.-based photographer Liam Wong, and there is a red-and-gray knitted lighting installation by Korean artist Kwang-Ho Lee. On one wall is a mammoth five-canvas graffiti installation by American artist David Choe.
The first Momofuku restaurant opened in 2004 when chef David Chang started his Momofuku Noodle Bar in the East Village of New York with a loan from his father and a family friend and some of his own money.
Chang, then a 26-year-old graduate of New York's French Culinary Institute who also spent a year studying Japanese food in Tokyo, would go on to open several New York locations and then branch out to other regions.
The various eateries all have one thing in common—cuisine that is influenced by Korea, Japan and the United States. The menu is filled with items such as steamed buns, noodles, meat and seafood.
Most of the menu is filled with small plates that are meant to be shared. Steamed buns include selections of pork belly, shrimp, shiitake mushrooms or chicken. The raw bar features oysters on the half shell, scallop poke and sashimi.
Noodle and rice dishes are herb-infused dishes. There is the king-crab cold noodle dish with lemon dashi and smoked trout roe or the spicy Sichuan rice cakes that have pork sausage, broccoli and crisp onions. Diners rave about the pork ramen, whose broth is built on powdered mushrooms, chicken bones, kombu, rendered bacon fat and a tare infused with bacon ends.
Meat and seafood plates include dry roasted mussels with bacon and Momofuku furikake or katsu chicken with a bulldog sauce and cabbage.
There's a reason David Chang won the James Beard Foundation Award in 2013 for best chef.
DALLAS
Pax & Parker
1621 River Run, Suite 116, Fort Worth
(817) 439-9581
When counted together, the Dallas/Fort Worth megalopolis ranks as one of Texas' biggest cities. However no one would say they are twin cities. Fort Worth is the more laid-back sibling of Dallas, said Alari Paxson, cofounder of the Pax & Parker boutique.
There's something of a small-town feel in Fort Worth. Game day at Texas Christian University is a big deal here. Paxson and her business partner, Winston Parker Ley, opened a multi-brand boutique, Pax & Parker, in December 2015 in WestBend, a new retail center on the banks of the Trinity River. West Bend will celebrate its grand opening later this year.
But even in a big town with a significant population of college-age kids, Fort Worth did not enjoy an independent boutique scene for contemporary fashions. Paxson and Parker, Fort Worth people who met in San Antonio working at the high-end Julian Gold boutique, thought they were exactly the people to bring a new verve in indie boutiques to the town, which describes itself as a city of "Cowboys and Culture."
The Pax & Parker cofounders weave themselves into their city's life by producing events for nonprofits. There was a pop-up shop for the Leukemia & Lymphoma Society of North Texas on April 29. In February, they participated in a denim drive fundraiser for the Ronald McDonald House charity, Paxson said.
"It's not just, 'Hey, c'mon, buy something!' It's about being involved in the community," Paxson said of her shop.
The shop also participated in the American Cancer Society's annual breast-cancer fund-raiser titled Real Men Wear Pink. It also produced a "style show" at the Evening of Hope gala, which benefited an AIDS outreach center.
The store's collections include Milly, Rebecca Taylor, Trina Turk, Eberjey, DL1961, Billy Reid, Jack Spade, Zachary Prell, Cuisse de Grenouille and Paige Denim.
They are housed in a space designed by Bart Shaw, a Fort Worth architect who won an International Interior Design Association award for crafting the look of the shop. It features an architecturally unique screen made out of 1,800 white hangers.
Ley forecasts that Pax & Parker will open another location in the future. "We are not a one-store company. We're waiting for the right time and place," he said. "Growth is on the calendar."
Town Hearth
1617 Market Center Blvd.
(214) 761-1617
If you're on the hunt for a primo steak house located in an over-the-top-designed restaurant, try Town Hearth.
This recently opened restaurant located in the Design District, not far from the Dallas Market Center, is getting lots of stars just for the imagination and time spent on the décor.
Imagine 64 chandeliers packed into a 6,000-square-foot restaurant that has a silver 1961 MG roadster parked in front of the kitchen and a yellow mine-sweeping submersible encased in a large fish tank. Add a couple of vintage Ducati motorcycles, and you get the picture. This is no ordinary restaurant.
The man behind the restaurant is Nick Badovinus, the owner and chef who spent three years amassing an eclectic assortment of odds and ends that went into the place. He got a bit of a head start with the vintage Navajo rugs from his father's collection. They hang near the entryway.
Badovinus is no stranger to the restaurant business. He already has two other eateries open in the Dallas area: Neighborhood Services and Montlake Cut. But this is probably his most outlandish place.
Town Hearth is known for its high-end steaks, which are cooked on an open grill. There are bone-in prime ribs and steaks that are dry-aged for 45 days. This is also a place where comfort food reigns supreme. There are items like the "tot du jour," a plate of tater tots prepared differently every day. Think tots with beef bourguignon or tots with béarnaise sauce.
One of the more interesting appetizers is the fried oysters served in escargot cups that are not filled with snails but with kale and splashes of aioli.
Of course, there are plenty of other things on the menu if you're not into steak, such as homemade pasta, whole fish and chicken. There are also things such as Cobb Creek chicken with herbes de Provence and potatoes, spaghetti Vongole and grilled veal chops.
NEW YORK
In Support Of
342 W. 13th St.
(646) 657-0724
Tanya Sheikh and Ivan Gilkes were living a fashion business dream. They co-founded a showroom representing independent designers who often garnered ink from fashion journalists. A New York address and fashion biz credentials helped gain entry to a Manhattan dolce vita of culture, restaurants and nightlife, Sheikh said. But they thought they could do more.
"For me, the industry was only satisfying to a point," Sheikh said. "You have to start thinking about the community that you are living in and using your platform for helping others," she said.
The platform was based in retail. They opened boutique In Support Of in Manhattan's Meatpacking District. It was a boutique to represent the underrepresented. Proceeds from sales go to nonprofits supporting children, education and women. The store's racks featured designs from self-funded, emerging designers, many only working on creative inspiration and a fashion dream.
Currently, the boutique sells fashions by emerging designers such as Scapes NY, Allina Liu, Aza Ziegler: Calle del Mar and House of 950. With some of the new labels, such as Scapes NY and Aza Ziegler, In Support Of started working with these labels as they were about to graduate fashion school.
If the shop's designers are diverse, there is a unifying thread, Sheikh said.
"We buy pieces that are wearable silhouettes. They are super detail oriented and unique. There is a specific point-of-view on every piece. We are not trying to be the store that carries basics. We are trying to get people to buy things that are unique. They'll say, 'I bought this In Support Of,'" she said.
In Support Of often takes its show on the road. In February, it produced a fundraiser in a gritty, Lower East Side bar with twin DJs Angel + Dren, who are sponsored by the Nike brand. Sheikh and Gilkes also run a showroom that shares the moniker "In Support Of." The Manhattan-headquartered showroom, devoted to emerging designers, produces a traveling showroom called The Turf @ In Support Of. The Turf rents racks for what Sheikh said was a minimum price, often for a period longer than a trade show. It produces shows in New York, Paris and, eventually, Los Angeles. A show might come to Los Angeles in October, Sheikh said.
Nur
34 E. 20th St.
(212) 505-3420
A bit of the Middle East touched down in Manhattan when Moroccan/Israeli chef Meir Adoni recently opened his first New York City restaurant.
This is a return to New York after 15 years for Adoni, who studied in Paris and did a brief stint working at the now-shuttered restaurant Cello. But he knew he always wanted to start his own eatery here. He has partnered with Gadi Peleg, who spent his first 13 years in Israel and is the founder of Breads Bakery.
This casual brasserie-style location, which seats 60, is in an area popping with new eateries not far from Union Square.
Adoni, who has two restaurants in Israel, is offering up his spin on high-end modern Middle Eastern dishes whose recipes emanate from various countries in the region. He grew up in Morocco but has spent most of his life in Israel.
The menu is filled with small plates that are meant to be shared. Representing Morocco is the spiced glazed octopus with baby carrots, cardamom yogurt and Moroccan harissa.
The Palestine tartare, which is one of Adoni's signature dishes, consists of chopped raw beef with black smoked eggplant cream, shaved artichokes, sheep yogurt and raw tahini.
From the ocean is a poached-fish stew with mussels and a side of hand-rolled couscous, and there is also a grilled lamb tenderloin served with a lentil ragout, baby artichokes and bulgur-filled onions.
For a true touch of the Middle East, this is one of the rare places you will find kubaneh, a challah-like Yemenite bread served with zhug and grated tomatoes.
MIAMI BEACH
Mimo Market
2619 NW 2nd Ave. Miami
(786) 577-0389
After stints working at fashion magazines in Manhattan and, later, retail buying gigs, Florida girls Leilani Sanchez and Lisa Tam started independent fashion boutique Mimo Market in Miami's Wynwood Art District. Sanchez said that the aim of the store was to give Miami a boutique as eclectic as its people.
"We have national and international designer brands that we carry in our store. We also partner with local artisans and sell locally made merchandise. There's a lot of talent in Miami, and we love being able to support local designers," Sanchez said. The co-owners aim to keep all merchandise under $100.
Being eclectic is important in Miami. The town is famous for its significant Latin American population, but it also hosts immigrants from all over Europe and Asia. Also important, a steady stream of tourists from around the globe passing through Wynwood. The enclave is the address for the world-famous Art Basel fair, which takes place every December. At the art fair, artists from around the world exhibit their work at a backdrop of parties and festivals.
Mimo Market is housed in an interior that Sanchez characterized as "rough luxe." The luxe comes in hints of metallics and gold colors in the store. The "rough" comes with natural textures in the store such as wood and cement.
Brands include Minkpink and Motel for women's clothing and California brands Altru Apparel and Banks Journal for men's brands. In the second half of 2017, Mimo will introduce its e-commerce shop at www.mimomarket.com
Olla
1233 Lincoln Rd.
(786) 717-5400
Cuban cuisine is found everywhere in the Miami area. But Mexican cuisine? It's there, but is it really as good as anything found in California or Texas?
Chef Scott Linquist set out to prove that Miami can have a top-notch Mexican restaurant.
Linquist has been serving up Mexican dishes since 1991. His most recent stint as executive chef was at Coyo Taco, known for its Mexican street food. But he has also held other positions at Mexican restaurants including Dos Caminos in New York and Border Grill in Los Angeles—not far from where he grew up in Covina, Calif.
Linquist is a man who takes his Mexican cuisine seriously. He and his amigos often take monthlong trips south of the border to small villages around Oaxaca, Jalisco and Veracruz to bone up on local recipes that might not even make it north of the Rio Grande.
For his newest venture, Linquist is experimenting with the concept of shared clay pots—called ollas in Spanish. The clay pots are filled with such delicacies as roasted cauliflower combined with toasted pumpkin seeds, ground bread, aged cheese and poblano cream. There is also the noodle bowl filled with vermicelli pasta, pork belly, chipotle tomato sauce and cilantro. The huitlacoche bowl comes with corn truffles and wild mushrooms, fresh garlic cheese, truffle cream and epazote—a sharp Mexican herb.
Continuing along with the container theme, some dishes are served in jars. There is the jar of chapulines, or roasted grasshoppers served with Spanish Marcona almonds, raisins, cucumbers and avocado puree. Another jar is filled with lamb tartare, capers, quail egg with roasted jalapeno and a flour tortilla.
Rounding out the main course selection are all kinds of enchiladas, meat selections paired with rich mole sauce and seafood dishes such as steamed littleneck clams, seared cuttlefish and charbroiled salmon.
About the only thing you won't find on this menu are tacos.
ATLANTA
Swank
Phipps Plaza
3500 Peachtree Road NE
(404) 231-4114
In Los Angeles, many think the connection between reality shows and fashion boutiques started and stopped with the Kardashians. Wait until you go to Atlanta.
Emily Dees Boulden played the "Queen Bee" character—a catty, competitive mom and businesswoman—in Lifetime reality show "Pretty Wicked Moms" in 2013. Later, she starred in the spin-off show "Get Swank'd," where she gave fashion makeovers to women.
Off camera, Dees Boulden ran a shop called Swank in Atlanta's stylish Buckhead section. In interviews with Atlanta media, she swears that the Queen Bee character is just that, a character. When audiences are not watching, she's a nice country girl, mother of three and a wife to Peter Boulden, a photogenic cosmetic dentist.
In June, the stylish in Atlanta are going to be treated to a new Swank shop. A former physical space closed in 2016. But Dees Boulden is scheduled to open a nearly 2,000-square-foot boutique in the Buckhead section, across the street from the old store. She also runs an e-boutique (www.shopswank.com).
On the shop floor, Swank offers clothes with a boho and a chic edge. Popular brands in the shop are Lauren Moshi, Tete by Odette, Michael Lauren, Shahida Parides, Show Me Your Mumu, Mara Hoffman, Black Orchid, Alexis and Janessa Leone.
The shop has been featured in the Dees Boulden's show, but there's been a lot of action at her e-boutique. The site features the popular delivery service Swank to You, which delivers Swank styles to addresses located in an area 30 miles or less away from Swank headquarters. For those who spend more than $500, a Swank stylist will deliver the ordered goods and offer styling tips.
Another website for Swank fans is www.emilydeesboulden.com, where she posts fashion tutorials from Get Swank'd. In the 2016 segment "Tomboy Transformation," she advises a poet to wear a feather dress. "You should wear feathers at least one night in your life," Dees Bolden advised. "But not like B-zork, or whatever her name is, that wore the swan dress." (Bjork, a singer, made fashion headlines across the globe in 2001 when she wore a swan costume dress to the Academy Awards.)
The Federal
1050 Crescent Ave. NE
(404) 343-3857
In the midtown section of Atlanta, a major restaurant makeover has taken place.
What once was a fast-casual dining experience called Bantam + Biddy has undergone a complete transformation into a stately eatery with crisp linen tablecloths, warm pumpkin-hued banquettes and a Euro-centric menu with a touch of Americana.
The Federal is helmed by chefs Shaun Doty and Lance Gummere, who opened their Bantam + Biddy restaurant at a time when the recession called for inexpensive options for eating out and they provided one with a casual fried-chicken menu.
Now that the economy is back on track, they switched gears, shuttered Bantam + Biddy, did a complete remodel and opened as The Federal, which pays homage to the nearby Federal Reserve Bank building.
The menu is not overly wrought with a long list of dishes that make it hard to make a decision. The tightly edited selection of mostly bistro-style plates consists of appetizers such as Sardinian flatbread covered with a simple salad with jack cheese or chopped chicken liver toasts with cornichons. A favorite is the traditional French onion soup layered with thick Gruyère cheese.
Main dishes cover all the bases with a whole Mediterranean sea bass with a chickpea pancake, fennel, olives and saffron yogurt. The pork schnitzel served with an onion salad is a favorite, and the West Texas venison cheese pierogi served with red cabbage is a nod to chef Doty's personal tastes.
On the steakhouse side of the menu, various cuts are cooked in a cast-iron skillet to give that American feel to beef.
Obviously, the chefs are doing something right. The restaurant wasn't open that long before it was named a semi-finalist as best new restaurant in the 2017 James Beard Foundation awards.
RELATED STORIES