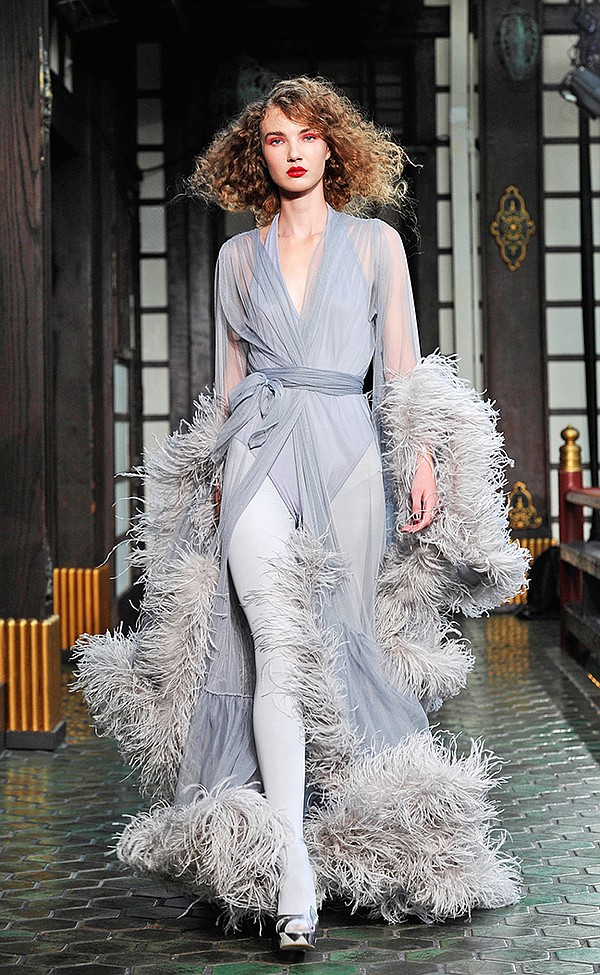 WOLK MORAIS
Wolk Morais Shows Collection 5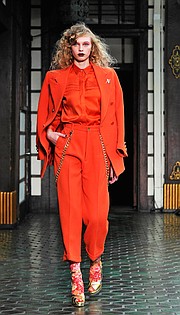 To make a Wolk Morais runway show, you need a few main ingredients.
A basic ingredient is a classic Hollywood backdrop. For its May 22 show, the independent design label headed to Yamashiro, a veteran Hollywood restaurant, to host the fifth Wolk Morais collection since the brand moved to Los Angeles. The 100-year-old Japanese restaurant is nestled in the Hollywood Hills, offering commanding views of Los Angeles.
Similar to its past collection, which took a bow in November 2016, Wolk Morais' new line took inspiration from classic Hollywood styles. Also continued from the past collection are a few pieces bearing the Wolk Morais monogram logo, which featured an art deco–like treatment of the letters "M" and "W."
Looks included outfits with evergreen striped trousers and gold-link suspenders. Another look was a tangerine crepe double-breasted suit and monogram blue denim overalls.
There was also a bit of 1930s-era Hollywood DNA in styles such as a raspberry striped pajama suit and a dove-gray double-breasted crepe dress suit. Another look with some Busby Berkeley–era inspiration was an ostrich-feather dressing gown. Florals also made an appearance in Collection 5. There was a floral print shirt and a floral silk double-breasted suit.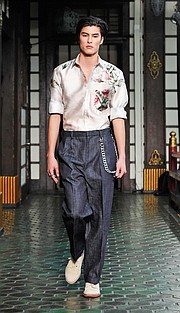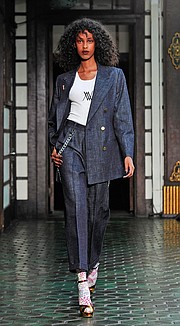 Photos courtesy of Getty Images for Wolk Morais.