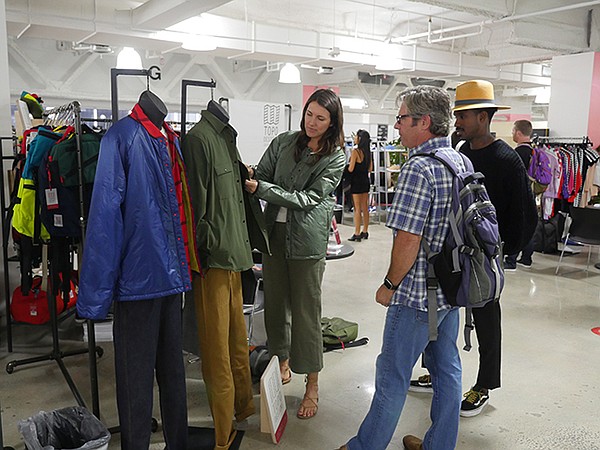 LA MARKET
Buyers Navigate Sprawling LA Market
The recent Los Angeles Fashion Market was a sprawling affair with permanent showrooms and temporary exhibitors showing at trade shows showcasing everything from Immediate goods to Spring merchandise to a group of buyers that were predominantly local.
In addition to showrooms at the California Market Center, The New Mart, the Cooper Design Space, the Gerry Building and the Lady Liberty building, buyers had several temporary trade shows to shop, including Designers and Agents, Brand Assembly, Capsule, LA Men's Market, Transit, Select, ALT and Contemporary Curves.
For some, the market was steady while others reported lower-than-expected traffic. The market, which kicked off on Oct. 8 for some showrooms but officially started on Oct.9, was held against a backdrop of news of the aggressive wildfires in Northern California. Nearly everyone seemed to have a story about a Northern California exhibitor or buyer who showed up at market on Monday morning only to turn around and go back home to make sure their home and business were safe.
CMC opened strong
Several showrooms at the CMC got the market started early by opening on Sunday, Oct. 8. That was the case for Mindy Lubell and Romy Migliazzo, who recently relocated their shared showrooms, Mindy Lubell and Romy M, from the building's 10th floor to the fifth.
The Romy M showroom carries a mix of accessories brands, including Hot Rocks Jewels, Mayuu, Dynamic Asia, Soul Stonz, Melania Clara, One for You One to Give and Boutique Mexico as well as Riki & Romi, Migliazzo's own line of handbags. Lubell's main collection is Raj, an Indian-made collection that includes caftans, kimonos, tunics, ponchos and dusters as well as accessories such as handbags and interchangeable straps for handbags that look like embellished guitar straps. Her other lines include Bindy, Dini's, Hansa, Malibu Bows, Sharona Jewels and Havianas flip-flops.
"Market was fabulous—it was like the old days," Migliazzo said. "I had big chain stores in here. I wrote more business than I have in many years."
Lubell said that she and Migliazzo booked many appointments in advance but also saw drop-in traffic starting on Sunday.
"We saw people we haven't seen before that weren't shopping the 10th floor," Migliazzo said.
Another new showroom on the fifth floor was Superdry, which opened shortly before market and hosted a grand-opening party on Oct. 10. The new space features wrap-around windows with views of downtown Los Angeles and custom-made fixtures built in the United Kingdom and shipped to LA.
Superdry incorporates vintage Americana and Japanese-inspired graphics with a U.K. street style. Los Angeles is one of the biggest U.S. markets for the British brand, said Carolina O'Hagan, regional account executive for the West Coast for the company.
The label had been repped on the West Coast, but the company decided to open a corporate showroom, explained Anders Thomsen, Superdry's regional wholesale manager for the U.S. Thomsen said having a dedicated showroom allows the brand to work more closely with customers. The company will also use the space to host product knowledge seminars for retailers, wholesale customers and staff.
"We believe in the building and in the market here. It's a great opportunity to grow Superdry in the U.S.," O'Hagan said.
Margaret Cox in the Lindi showroom on the third floor was equally pleased with the market.
"I would say there was an upbeat attitude," she said. "They were happy to see some bright colors and were a little more adventurous in terms of body styles."
Cox's showroom was open on Sunday and she stayed late most nights, working with accounts from Texas, Washington, Arizona, Utah and Florida as well as several Southern California stores.
The New Mart feels the energy
Showrooms were buzzing at The New Mart. Buyers were placing solid orders and generally were positive.
"We've had the best market since our showroom was here," said Suzie Hart, co-owner of the 12-year-old Niche Showroom.
Hart said boutiques remain positive despite the challenges of many bricks-and-mortar stores. "The boutiques are more customer-driven, which is reflected in their business," she said.
She also credits the positive vibe she and her colleagues created for the recent fashion market. The showroom opened a day early on Sunday and offered brunch bites and frozen rosé wine—or frosés. On Monday, there were boozy frozen desserts such as vodka-smashed sorbets, and on Tuesday the showroom served tacos and frozen margaritas. "We made it entertaining," Hart said with a laugh. "Positive energy brings positive sales."
The retailers Hart saw were slightly price sensitive, but if they homed in on a must-have item, then money was no object. The Niche Showroom carries a mix of lines that range in price and styles. Retailers were definitely attracted to anything that could sell for under $100, but then they were picking up Parker Smith premium-denim jeans, which wholesale for $50 to $80 and Lyseé leggings, which wholesale for $30 to $70.
For The Landa Showroom, it was all about great prints and colors, which kept retailers coming in. Front and center stood the Aratta line, made with vibrant embroidered prints, mixed prints and bright colors. "Buyers have been attracted by prints and graphics," said showroom owner Shana Landa Regenhardt.
They have also been attracted to kimonos, whimsical items and novelty denim with different washes and striped side seams such as the Dear John line, which wholesales for $34 to $39.
"I haven't heard a lot of negative from the retailers," Regenhardt said. But she cautioned that down the road there might be some softness in Northern California retail sales because of the devastating brush fires that destroyed entire neighborhoods in Santa Rosa and Napa.
Salespeople at The Village Showroom—which carries Chaser, a contemporary line based in Gardena, Calif.; Joy Dravecky jewelry; and Mila the Label—said traffic was good during the market's three days and was on par with last year.
Shanon Martin, one of the showroom's owners, noted that retailers were being careful with their buys. Tina Fleming, also a showroom owner, agreed that retailers were being cautious when placing orders.
Cooper busy
Tables were filled with retailers taking meetings at the Cooper Design Space's Focus Showroom during the Spring '18 LA Fashion Market, said showroom owner Sylvana Lankshear.
"It was the food," Lankshear joked about the busy market. Focus served lunches and offered wine and champagne for happy hours. But the traffic was busy because stores need to renew inventory.
"I don't know if business is good," the Lankshear said of the larger economy, "but stores need inventory for big seasons like Spring." Many of the stores placing orders at Focus were stores from resort areas and smaller cities. "They are the backbones of their towns," Lankshear said. During the market, Focus represented long-term clients such as Sen and Nicole Miller. It also added jewelry line Virgins Saints & Angels to the showroom's official roster during the market.
Down the hall from Focus, the Siblings Showroom also saw heavy traffic during the market. "People are feeling good about their businesses, and they are ready to book for Spring," said Israel Ramirez, owner of Siblings. He also noted that many retailers were making last-minute buys for the upcoming holiday season. Retailers visiting the showroom included Ambiance in San Francisco and Evereve from the Minneapolis area.
During the market, the Los Angeles–based Unpublished denim brand made its debut at the Siblings showroom.
During the show, Cooper management and the Bollare public-relations firm produced the Bollare Wellness Hub at Cooper Design pop-up in the building's lobby. The Bollare Hub offered wellness products, served acai bowls from the Sambazon brand, and provided yoga and meditation classes. It was intended as a place to decompress for show attendees, said Alle Fister, principal of Bollare. The hub also showed styles from clothing lines Ragdoll and Danskin.
Also during the market, a showroom for Los Angeles–headquartered brand Frankie made a debut at Cooper's suite 612.
The Spring '18 market also was the occasion for a new art show in the Cooper's lobby gallery. Art group TheMostFamous–Artist posted its irreverent takes on prominent paintings and art movements.
Gerry Building steady as it goes
Business was brisk at the Gerry Building, where many of the showrooms carry European lines and cater to the contemporary and misses customer.
Traffic this year took on a different pattern. Normally, Sunday is the busiest day of the show. But this year, Sunday was slow. Instead, buyer traffic picked up Monday and Tuesday.
"Things were fine. We are happy with the results," said Stuart Marcher, co-owner of the Julie & Stuart Marcher Showroom.
He noted that many retailers were writing orders for Immediates and looking at Spring items. "The ones who were here were buying," he said.
His Nally & Millie line, which is based in downtown Los Angeles, is a consistent favorite because of its print-driven designs. Coatology was another bestseller because the colorful lightweight vests squish up into a compact pouch. They wholesale for $80.
During the four days his showroom was open, Marcher saw 42 retailers, which was slightly off from last year because there were a few store closures.
At the Miriana Ojeda Showroom, buyer traffic was down a bit. "It was slow, but we did have some good stores that came in and they wrote," Ojeda said. She calculated that her sales during fashion market were on par with last year.
Store buyers were looking for color and print and styles that were easy to grab off the rack and not too complicated to show. "They want something different that isn't carried in the department stores," she explained.
New layout at D&A
Designers and Agents bowed a new format at the show's Oct. 9–11 run at The New Mart, a move show cofounder Barbara Kramer said was made possible when the building installed new lights in the space.
"The show grew, and we needed a new layout," Kramer said.
This season, there were 38 new designer collections at the show, including lines from Europe and Japan.
"Monday was really busy and even now buyers are all over the place," Kramer said on the last day of the show. "It's been uplifting."
Los Angeles–based luxury footwear and accessories designer Calleen Cordero got off to a brisk start.
"I already worked 20 accounts," she said early on opening day. "It's been slammed."
Cordero recently launched a diffusion brand called Cor by Calleen Cordero. Retailers can customize their order by choosing from among several uppers and three bases.
Cordero said she did well with the line in New York and was already receiving reorders.
Kim White said the last two years have been strong for her LA-based Kim White Handbags accessories brand, which she shows at D&A in Los Angeles and in New York.
"The last four markets were great," she said.
Because she designs and produces the bags in Los Angeles with little overhead, White said her handbags wholesale for about $100 and belts for $60.
"It's priced where it needs to be, and it's made in the USA," she said.
Nina Frank, with New York–based Minnie Rose, was busy all three days at D&A.
Frank said her West Coast customers know that they need to see the line when it's in Los Angeles or they might miss out on the season.
"We have to be here all five markets," she said.
This season, Minnie Rose introduced a new collaboration with embellished brand Natural Blond.
The Minnie Rose x Natural Blonde collection includes sweaters in cashmere and cotton as well as beanies and slippers with Natural Blonde's Swarovski-embellished patches of evil eyes, lips, lightning bolts and bomb emojis. Kitross, Ron Robinson, Kyle by Alene Too, Singer22 and Joan Shepp are among the retailers that picked up the line.
Another busy booth was Transit Par Such, an Italian-made collection featuring luxe fabrics that are washed and garment-dyed.
U.S.-based sales representative Margaretha Silverman said the first day of the show was "super busy," but traffic remained consistent throughout the three-day show. Silverman also showed the line at D&A in New York. In Los Angeles she was primarily seeing Southern California stores as well as a handful from the Pacific Northwest.
"I've had the best season I've ever had, and I've been with this company for 13 years," she said. "We have a very strong collection. Usually, I pick up two or three new accounts each season. I think I've had 10 new customers this season. That's why you come to a show."
Wholesale prices for the collection range from $120 for a top up to $380 for a leather jacket, but Silverman said she was seeing little price resistance from retailers.
Brand Assembly spreads out
This season Brand Assembly featured exhibitors on the 11th floor of the Cooper Design Space as well as in a Mezzanine space next to Brand Assembly's permanent showroom, The Square by Brand Assembly.
The three-day show got off to a strong start on Oct. 9, according to several exhibitors.
That was the case for Kris Mesner, who was at Brand Assembly with just one of her intimates collections, Eberjay.
Last season, Mesner showed in Brand Assembly's Mezzanine space, but this season she was on the top floor.
Mesner said business was brisk in August, but this season, she was primarily seeing existing accounts and retailers she already knew at the show.
"Most of the local people have already bought the line," she said. Plus, Mesner added, many buyers are still looking for holiday goods.
"It's hard for projections and it's hard for vendors," she said.
Christopher Seelig, owner of the New York–based Brothers and Sisters Showroom, said the first day of the show was "nonstop."
"I booked all my appointments on day one," he said. "We were slammed."
Traffic lightened up as the show went on, but on the final day buyers were meeting with Seelig and designer John Eshaya, whose Jet John Eshaya collection shows at Brand Assembly with the Brothers and Sisters Showroom's lines.
This was the first time at Brand Assembly for Lori Markman, who runs the Lori Markman Showroom in San Francisco. Markman said she asked retailers where she should exhibit and was told to try Brand Assembly.
Markman brought two collections to the show, Indigenous, the fair-trade, organic, contemporary collection based in Sebastopol, Calif., and Fig & Bella hand-dyed scarves.
Markman was pleased with the layout of the show and the curated mix of brands with an "elevated price point."
"Monday was busy, and today I saw some good, key people," she said on the final day of the show.
ALT and Contemporary Curves in the Penthouse
The two recently organized shows of ALT, for activewear, and Contemporary Curves, for plus-size women, were held side by side in the CMC Penthouse, next to the CMC's Transit show and the Capsule trade show.
Contemporary Curves, the newer of the two shows, had only six booths set up while ALT was slightly larger with 15 booths.
In general, traffic was light and exhibitors were seeing only a smattering of retailers. Leah Emmott, the owner of the eco-friendly yoga apparel line Inner Fire, saw fewer than 15 retailers over the three days.
She flew from Vancouver, Canada, where her company is based and where she manufactures her yoga pants, which wholesale for $33 to $38, because she is trying to branch out to the United States.
Cynthia Fortune was also making her first appearance at ALT, where she was showing her Lala Liv line of inspirational T-shirts that she screen-prints herself. She has been selling her 2-year-old line primarily direct to consumers through the Internet, festivals and craft shows. Now she is trying to market her line to retailers with her T-shirts, which bear sayings such as "Living on Good Vibes," "Design the Life You Want" and "If You Can Think It, You Can Do It."
"This show has not been as successful as the Select show I attended here last time," she said.
Around the corner at the Contemporary Curves section, Joanna Samson was selling Dex Plus, a 1-year-old division of Dex Clothing, based in Montreal. "There haven't been that many buyers, but the ones who do come are taking notes," she said.
She was excited that Ross Stores dropped by as did the Marshall Kline Buying Service, which has 60 retail clients. She said retailers were interested in Dex's guaranteed-sales program for the line, which wholesales from $19.99 to $49.99.
In that program, Dex takes back any portion of retailers' unsold Dex merchandise as long as they place a $3,000 minimum order.
Sold out at LAMM
Booth space was sold out at the Oct. 10–11 run of the LA Men's Market at the CMC's 10th-floor exhibition space.
Blue-chip and prominent retailers such as Bergdorf Goodman, Nordstrom, Neiman Marcus, Mr. Porter and REI reportedly shopped the show.
Some vendors complained about the low traffic, but many of the vendors said that the retail traffic was about quality, not quantity. "There were not a lot of people, but it was a good working show. It was just retailers and sales reps," said Sergio Spitaleri, sales manager of the 10 Deep brand.
The Orange County, Calif.–based Richer Poorer brand showed its socks and new basics looks such as hoodies and sweatshirts, said Kevin Joshi, national account manager for Richer Poorer. "A lot of local retailers come here. But LAMM does a good job of flying out key retailers."
Shane Wallace, sales director of the Aloha heritage brand Reyn Spooner, said that the show had a diversity of retailers and vendors. "We had small independent stores that I never heard of. We had a good appointment with Bergdorf Goodman," Wallace said at the Hawaiian-themed 10-by-10 booth outfitted with Japanese mats and tiki-like objects. "It was one of the few shows where I actually wrote paper. I was surprised."
Management for LAMM, an independent show headquartered in the CMC, intended to build a congenial show that also serves as a community, said Sannia Shahid, LAMM's show director. "It's to get brands and retailers together. We want them to feel like they are at their homes," she said.
Attendees and vendors could get haircuts at the Ace of Fades barber installation at the edge of the show. Barbecue sandwiches from Bludso's were sold at the event. Samples of kambucha drinks were being given out.
LAMM veterans such as The Hundreds, RVCA and Publish exhibited at the show. Prominent streetwear brand Carrots exhibited and made a special hoodie for LAMM staff to wear during the show run.
Los Angeles brand Serenede made a trade-show debut at LAMM. Detroit-headquartered Roses & Daffodils also displayed its windbreakers, hoodies and T-shirts in a small booth outfitted with flower petals. Roses & Daffodils founder Mario Butterfield previously attended the show as a buyer for his store Burn Rubber, which continues to do business in the Detroit
area.
Surveying the show floor, Butterfield said that prominent style trends at LAMM included camouflage, floral patterns and Aloha shirts.
Unique looks at the show included a kimono-style hoodie by The Hundreds brand, collared shirts made out of windbreaker-jacket material by the Los Angeles–based Astrneme label and a velvet trucker jacket from the Esuri label also out of the Los Angeles area.
Capsule: Independent's day
Independent and emerging brands have been a focus of the Capsule trade show since it started business a decade ago.
About 20 percent of the apparel brands exhibiting at Capsule's third Los Angeles show were new brands, and many of them were making trade-show debuts during the Oct. 9–10 run of the show in the CMC Penthouse exhibition area. Capsule also produces shows in New York, Paris and Las Vegas.
Joanne Mohr, director of women's trade shows for the New York–headquartered Capsule, said that the show mixes the emerging designers with established brands, and the recent Los Angeles show was no exception.
The 10-year-old Samantha Pleet brand ran a booth at the show along with Capsule veteran vendors such as Jungmaven, a pioneer of hemp fashions; Aoui, a made–in–Los Angeles contemporary brand; and Rojas, which has been representing independent fashion in Los Angeles for more than 20 years.
Mohr said that 119 brands exhibited at the show. She said that the show changed its layout to make for an easier movement of people in the trade-show aisles. Half of the show was devoted to accessories, apothecary and footwear. Different from the past two Capsule Los Angeles shows, the west side of the hall was closed off.
At the show, Jungmaven introduced a capsule collection of bundle-dyed T-shirts, which are dyed with natural materials such as berries. Jungmaven founder Rob Jungmann described the bundle-dye technique as giving a camouflage style to the capsule's T-shirts.
Jungmann described the show's traffic as steady. Mostly boutiques came around including Ron Robinson; North of West, based in Portland, Ore.; and Midland in Culver City, Calif., which browsed for wares. Jungmann said that he shopped for his website (www.jungmaven.com), where he recently started selling apothecary and other items.
Tanya Ramlaoui of Aoui said she sold Spring '18 dresses, tops and palazzo pants. However, most of the attendees—an estimated 60 percent—were ordering Immediates.
Brands making trade-show debuts at the venue included Gala Maar, an eco-friendly swimwear brand based in the Los Angeles area. Demartini, a Houston-based ready-to-wear line, unveiled the relaunch of its brand at Capsule. Lewis Scott, another Los Angeles–based brand, made a trade-show debut for its dresses, streetwear and ecologically sustainable looks, which offered functional details such as lobster-claw keychains.
Sirah The Label made an appearance at Capsule. It offered minimalist styles such as slipdresses. Proceeds from the New York–headquartered brand will go to fund job-skills programs in the Philippine capital of Manila.
Los Angeles label 323 showed unique silhouettes such as a dress with an asymmetrical kangaroo pocket. The label's clothes are made out of dead-stock fabric. Los Angeles–headquartered Philosofee showed dresses that emphasized a fluidity of movement. Brand owner/designer Glaucia Stanganelli worked as a ballerina in her native Brazil.
Karen Meena, a vice president of the Ron Robinson boutique, shopped Capsule. She noted that velvet was going to be one of the most stylish fabrics for the Spring 2018 season.
"Velvet is big—velvet backpacks, velvet sweatpants, velvet pajamas. We're going to be seeing very comfortable clothes," she said. "The world is so harsh and crazy, but clothing is going to be very comfortable, warm and fuzzy."