Skingraft Goes For Wearable, Yet Extreme with Arrowhead
After a decade of working in the once blighted, now gentrifying downtown Los Angeles, Jonny Cota, creative director of the Skingraft label, was ready to talk about extremes.
Cota stated his case through clothes. On Sept. 21, Skingraft made a presentation of its Arrowhead collection on the new rooftop bar at Freehand, a recently opened hotel in downtown Los Angeles. The Fall '17 collection will be made available for sale Oct. 5 at skingraftdesigns.com and the brand's flagship in downtown Los Angeles. The new collection was inspired by the extremes in the Lake Arrowhead area, a two-hour drive east of downtown Los Angeles.
Cota purchased a cabin there in 2016. The sharp differences between people and weather in a place so close to the suburban sprawl of Los Angeles County was jarring for him. Snow storms take place on the mountain area's highest points during winter. But a drive down the mountain, travelers will experience summer-like heat. Around Lake Arrowhead, there are a lot of people who live close to the land, different from the urban lifestyle around Cota's downtown L.A. atelier.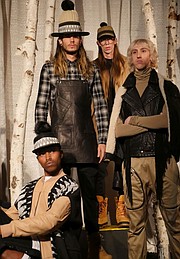 Cota wanted to make clothes inspired by rustic people and conditions. But he did it in a Skingraft way at the Freehand hotel presentation, 12 models stood on platforms flanked by wood from birch trees. They displayed clothes to soundtrack of dark techno/house music by Aaron Coyes, who performs under the name of Slayron.
Looks included ponchos, flannels,a leather apron and the leather jackets that Skingraft made its reputation on.
One poncho was made with a black and white buffalo check popular in Bali, where the label's clothes are manufactured.
One model wore a leather apron, designed in conjunction with Randall Aquilina of Etiquette Barbers in downtown Los Angeles. The leather apron features different sized pockets for various shaped scissors and inside pockets that can be emptied of debris and hair quickly.

The collection's new looks for men included an oversize coat with drop shoulders. While Skingraft, generally known as a men's label, it flexed its feminine side for the recent collection. Cota created the most female looks his label crafted including a full-length cotton prairie dress, culotte pants, an oversized jumpsuit, and motorcycle jackets with a color palate that uses both neutral hues and pinks.
Cota also stressed that Arrowhead is not entirely your Art District friend's Skingraft. "It's mellowed. It's less severe," Cota said. "The styling for the show is editorial, but when you break down the pieces, they are wearable."