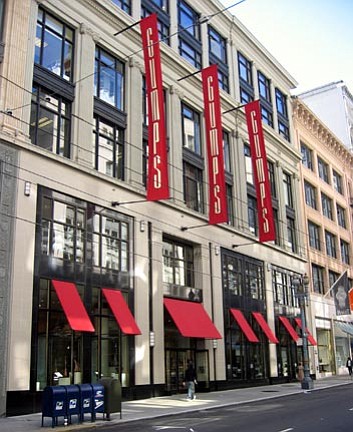 RETAIL
Gump's San Francisco Sells Off Merchandise Following Bankruptcy Filing
The fire sale has begun.
After Gump's Holdings filed for Chapter 11 bankruptcy protection on Aug. 3, everything is up for sale at the company's historic store on Union Square in San Francisco. It's the last of the company's outposts that sells high-end vases, rugs, jewelry, housewares, furniture and apparel to an upper-crust customer.
On Friday, liquidators Gordon Brothers and Hilco Merchant Resources announced they were conducting a going-out-of-business sale at the store and on merchandise featured in the company's catalog and online commerce site, www.gumps.com.
The Union Square store at 135 Post St. could stay open if a buyer is found to continue the business's operations. Otherwise, it will close at the end of the year.
The company said its store and catalog inventory was worth $25.5 million at retail value, but its liquidation value is listed at $8.6 million. Debts to three major lenders total $16 million.
Gump's was founded in 1861 by brothers Solomon and Gustav Gump as a mirror and frame shop. Later it sold European artwork to the nouveau riche made wealthy by the California Gold Rush. It used to have stores in Beverly Hills, Houston, Dallas and Honolulu, but over the years those closed, leaving just one store in San Francisco.