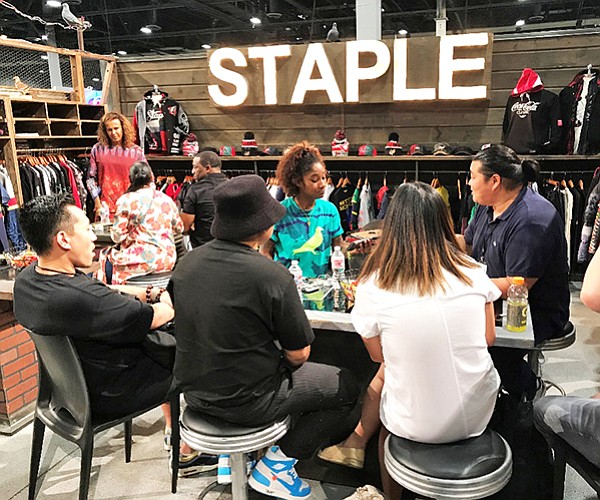 LEAVING ORDERS IN LAS VEGAS
A Better Economy Means Better Orders at the Las Vegas Trade Shows
LAS VEGAS—The conglomeration of apparel, footwear and accessories trade shows, which twice a year invade this city in the middle of the desert, filled the town with thousands of visitors from all over the world under a blistering sky where the temperatures reached up to 105 degrees during the day.
The shows' locations, with the first events starting on Aug. 11 and the last ending on Aug. 16, ranged from the Las Vegas Convention Center to the Mandalay Bay Convention Center with stops in between at the Sands Expo and Convention Center near The Venetian hotel and across the freeway at the Rio All-Suites Hotel & Casino.
Many felt visitor traffic was softer than last August, but that was hard to determine because many shows still had a vibrant buzz of buyers making the rounds.
Margrit Laman, whose Limited Additions store is located in Tucson, Ariz., has been coming to the shows for more than 30 years. She used to spread out her buying by attending trade events in Dallas and New York, but with limited time and money she budgets her travel to mostly West Coast venues, including Las Vegas and California. About 40 percent of her buying is done in Las Vegas followed by 30 percent in Los Angeles and another 20 percent at Fashion Market Northern California in San Mateo.
"To come to Las Vegas or Los Angeles, I can fly in the morning and get a full day's worth of work done," she said, noting she was visiting Stitch @ Project Womens, Project Womens and Liberty Fairs.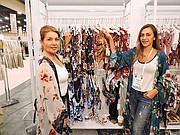 The various trade shows were in four locations, ranging from the southern side of the Las Vegas Strip to the northern side. The Sands Expo and Convention Center set up exhibition space for Offprice, Agenda and Liberty Fairs. Agenda and Liberty Fairs announced they are moving next February to downtown Las Vegas next to the Arts District, but no specifics were announced yet.
At the Rio All-Suites Hotel & Casino, the Womenswear in Nevada (WWIN) show packed all the hotel ballrooms.
The Las Vegas Convention Center contained Sourcing at MAGIC, WWDMAGIC, FN Platform and Footwear Sourcing at MAGIC.
At the Mandalay Bay Convention Center, the shows included The Tents, The Collective, Project, Project Womens, Stitch @ Project Womens, Pooltradeshow, Curve Las Vegas and Children's Club.
The Mandalay Bay had a certain hum of activity at the shows, held Aug. 13–15.
The various events filled one warehouse-sized space divided by ceiling-hung banners and different-colored carpeting to distinguish each area. Curve Las Vegas, which carried swimwear and lingerie, had its own special bamboo entrance with umbrella-covered picnic tables, flamingo-shaped inflatable rings and benches to give the area a beach-like feel. "We've been seeing people from all over the world," said Valentina Correa, U.S. sales director for the Colombian swimwear brand Agua Bendita.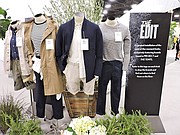 The Pooltradeshow, housing artsy and new brands, had a cash-and-carry section for mostly jewelry while other booths showed new goods for upcoming seasons. Los Angeles Apparel, the relatively new brand launched by American Apparel co-founder Dov Charney, had a booth showing basic T-shirts as well as new products.
Stitch @ Project Womens—which features contemporary, sportswear and lifestyle brands—was a favorite among specialty stores. "Stitch is really our go-to show and then Project Womens," said Isabelle Whitley, whose Democracy store is located in Palm Desert, Calif.
Project Womens was particularly busy with buyers cramming into booths, including Z Supply, whose high, white countertop collection of tables stretching for more than 30 feet was constantly packed with buyers perched on stools looking at the Irvine, Calif., company's wide range of brands, which included Black Swan, White Crow, Rag Poets and Icons of Culture.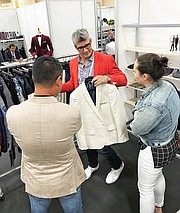 At The Collective menswear show, vendors noted there was an international contingent of buyers. Alan Rutty, a U.S.-based sales representative for Charly, a Mexican brand, said he had conversations with retailers from Thailand, Japan and Canada.
But at Project, the menswear show located near The Collective, U.S. retailers were the foundation of the show. Vince Gonzales of the Paisley & Gray brand said retailers across the board were seen on the show floor.
Order numbers were spot on at Offprice
At the below-wholesale show known as Offprice, held Aug. 11–14, exhibitors were excited with the number of orders coming in and the high volume of traffic. This optimism stemmed from a belief that the typical Offprice customer was more confident to spend money due to a robust economy.
"We're working very hard. Yesterday [Sunday] was the best day yet. It was nonstop, and we had 14 salespeople on the floor," said Raymond Chen of the Houston-based Very Moda. "Everybody is coming here [Las Vegas] for other shows, but the other shows had not started yet when we opened."
In business for 20 years, Chen has exclusive partnerships with factories in China, which he sees as an advantage when selling to his established clientele, which includes Marshalls, owned by T.J. Maxx.
At his booth, there was so much business Sunday night that they were still working well after the show closed.
Neighboring shows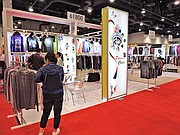 In the same exhibition center but one floor up, Liberty Fairs saw a steady flow of buyer traffic. "It's been a good, consistent show," said Teri Ferguson Roth, U.S. sales manager for Parajumpers USA. "We saw all of the buyers we wanted to see."
Rodolfo Ramirez of Pocket Square Clothing agreed. "A lot of the buyers this time were from international retailers," he said.
The adjacent Agenda show was equally as busy. Nico Reyes, sales director of the Staple brand, based in New York, said he was very busy during the first day of the show. "The second day was slower. We typically set the second day aside for one-on-one meetings. We're not rushed like we are on the first day," he noted.
Festive and focused at WWDMAGIC
The atmosphere at WWDMAGIC at the Las Vegas Convention Center was energetic.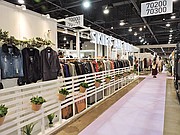 At the K Too booth, owner Audrey Kim was busy selling eye-catching formal attire with a nightclub twist and a selection of more casual pieces. While she reported meeting with buyers from different areas of the United States, a large portion of her clientele came from East Coast areas, including Georgia and New York. When it came to buyer attendance, she felt her Los Angeles brand was experiencing the same amount of business.
"We have our regular customers, so they always come and check out our new stuff," she said. "I feel like there are not that many people walking around, but sales-wise it's the same. The same amount of customers are coming into our booth."
Camaraderie in micro-factory model at Sourcing at MAGIC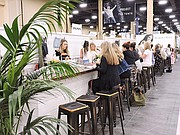 For the exhibitors who showed at the Made in the USA section of Sourcing at MAGIC, held Aug. 12–15, many were pleased with the amount of business they received and were spreading the word about just-in-time manufacturing.
Catherine Trifiletti manufactures her own label and uniforms for tourism properties nationwide, including Las Vegas favorites such as Gordon Ramsey, Mr. Chow, Caesars Palace, The Cosmopolitan and Aria.
She brought some of her Las Vegas–based sewers and participated in a micro-factory–style initiative at the show —with Mutoh America; Tukatech Inc.; and EFI with its partners Klieverik, Zünd and Brigade Manufacturing—where each company provided resources to create apparel onsite during the show.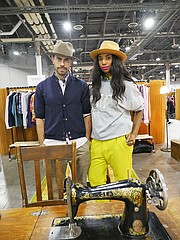 "If you are in this industry, you really need to spend some time researching this new technology that is changing the apparel industry to on-demand," she said, explaining the small-unit production needs of a new generation of designers.
Winning in contemporary womenswear
At the WWIN show, held Aug. 12–16, exhibitors from the misses and contemporary women's apparel segment showcased different pieces from accessories, clothing and outerwear. There was a lot of optimism from retailers and exhibitors, some of whom have been showing at the event since its launch nearly 20 years ago.
San Diego–based Kippys had been in business since 1948 as a retail shop but branched off into production in 1984. The company has attended the show since WWIN's first event.
"We're having a great show this time. Some new business and lots of return customers," said Erik Kipperman, who is the third generation to oversee his family's business. He reported a high demand for Immediates. "Our embellished jackets are what I sell mostly and handbags, and we're known for our belts."