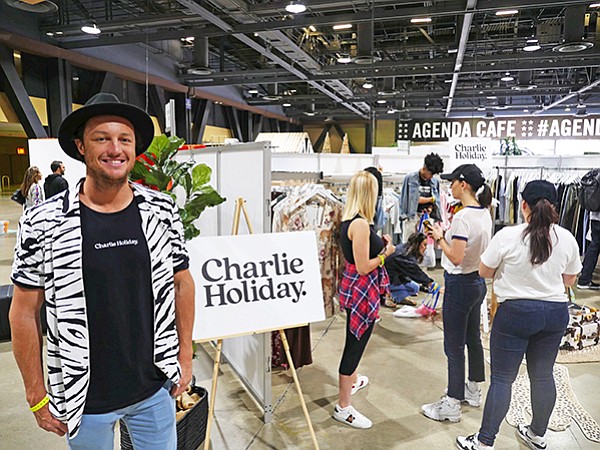 NEW ERA AT AGENDA
Agenda Enters a New Era
LONG BEACH, Calif.—Agenda marked its first show without its founder, Aaron Levant, during its June 28–30 run at the Long Beach Convention Center.
Levant took Agenda from a small, independent streetwear show that was launched in 2003 to a biannual event where some of the biggest action-sports and streetwear brands exhibited. Levant left the company this year to start a new retail platform called NTWRK.
In March, Ron Walden became the new Agenda chief and instituted some changes that were seen at the recent show.
Compared to previous shows, there was more space for installations by art and media groups, such as surf magazine Stab and book publisher Deadbeat Club. There also was a changing of the guard in the show's exhibitors. Some of Agenda's tried-and-true veterans did not return for its most recent edition.
Prominent fashion and footwear brand Vans did not produce its typical large booth. In January 2017, it had a 4,200-square-foot booth, which was noticeable in a show where smaller booths have been the norm. Top action-sports brands and surf brands Volcom and O'Neill also were no-shows.
Obey Clothing was also not around. The popular brand had been exhibiting ever since Agenda was an indie trade show. Staple, another influential Agenda exhibitor, was not on the show floor.
At the most recent show, there were more than 300 exhibitors compared with more than 500 exhibitors in January, according to Agenda's show programs.
However, making a return were top streetwear and athletic brands such as The Hundreds, Champion, Levi's and DC Shoes. Workwear brand Dickies also exhibited, providing blue coverall uniforms to Agenda workers registering attendees during the show.
For many of Agenda's current exhibitors, the show didn't miss a beat. "The key accounts are still here," said Joel Cooper, chief executive officer of Lost International, another veteran exhibitor.
Reportedly seen at the show were retailers such as Nordstrom, Dillard's and Tilly's and prominent action-sports boutiques such as Sun Diego and Jack's Surfboards as well as retailers from Japan and Latin America.
Agenda's position as a top trade show remains unchallenged, Cooper said. Bobby Kim, cofounder of The Hundreds, agreed. "We still do business there. A lot of companies and brands don't write orders there. But we write orders. We get appointments back to back. That's why we've always done Agenda."
Kim said that the culture of Agenda has changed. "Agenda brought people together. It was a community. It's hard to replicate," he said. "In the early days of Agenda, it was about the entire streetwear community starting wholesale. We were trying to get into core boutiques. This was before e-commerce was so pervasive, and now a lot of brands do not need to wholesale."
Many vendors said the show's business was solid. "Attendance seemed to be down a little," said Ken White, vice president of sales and marketing at Cotton Heritage, a Los Angeles basics and blanks T-shirt vendor. "But we had some really good meetings. It was quality versus quantity."
The past six months has been relatively good for retail, said Patrik Schmidle, president of ActionWatch, which does market research on action-sports and core action-sports retailers.
In the first quarter of this year, sales for these retailers increased 3 percent year-over-year. However, sales started dipping in April. Inclement weather in the South and Northeast during the past six weeks also kept consumers from buying. "Hopefully we'll see pent-up demand being fulfilled," Schmidle said of buying in June and later this year.
Agenda also featured some trade-show debuts. For the first time, the Wildfox brand exhibited at the show, said Tina Fleming, a sales representative. "We were busy all day," she said of the first day. Wildfox exhibited its Spring '19 as well as Holiday '18 styles in a 20-by-30-foot booth.
Peter de Gail unveiled a new name at the show for his clothing company. It is now Charlie Holiday. Formerly it was Tee Ink. Also debuting at the show was Environmentally Conscious Outfitters, a brand designed in Los Angeles' Venice district. The sustainable brand received orders from a Japanese retailer, said the brand's founder, Alexander Reagan.
Agenda has been influential as a place to show new styles in action sports and streetwear, but there was no overarching or dominant styles, said Daniel Antonio, a designer who walked the show. "I'm not seeing anything that really excites the market. Everyone is in the same zone as the past season," he said. "[Brands] are pretty much doing their own takes on current looks and focusing on self-branding."
Some trends seen at the show that seemed to be spreading were animal prints—think leopard spots and tiger stripes—and also sequins for women's streetwear, said Antonio, who designs the brand Dirty Milk.
On June 30, the day after the Agenda trade show wrapped up, the show organizers put on Agenda Festival, a consumer day featuring pop-up–style retail, brand installments and concerts.