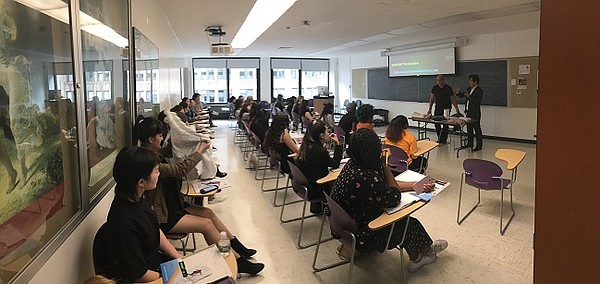 FASHION AND TEXTILES
FIT Students Take Up the Challenge to Design With Heat-MX
The world of winter apparel may start looking a little different.
Think about lace dresses that can be worn in below-freezing temperatures if you use the right fabric.
Such is the world of Heat-MX, a Canadian brand of innovative thermal-insulation material used for a wide range of products. To keep creating new products using thermal-insulation material, Heat-MX went to the Fashion Institute of Technology in New York City on Sept. 20 to challenge the students to enter a design contest using Heat-MX, which saves a lot of chemicals in the manufacturing process. The students got a mini-tutorial on the benefits of the material.

"Heat-MX offers multiple patent-pending technologies through its proprietary non-woven thermal-insulation products," said Heat-MX President Sae Chung. "We have been able to expand the use of non-woven thermal-insulation material from traditional applications such as winter garments and accessories into a wide range of other product solutions."
FIT students must submit a mood board and design sketch by Oct. 10. Preliminary judging will take place on Oct. 17, and then finalists submit their items on Dec. 5 for final judgment on Dec. 11. Winners will be announced on Dec. 14.
Heat-MX is also working with FIT Korea on a similar design contest.