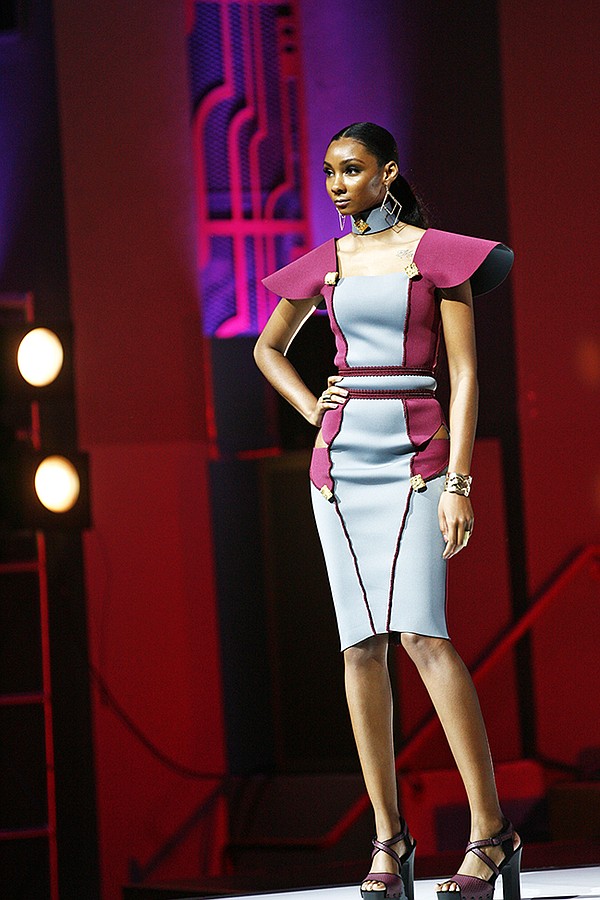 SMC FASHION
Fashion on the Runway from SMC Fashion and Merchandising Students
On June 16, students in Santa Monica College's fashion design and merchandising program showcased their creations on the runway at Santa Monica High School's Barnum Hall in Santa Monica, Calif. The students—under the direction of design faculty members Lorrie Ivas, LaTanya Louis and Jan Ardell—presented capsule collections that ranged from Alicia Hicks' nautical collection of childrenswear and juniors apparel to Alexander Ortega's all-black collection, inspired by the music of New Wave bands such as The Cure and Depeche Mode. Alba Molina's black and yellow palette was inspired by daisies. Turkia Douaoda-Bou mixed Eastern and Western inspiration for her collection.
Ana Pivaral said she was inspired by the color olive—"It reminds me of olive martinis," she said—for her collection, adding that she hopes to one day own her own company and find a way to support single mothers. Courtney Hunkele's ballet-inspired collection featured layers of tulle and feathers in pastel colors.
Jennifer Vu explored pleated details in her capsule collection of dresses while Aylar Ebrahimi explored zipper trim details in her collection, which mixed eveningwear and dressy sportswear. Hazell Bone found inspiration in the 1990s slipdress for her collection.
Jennifer Alderhorn, one of three Swedish students, showed a collection with activewear details such as hoods, track pants and rib knit. Her fellow Swede Caroline Trinh showed eveningwear pieces in satin, velvet and chiffon.
The third Swedish designer, Frida Sjoedin, drew inspiration from her Scandinavian heritage for her collection of navy separates embroidered with folkloric designs. Frida Sjoedin's collection, titled "fri.elisab.sjn," was named Outstanding Marketable Achievement and Outstanding Technical Achievement.
Kathy Zarbakhsh's "Katz" collection of futuristic, color-blocked dresses was named Outstanding Collection of Show and Outstanding Creative Achievement.
There were also committee awards for Trinh, Vu, Ebrahimi, Alderhorn and Hunkele.
Ivas presented Ilse Metchek, president of the California Fashion Association, with the 2016 Style and Substance Award.
"Her depth of knowledge and the history and issues of the industries is unparalleled," Ivas said.
In accepting the award, Metchek congratulated the students on their hard work in creating their collections.
The evening also included a mini fashion show featuring pieces from the SMC Career Closet, which provides professional apparel for interviews or networking events to students at no cost.