MANUFACTURING
Methven Brings Lingerie Manufacturing to Los Angeles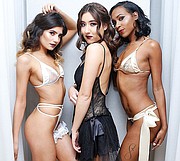 Los Angeles is known as the place where high-end blue jeans are made. But design newcomer Kaila Methven is setting her sights on manufacturing high-end lingerie in the nation's apparel-manufacturing hub.
After starting her fashion career less than two years ago with a pricy, jewel-encrusted, bespoke lingerie label called Made to Adore—where bras retail north of $20,000—the newbie designer is focusing on selling to the average consumer with her more affordable label called Lady Methven, with bras retailing for $30.
After spending her teenage years in Paris, where she was educated at the International Fashion Academy Paris, Methven returned to Los Angeles in 2014, where she had been born, and started her company. But her brand is still just getting started.
In January, she opened a studio and office in the Gerry Building in downtown Los Angeles for her company, Madame Methven. And on Feb. 17, she organized a runway show for Lady Methven and her ready-to-wear lines, Latrodectus and Mademoiselle, at the Skybar nightclub on the rooftop of the Mondrian Hotel in West Hollywood, Calif.
Manufacturing denim pants in Los Angeles is easy because of the number of factories that are skilled at making blue jeans. But there are not that many factories skilled in making lingerie. But there are talented sewers in the region capable of manufacturing lingerie, and it was up to the designer to find them.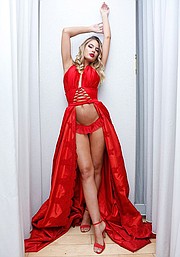 "It was challenging finding these women. I interviewed 100, but I only work with 20," she said. The designer set up classes where she taught her sewers how to make lingerie to her specifications. For ready-to-wear, she makes a prototype. Then her sewers go through a practice run of making the lingerie.
After the practice run, Methven and her team go through the garments. They evaluate what was done right and where mistakes were made. Then they go straight to making the line's lingerie.
While Los Angeles may not be the capital of lingerie making, it's getting easier to make lingerie in this area, said Stacy Anderson, founder of the Los Angeles–based lingerie line Kent.
"Lingerie is definitely not the largest category being produced in LA, or North America, though it's increasingly becoming more and more possible," Anderson said. "For many brands, going overseas to Asia or Europe may seem more feasible, given the broader number of manufacturing options with a history and heritage producing in this space. Scale is also a major consideration. For us, producing in LA has been a major source of pride, both in terms of provenance of the brand as well as being able to establish such a close relationship with those working on our pieces."
While Methven is reaching out to the masses in her lingerie manufacturing, she has also cultivated a niche for herself. She is one of the few designers who make bespoke lingerie in Los Angeles, according to Jason Amirmajdi, a veteran lingerie and swimwear retailer.
"Honestly, I don't know anybody else who does that in LA. She is a true visionary as far as that aspect goes," said the owner of Le Bra Lingerie in Beverly Hills, Calif. "She has a range now. She has the super expensive to a practical, everyday style where a woman can go to work and still feel sexy."
Currently, most of Methven's business is bespoke. For high-end pieces, for example, Methven handsewed gold bronze beads on the Latrodectus label's Dominatrix corset, which sells for $5,849. She placed a gold chain around the neck and dyed peacock feathers and a silk tulle train on the back. Water-gel packets served as padding for the corset bra. It's more comfortable than fabric padding, Methven said. It also allows breasts greater movement in the corset.
With her new direction into more consumer-friendly styles, Methven plans to wholesale her ready-to-wear lines to major department stores and high-end boutiques. Methven models some of the ready-to-wear looks on the Lady Methven website (lbkminc.com). Looks include La Petite Cachotiere short robe, which retails for $58 and features a lace back and silk sleeves.
Other styles include La Dominatrice Pantie, which are black satin panties featuring triangle cutouts by the waist and the back. It retails for $26. Another look is Le Dangereux Bralette, which is a triangle-style bra featuring black fabric with gold-colored details, adjustable straps and an elastic back. It retails for $42.
She forecasts that Madame Methven will be a lifestyle company running a handful of boutiques around the globe. "It makes me happy," she said of her ready-to-wear direction. "It makes me feel more creative and fulfilled to cater to the mass market. It's not even a money thing. I want you to feel beautiful."
Photos by Craig Bennett.