RETAIL
Vince Opens New Store at Palisades Village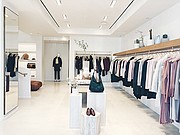 Contemporary label Vince is opening a two-level shop at the recently unveiled Palisades Village retail center in Los Angeles' exclusive Pacific Palisades neighborhood.
The grand opening for the new store is set for Oct. 13 and will be the fifth Vince store opening this year. The brand will continue to focus on its direct-to-consumer business, said Brendan Hoffman, Vince Holding Corp.'schief executive officer.
"Over the past several months, we have made excellent progress in advancing our direct-to-consumer channels by concentrating efforts on store openings in target markets," Hoffman said. "Our Palisades Village store will allow us to further serve our existing Los Angeles customers in a uniquely California setting, offering them the opportunity to interact and engage with the brand in new and exciting ways."
The store's interior design features a neutral color palette and evokes a California coastal look, said Caroline Belhumeur, Vince's creative director.
The Vince brand was launched in Los Angeles in 2002 and still has a design studio in L.A. However, it is now headquartered in New York City. The brand operates 44 full-price retail stores, 14 outlets and the e-commerce channel vince.com.
Other apparel stores that recently opened in Palisades Village, developed by Rick Caruso, include Towne by Elyse Walker, Anine Bing and A.L.C.