LEGAL
By Deborah Belgum | September 27, 2018
The Delaware Supreme Court upheld an early court ruling that Dov Charney, the founder of American Apparel, must repay $19.5 million to Standard General, a New York hedge fund.
California shoppers are filing a flurry of class-action lawsuits against big-name department stores over markdowns allegedly made on "false" original prices.
Four men have been arrested on charges they embezzled $8 million from a commercial laundry house owned by Citizens of Humanity, according to the U.S. Attorney's office.
December 9, 2015
|
By Ruth L. Seroussi, Esq.
Apparel companies, beware, as there are a number of common errors employers make when paying employees commissions or piece rates. Unfortunately, recent decisions in California have complicated this area, and misapplication of the law can be costly. Being apprised of the common pitfalls can help minimize risk to your business.
The new organizers of Los Angeles Fashion Week events are creating a bit of confusion among the fashion crowd. Because Arthur Chipman has trademarked the name LA Fashion Week, fashion show organizers are wondering if they can no longer use LA Fashion Week in their title and whether that extends to the term Los Angeles Fashion Week.
After filing and winning several lawsuits over a laser technology used to distress blue jeans, RevoLaze recently dropped its legal action against fast-fashion retailer Hennes & Mauritz.
Prominent mall retailer Pacific Sunwear of California Inc. was sued in Los Angeles Superior Court by a former employee for on-call scheduling, which the plaintiff contends resulted in lost wages and haywire scheduling.
September 21, 2015
|
By Jeffrey H. Kapor and Audrey S. Olson
Correctly classifying a worker as an employee or an independent contractor is critical. Misclassification of employees as independent contractors has been occurring in an increasing number of workplaces, and the U.S. Department of Labor's Wage and Hour Division is responding by bringing enforcement actions against employers who misclassify their workers.
July 30, 2015
|
By John Irwin, Editorial Manager
Brand narrative—and the legal knowledge necessary to further a company's vision—was at the heart of Loyola Law School's second annual Fashion Law Summer Intensive program.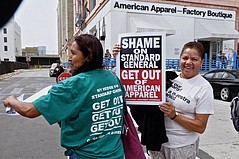 In more legal shots fired in the ongoing battle over control of American Apparel, the dismissed clothing company's founder has filed two lawsuits in less than one week accusing American Apparel and hedge fund investor Standard General of defaming his character in false accusations and letters.
After 1,000 federal and state agents fanned out across the Los Angeles Fashion District last fall to crack down on a long-running money-laundering scheme benefiting two drug cartels in Mexico.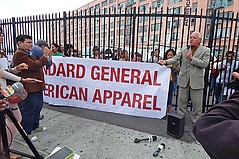 David Nisenbaum, the fired director of manufacturing accounting analysis and audit at American Apparel, filed a lawsuit in Los Angeles County Superior Court on April 20 against his former employer. He maintains he was wrongfully fired because questioned the financial actions of John Luttrell, the chief financial officer of the company at the time Dov Charney was still the president and chief executive.
April 16, 2015
|
By By Nicholas Rozansky Contributing Writer
Late last year, Nike's Converse Inc. went on the offensive against 31 companies claiming that the companies are infringing upon a configuration of elements Converse claims are protected by trademark law
Georges Marciano, who founded Guess 35 years ago, filed a lawsuit against the Los Angeles clothing company run by his brothers to be able to use his name for new clothing labels he wants to develop.
Months after firing Dov Charney, two lawsuits against the founder and former chief executive of American Apparel have been settled.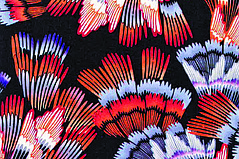 Nearly one year after filing a lawsuit over a colorful fabric design, Unicolors Inc. has been awarded $164,400 in a case over copyright infringement.