L.A. Fashion Week Spring '09: Up Next: Emerging L.A. Designers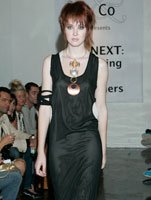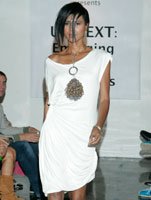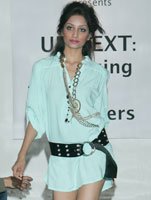 Classic and new wave styles seemed to be the respective inspirations for emerging designer labels Keemia and Monn'Amur. On Oct. 15, the labels gave a view of their Spring 2009 lines at the Up Next: Emerging L.A. Designers show, held at fashion boutique EM & Co., on Los Angeles' West Third Street. The event has been produced during the past five Los Angeles Fashion Weeks, and this season's crowd included prominent stylists such as George Blodwell.
Keemia designer Keemia Ferasat showed more than eight looks. Fun 1920s flapper looks seemed to be the inspiration for some of her cocktail dresses. Another cocktail dress was made unique by the layering of seashells and peacock feathers.
Monn'Amur designer Freidia Niimura showed 10 looks that covered a lot of bases. They had to be whimsical and girly, with a bit of tomboy style. The collection showed a high-waist skirt with a graphic jersey tee; another look showed a new wave-looking nylon jacket. Toward the end of the show, Niimura showed her line's midnight-blue jodhpur leggings matched with a pink jacket. —Andrew Asch