REBRANDING
What's in a Name? Rebranding Helps Nudge Clothing Lines to a New Level
Last year, iconic fashion house Yves Saint Laurent renamed itself Saint Laurent Paris, and just recently, its parent company, PPR, one of fashion's most esteemed companies, announced its own name change. It will be called Kering, according to Chief Executive and Chairman Francois-Henri Pinault.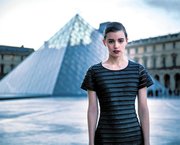 The new name demonstrates growth and new focus, Pinault said. "In a few months' time we will have completely transitioned from a holding company with an unfocused portfolio into a cohesive, integrated, international group focused on apparel and accessories," he said.
Some veteran Los Angeles–area fashion lines are in the process of renaming, or "rebranding," themselves, too. The process is risky, but rebranding can make the difference between sagging sales and stellar business.
In January, Los Angeles–based Corey Lynn Calter, a contemporary womenswear line, unveiled its new company name, Corey, at the Coterietrade show in New York. And women's contemporary line Alpinestars by Denise Focil, headquartered in Torrance, Calif., will debut its new name, AS by DF, in mid-July, along with the line's more sophisticated looks, said designer Denise Focil. In Irvine, Calif., lifestyle/action-sports brand Ambig Clothing shortened its name from Ambiguous, the name with which it started business in 1995, said Brian Young, the company's marketing director.
Renaming a line should not be taken lightly, said Nathan Fuja, a Los Angeles–based brand consultant. Companies sometimes rebrand a line when it has lost steam and is looking for a strategic boost. Others hope a new name will appeal to a new consumer. Businesspeople should ask themselves several questions before rebranding, Fuja said.
"Why are they making the change? Will the consumer care? Will the product offering match the new brand image? Are they trying to emulate the competition, and, if so, why?" he said.
For trademark lawyer Doug Lipstone of Enenstein & Ribakoff in Los Angeles, rebranding is a matter of degrees. "The Trademark Act recognizes that trademarks evolve over time because companies often update their marks over time," Lipstone said. "If [the new trademark] is something materially different, and not a mere evolution of the existing trademark, it is a brand-new trademark."
If the change is material, Lipstone recommends filing a new trademark application with the U.S. Patent and Trademark Office. He cautions companies that if they voluntarily replace a current trademark with a materially different trademark, as opposed to a mere evolution of the existing trademark, that may constitute abandonment of the original trademark, and it may not be possible to switch back to original trademark a few years later.
However, a decision to change a brand eventually is made by the entrepreneur.
Here the designers, owners and marketers of Corey, AS by DF and Ambig talk about their name changes and rebranding.
Corey Lynn Calter, owner of Corey
Q: What were you thinking when you decided to rebrand?
C.L.C.: When I started the line [in 2000], I wanted the opportunity to use initials in my brand. I sat down with some branding people, and we all thought using double C's looked too much like Chanel, which is not a little company. We ended up using "Corey Lynn Calter." It worked, but it was a little long.
Now we live in the age of Twitter, where messages are 140 characters or less. It would be nice to have a shorter name.
This is happening after the 10-year mark for the company. It is time to refresh the brand for my own personal creative energy. The essence of the brand is still the same. It is feminine with a playful edge. The company has always been more than a pretty dress.
Q: How will the name change help your company grow? How will it affect your customers and partners?
C.L.C.: We showed 30 percent growth in gross sales last year. I want steady, strong relationships with accounts. We want the right business, but I'm not out to chase it. We want people to buy Corey because they love the line.
The collection is growing up with me and our customer. We will continue to have a broad age range, from 25 to 45, but the new brand will have longevity in the customers' wardrobe well beyond the season. The elements are simpler and cleaner. Our focus is on classics in great prints mixed with bold fashion statement pieces.
Q: What's next?
C.L.C.: I'd like to expand our specialty-store business by 20 percent because I really believe in them. Ultimately, I would like to open free-standing Corey stores. It sounds crazy, but I believe in it.
Denise Focil, designer of AS by DF
Q: Why the name change?
D.F.: "Alpinestars by Denise Focil" is a mouthful. It is a lot to say. Everyone has been abbreviating it. It came to a point where it was time to bring growth and make it easier for everyone. We made it more impactful. We shortened and abbreviated the name. It stands for the same thing.
Q: Will you lose any of your customers because of the rebranding?
D.F.: A lot of people didn't even notice. It was a smooth transition. It's not like I changed it to a completely different name. People found it to be interchangeable; I have not encountered any resistance or people who are confused. We don't want to lose any momentum.
Q: How did the line change during the rebranding?
D.F.: Leather is our forte, I've evolved, I found the heart of the line, I expanded on it. The DNA was always there, but it grew up a bit.
I made the logo sleeker to elevate the line; it opened creative doors to me where I could take the line. [Our new line's] leather-banded Kristacollection and some of our beautiful Ana maxi dresses—those pieces speak to the new look of our logo and our name. They're very sleek. They're very edgy. They have a lot of character. They're very intricate and well made. … We curate every single detail.
Q: What else did you have to do to rebrand?
D.F.: We redesigned the main label and hangtags and are still redesigning our website now. I'll have to redo signage for trade shows, have to redo signage for line sheets. To do this is time-consuming and costly but has proved well worth it.
Brian Young, marketing director for Ambig Clothing
Q: When and why did you change the name of the brand?
B.Y.: It's been two years now. We shortened the name of the brand fromAmbiguous to Ambig. With the logo, we filled in the letter "A" and made it solid. It was easier to put on shirts. With our foreign accounts, they had problems saying the word Ambiguous, except in Japan, where they love it, and they still call it Ambiguous.
The brand was metrosexual-focused in the 1990s. Metrosexual has not been a big focus in the past four years. We wanted our brand to reflect the people who work here now—the skate team and the musicians we work with.
Since we shortened the name, the brand has its own identity. The word "Ambig" doesn't mean anything. When you think of Ambig, you think of the clothing company and nothing else.
Q: Did your company receive any complaints on the brand name Ambiguous?
B.Y.: We never had complaints. But the only group that liked the old name was Japan. The older people liked it, too. But younger kids think it is a new company. That's good. The actual clothes and marketing are new—even though the company has been around for a while.
Q: How will the name change help your company grow? How will it affect your customers and partners?
B.Y.: A lot of our vendors were psyched. We picked up a few accounts. ... We've grown 25 percent in overall sales from 2008 to 2012. 2012 was the best year for the brand ever.
Q: What's next for Ambig?
B.Y.: We've been concentrating on a lot of skate in the past couple of years. We're going to start focusing more on music and art programs now. We're sponsoring some cool bands that we are stoked on—Blackfeet Braves,Audacity and Hindu Pirates. We pay for some of their tour stuff—like we paid for a trailer when Hindu Pirates went to SXSW [music festival in Austin], and we produce the bands' [merchandise]. We give them 300 T-shirts that they sell on tours. We're coming up with a new logo for this program—AM, Ambig Music. l