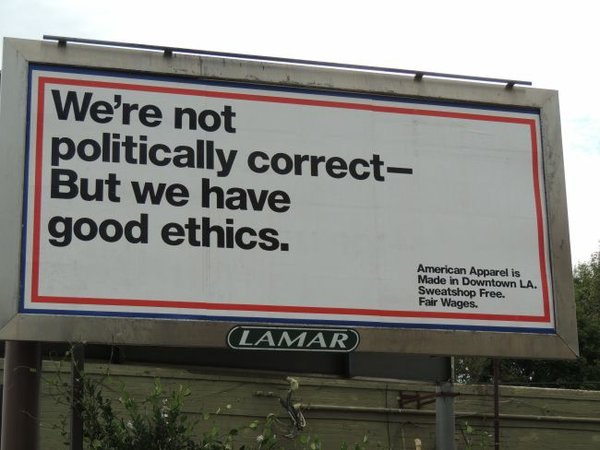 American Apparel: "We Have Good Ethics"
American Apparel offered no apologies for its risqué billboards which have long proven to be lightning rods for criticism. But the vertical retailer's newest billboards seemed to be testing a new pitch; see the brash company in a different light.
Several American Apparel billboards in the Los Angeles area bear the following bid for understanding. "We're not politically correct – But we have good ethics." Below the main slogan, the billboard ads list the following points which could cast the business in a postive light; that American Apparel is made in downtown Los Angeles, it offers fair wages to its workers along with good working conditions.
A spokeswoman for American Apparel declined comment about the billboard signs. Howard Forman, a California State University Fullerton marketing professor, said that the billboard campaign came from a well-worn marketing/public relations playbook. It's the one where companies make the case that they are good corporate citizens. "It's all about using institutional advertising to say that we are good guys," Forman said. "But this is an era where consumers are more aware of what companies are doing and their ethical behavior. It is hard to separate the two anymore."
American Apparel's more risqué billboards continue to dot the landscape. The company also had made headlines in June for ousting Dov Charney, its founder. Since then, Charney has fought to get his job as president and chief executive officer back. He is still listed as the chairman of the board on the American Apparel website.
The success of any image campaign will ultimately depend on how well it is executed, if the company has corrected past mistakes, and most of all, if the public is in a forgiving mood, Forman said.
A representative for billboard firm Lamar Advertising said that American Apparel switches billboard ads every few weeks. There is unclear whether there will be more of the "We Have Good Ethics" billboards.