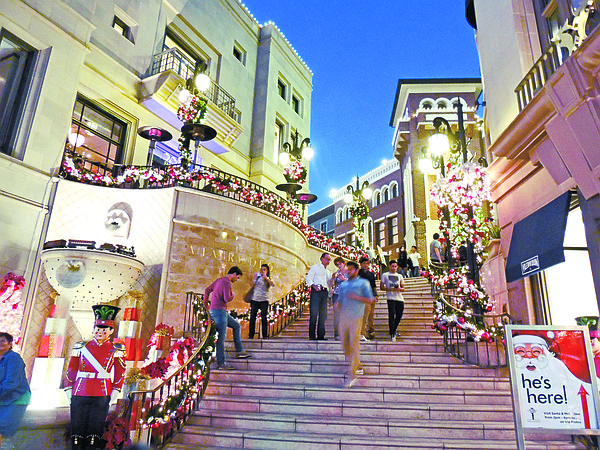 AFTER BLACK FRIDAY
Retailers Await Next Big Shopping Event
The long holiday slog has begun.
Retail analysts forecast a lull in business in weeks following the big deals and buzz of Black Friday, generally considered the kickoff of the winter holiday retail season. Business is predicted to skyrocket sometime before Dec. 20, Super Saturday, the weekend before Christmas.
For Fred Levine, co-owner of the M.Fredric chain of contemporary stores, the lull is part of the general pace of the season. "Even in good times, there's a bump up on Black Friday, then it goes really dry. The beginning of December is horrible. But the flood gates open by Dec. 10," he said. M.Fredric opened a new location at The Collection at RiverPark mall in Oxnard, Calif., on Black Friday.
The drop-off after Black Friday might be more gentle than past years, said Dave King, a senior research analyst for Roth Capital Partners, headquartered in Newport Beach, Calif. Since the economy is on more solid footing than last year, shopping might not dry up as quickly after Black Friday as in previous years, King said. Also, for the 2014 Back-to-School season, the year's most recent high-profile sales event, there was not a huge drop-off in the weeks following the Labor Day weekend, which is generally considered the end of the Back-to-School season. Instead, analysts deemed business in September and October to be good. "It's going to be a little better than people are expecting," King said.
Black Friday's results generally disappointed retailers and Wall Street analysts, however. Sales declined for the big holiday. The National Retail Federation, the world's biggest retail trade group, noted that Black Friday's results showed a 3.9 percent decline in average spending. It was the first time since 2009—the toughest year of the Great Recession—that the average amount of money that consumers spent during the Black Friday Weekend declined. In 2009, spending declined by 8.5 percent.
On Nov. 30, the NRF released other disappointing statistics for the holiday kickoff. Black Friday's retail traffic declined with 55.1 percent of holiday consumers shopping in physical stores and online over the Thanksgiving weekend, compared with 58.7 percent of holiday consumers shopping during the Black Friday weekend last year.
Total spending is forecast to reach $50.9 billion during the weekend, a decrease from last year's estimated $57.4 billion, according to theNRF's Thanksgiving Weekend Spending Survey, which was conducted by Prosper Insights & Analytics and released on Nov. 30.
Despite the declines, the NRF would not revise its forecast of a 4.1 percent increase in holiday sales with $616.9 billion predicted to be spent at U.S. retailers, Matthew Shay, president and chief executive officer of the NRF, said during a Nov. 30 conference call.
The weekend's decline during what is typically the most bullish time of the year reflects, among other things, consumers changing the way they shop and some shoppers exhibiting anxiety about the economy. However, Shay was upbeat about the holiday season because it remains the Super Bowl of shopping, he said.
"There's not another day of the year when 85 million Americans are shopping," he said of Black Friday. "Is it different from a year ago? Yes. But the only thing that this can be compared with, a lot of executives say, is the Super Bowl."
The macro economy also has been giving presents to retailers. Declining gas prices have the potential to put an extra $70 billion into the economy. Inclement weather is not forecast to get in the way of shopping this year, and many retailers found ways to get around the ongoing work slowdown at West Coast ports and to deliver goods to their consumers, Shay said during the conference call.
But there was no getting around changes in the way people shop. Pre–Black Friday deals and shopping took momentum away from the season's kickoff weekend. Many consumers postponed shopping on the Thanksgiving weekend because they forecast that they could get better holiday deals at a later date, Shay said.
"The CEOs are saying this season will be really promotional," Shay said. "It is going to be a dogfight every day."
There's been a lot of talk about how the generous promotions could cut into retailers' margins, said Liz Pierce, senior vice president and senior analyst with Brean Capital, which could make big sales events that much more crucial to retailers' bottom lines.
"Retailers hurt themselves," Pierce said of the promotions, which ran from 30 percent to 70 percent off during many Black Friday sales. "Super Saturday will become more and more meaningful."
In a Nov. 30 research note, Ken Perkins, president of Boston-area market-research group Retail Metrics, echoed Shay's assertion that shopping has changed. Black Friday had turned into a Black November. "Retailers initiated deals and promotions earlier this year, not waiting for the traditional Black Friday holiday kickoff," Perkins wrote.
A decline in Black Friday mall traffic should be no surprise, said Jeff Van Sinderen, an analyst with B. Riley & Co., a financial-services firm. E-commerce business has been skyrocketing for the past few years. "You'll see that business going up double digits," he forecast. "You have to see it take away from somewhere; it is going to come from bricks-and-mortar," he said.
Market-research company comScore reported that e-commerce retailers had a spectacular Black Friday weekend. Americans spent more than $1 billion both on Thanksgiving and during the day of Black Friday, Nov. 28, Gian Fulgoni, the chairman emeritus of comScore, said in a Nov. 30 statement.
"The strength we saw in the early online buying rush likely reflects a few things, including overall health in consumer spending, responsiveness to the strong deals being offered online and perhaps some shoppers opting to stay home on Thanksgiving rather than head out to the stores that opened their doors early," Fulgoni said. "Regardless of the particular drivers, it's clear that the online holiday rush is getting off to a very good start and is reason for optimism as we get into the heart of the buying season."
While Wall Street seemed disappointed with Black Friday's results, many malls and retailers were pleased with traffic during the weekend. Luxe retail center South Coast Plaza in Costa Mesa, Calif., which counts boutiques and emporiums such as Prada and XXI Forever among its store mix, said an estimated 415,000 people shopped at the South Coast Plaza during the Black Friday weekend, according to Deborah Gunn Downing, executive director of marketing for the retail center.
Parking lots were jam packed at the Citadel Outlets, the Los Angeles–area outlet center where discounts were given for off-price brand-name items, said Traci Markel, Citadel's marketing director. "What made the difference for the Citadel was that we had a lot of tourism traffic," Markel said. However, local traffic dipped slightly, she said. From 3 p.m. to midnight on Thanksgiving, 10 independent tour buses dropped off overseas tourists, many from China, to shop at the outlet center.
Boutique business reportedly increased on Nov. 29, the "Small Business Saturday" campaign started by American Express to bring Black Friday shopping to independent, neighborhood-style retailers. The Small Business Saturday Consumer Insights Survey, released by the National Federation of Independent Business and American Express, noted that the average spending for the day declined 11.5 percent to $162. However, spending was boosted by the volume of shoppers. Consumers who were aware of Small Business Saturday reported spending $14.3 billion with independent retailers and restaurants, which was a 2.1 percent increase over the previous year.