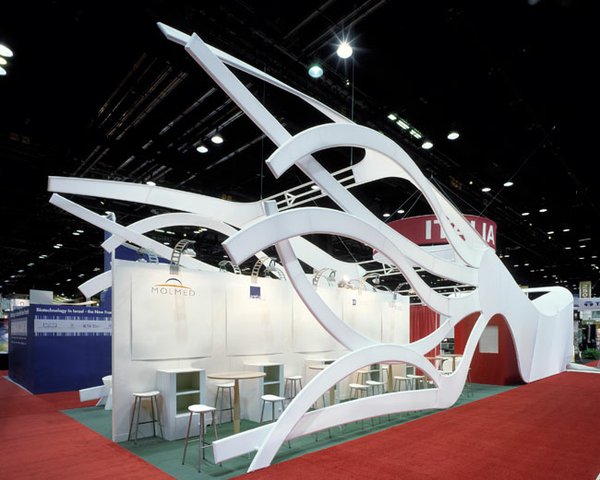 TRADE SHOW
Making Architecture at the Trade Show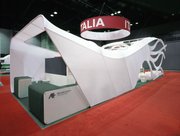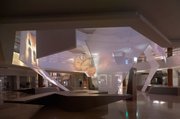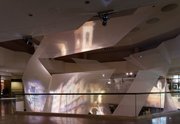 For Giorgio Borruso, a structure does not have to be made of marble to make an architectural statement. A structure can be bold, elegant and have the shelf life of a few days or weeks—perfect for a trade show.
The Los Angeles–headquartered Borruso of Giorgio Borruso Design has been honored with awards for designs for permanent stores and buildings at places such as South Coast Plaza and The Americana at Brand retail centers. But he has also flexed his creativity in design for temporary structures for trade shows and exhibitions.
For the2006 BIO Exhibition in Chicago, Borruso, a native of Sicily, was appointed to design the biotechnology exhibition's Italian pavilion. The booth was inspired by the concept of metamorphosis—the process of changing from one form to another, just like the mythological creature the chimera.
One side had a more defined form, which enclosed a formal space for registration. The other side featured a more loose, open structure, which was intended to inspire exchange and interaction.
"It was built with fabric and aluminum pipe," Borruso said. "We were exploring the use of fabric in temporary structures, which, at some later point, began to influence our more permanent designs."
In fall 2007, Borruso was commissioned to design an Italian piazza for"Italy at South Coast Plaza," a celebration of Italian cultural events, fashion and display of artisanal crafts.
"We wanted to reimagine the special and programmatic experience of a traditional Italian piazza in a contemporary way," Borruso said.
The villa was built to be a flexible space and was frequently rearranged for different events such as runways shows, film screenings and food festivals.
The temporary structure sprawled over 18,000 square feet over three levels, using 9,000 linear feet of stainless-steel cable, over 2,000 square feet of fabric and a dozen projectors, with seating and tables at the ground level.
"We calculated for efficiency, maximizing the enclosed volume with a minimal surface area," Borruso said. The materials used to construct the temporary piazza were reusable cable and a translucent cotton/spandex poly blend.
The temporary items could be easily taken down, and, after the show was over, all of the fabric and cable was put away in duffle bags, Borruso said.
RELATED STORIES