TRADE SHOWS
Swimwear Companies Dive Into New Business at SwimShow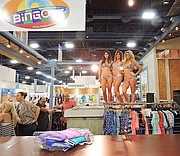 MIAMI BEACH, Fla.—SwimShow, the biggest North American trade show devoted mostly to women's swimwear, made a splash in the fashion world when it ran at the Miami Beach Convention Center.
Brands at the July 18–21 event introduced new swimwear styles as well as clothes and accessories to complete a look for a trip to the beach.
At the show, the Anne Cole brand relaunched its Anne Cole Locker line after a seven-year hiatus. The line was updated with an athletic influence. Agent Provocateur, the stylish British lingerie brand, introduced swimwear in its diffusion line L'Agent by Agent Provocateur.
Prominent designer Catherine Malandrino showed a swim line at the convention center, which has served as the site for the Miss Universe Pageants from 1960 to 1971 as well as the Republican National Conventions in 1968 and 1972.
Swim brands such as Gottex, Maaji and Luli Fama produced glitzy runway shows for their lines during Miami Swim Week and also displayed them at the SwimShow.
Surf labels Billabong and Rip Curl took out booth space at the show. Also seen at SwimShow were leading women's fashion swim brands such as L*Space by Monica Wise and Red Carter, boutique brands such as Blue Life from California-headquartered boutique chain Planet Blue, and major fashion labels such as Ralph Lauren and Lucky Brand.
Styles for almost every taste were featured at the show. However, swimwear with an athletic angle seemed to capture the spirit of the season, said Katie Atkinson, a senior editor for WGSN, a London-headquartered fashion trend-forecasting and -analysis group. "Minimalist shapes with a strong sports influence featured heavily at Miami this year," she said. Atkinson browsed through SwimShow as well as the satellite shows Hammock and Cabana.
Judy Stein, SwimShow's executive director, said that booth space at the show was sold out with a waiting list. "The energy on the floor was great," Stein said. This year, the show's action was concentrated in two halls of the convention center as opposed to four halls last year.
SwimShow was compelled to condense its exhibition space by 250,000 square feet at the recent show, Stein said. SwimShow had to opt for a smaller space because the Miami Convention Center is ramping up for a major, three-year renovation of its facilities. Construction will commence in December.
SwimShow did business at a time when business for swimwear is enjoying multi-billion dollar sales, according to The NPD Group, a market-research firm headquartered in Port Washington, N.Y. Total swimwear sales in the U.S.—which includes sales for women, men and children—reached $5.4 billion in the 12 months ending May 2015. It was an 18 percent increase in sales compared with the same period last year, when swimwear sales reached $4.4 billion.
Retailers dropping by the show included department stores and specialty retailers such as Holt Renfrew, Galeries Lafayette, Harrods, Bergdorf Goodman, Nordstrom, Neiman Marcus, Saks, Bon-Ton, Belk, Lord & Taylor, as well as Hudson's Bay from Canada and Liverpool, headquartered in Mexico.
Some vendors said that buyer traffic seemed occasionally slow during the show. However, business was good at booths such as the Anne Cole booth, said Meredith Glasser, vice president of sales for Anne Cole. "Our booth has been consistently busy," she said. "We haven't had too many breaks."
Another brand at SwimShow was Ted Baker London. Bikinis and swimwear with floral prints were a focus of the British brand. It also offered accessories such as handbags and men's swim trunks.
"People are coming in and placing orders. We had incredible appointments," said Rachael Kampas of Ted Baker. Retailers asked for merchandise with an "at once" delivery date as well as Spring '16 lines. Kampas said that buyers were looking for Spring merchandise.
The next Swim Show is scheduled to take place at the Miami Convention Center in 2016.